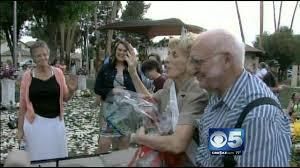 Woman With Terminal Cancer Gets Her Own Rose Parade | Video - ABC News
I'm so proud to know this family. My friend Debby wanted to help grant one of her mother-in-law's last wishes so she organized a private Rose Bowl Parade. While planning this big secret surprise she asked for help on Facebook and a local news channel picked up the story. As a result they received flower donations from local brides (who were getting married that weekend), florists and generous strangers. More news stations came to film the actual parade and celebration yesterday evening.
The story is so touching and has made it to the national news. Such a gift to MaryBeth Brutsman and her entire family as they help her live her last few days of life to the fullest.
Here's one more news clip from yesterday, warning though, this one will make you cry.
MaryBeth's Dying Wish Granted - ABC15 News
Will you join me in sending prayers and best wishes to the Brutsman family?