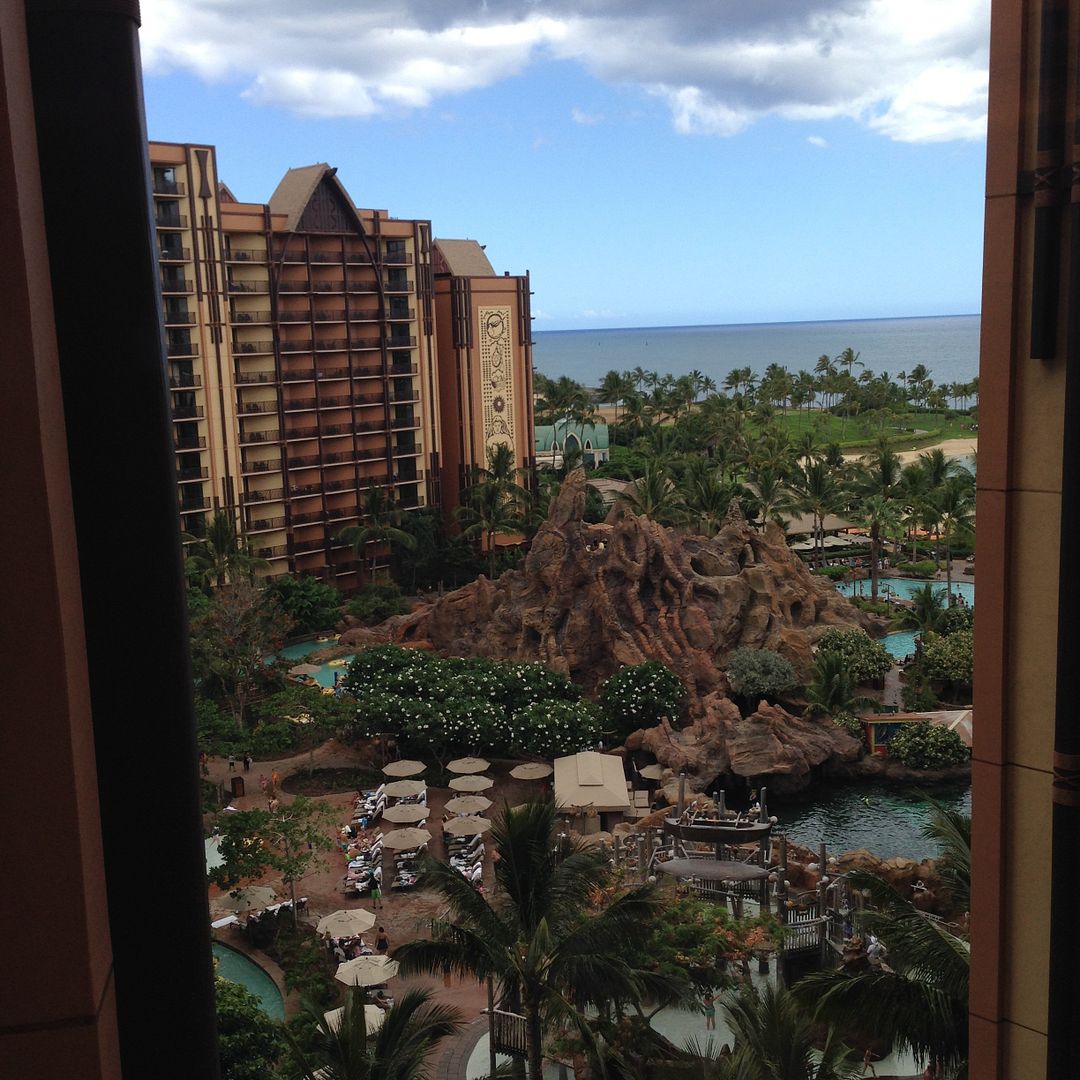 My family recently visited the Disney Aulani Resort and Spa on the island of Oahu. This beautiful "Disney themed" resort is a recent arrival to the Hawaiian islands, opening in 2011. Back when I lived on Oahu there were just flora and fauna on the beautiful cove that is now Aulani. It is placed out of town in a much less busy are of the island. The traffic is still horrible to get there depending on your arrival day/time, but once you're there it is paradise.
We are just easing into Disney here in my family, we only took the girls to Disneyland for the first time last year. Although the girls are all about Minnie, Mickey and princesses my husband and I have been more reluctant to support the mega-Disney-corporation. However, my research told me that Aulani was "disney light" and after staying there I agree!
Aulani had all the perks of a Disney property including well trained and helpful "Cast Members" and the attitude of trying to make your experience magical. They had the best customer service of any hotel/resort I've stayed at in Hawaii so far.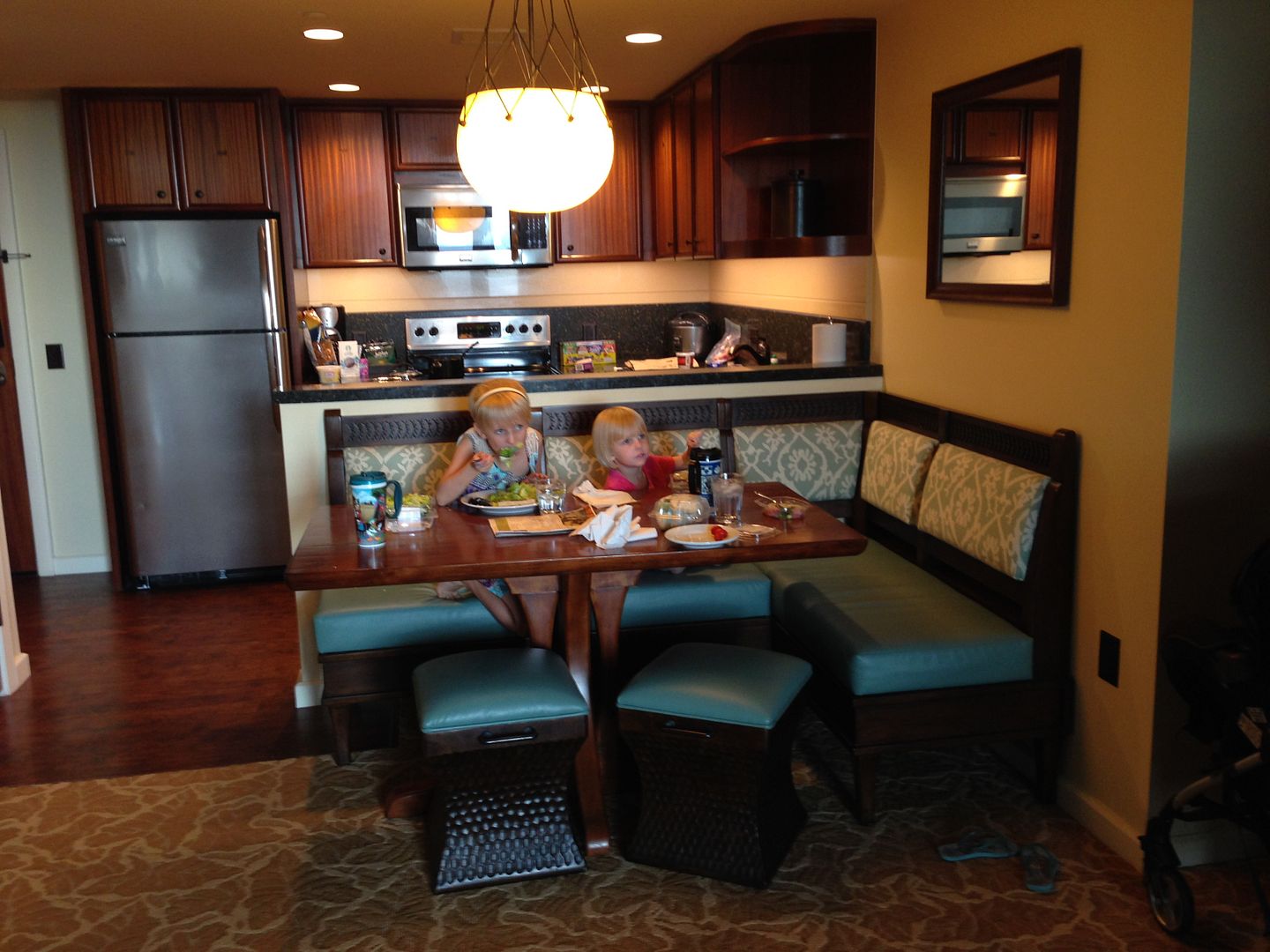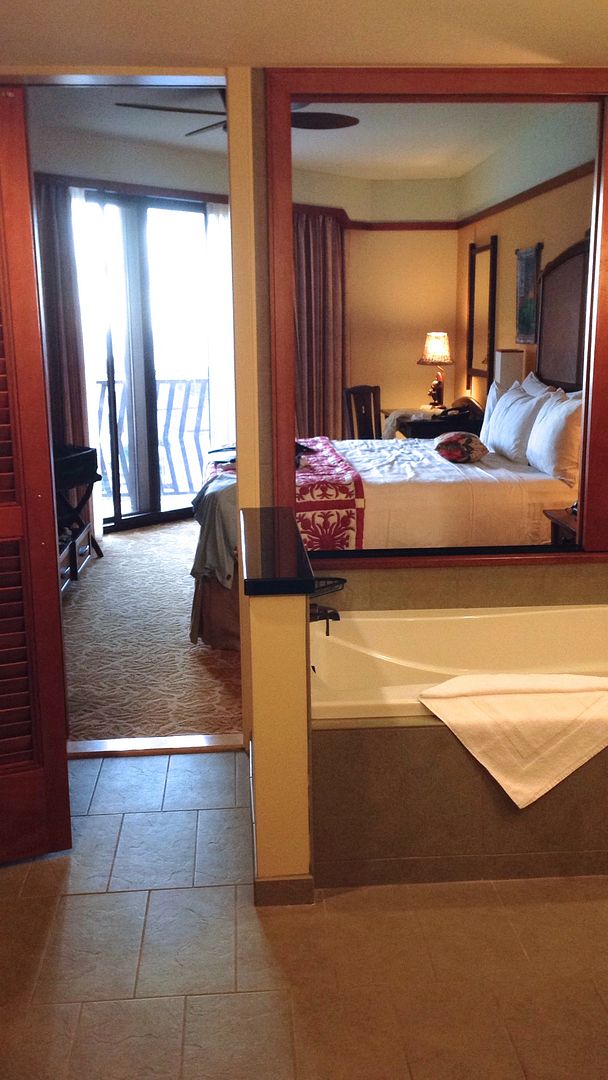 For a little overview this resort includes 1 and 2 bedroom rooms with full kitchens in addition to regular rooms. We chose a 1 bedroom with a partial ocean view. Our room had a full kitchen, bathroom with shower and jetted tub, sleeping for 5 (King bed, queen pull out sleeper and a twin fold out bed) and 2 lanais (decks). The kids loved the hidden twin bed (a
Murphy
style coming down from the entertainment center), and of course the jetted tub. I appreciated the huge dining room table and full kitchen. Note that you can purchase groceries across the street in a little grocery store or down the road in
Kapolei
at Safeway, Costco, etc.
Aulani included many ways to play in, on, around and with water. There is a HUGE splash pad water park for kids only, a long lazy river, two slides, a snorkeling reef, two pools (plus an adult pool), multiple spas and of course the beach! At the beach you can snorkel, swim, boogie board and kayak.
In order to use the facilities you have to get a daily wrist band. Each day the color changes and my girls enjoyed saving them and stacking them up like arm-candy.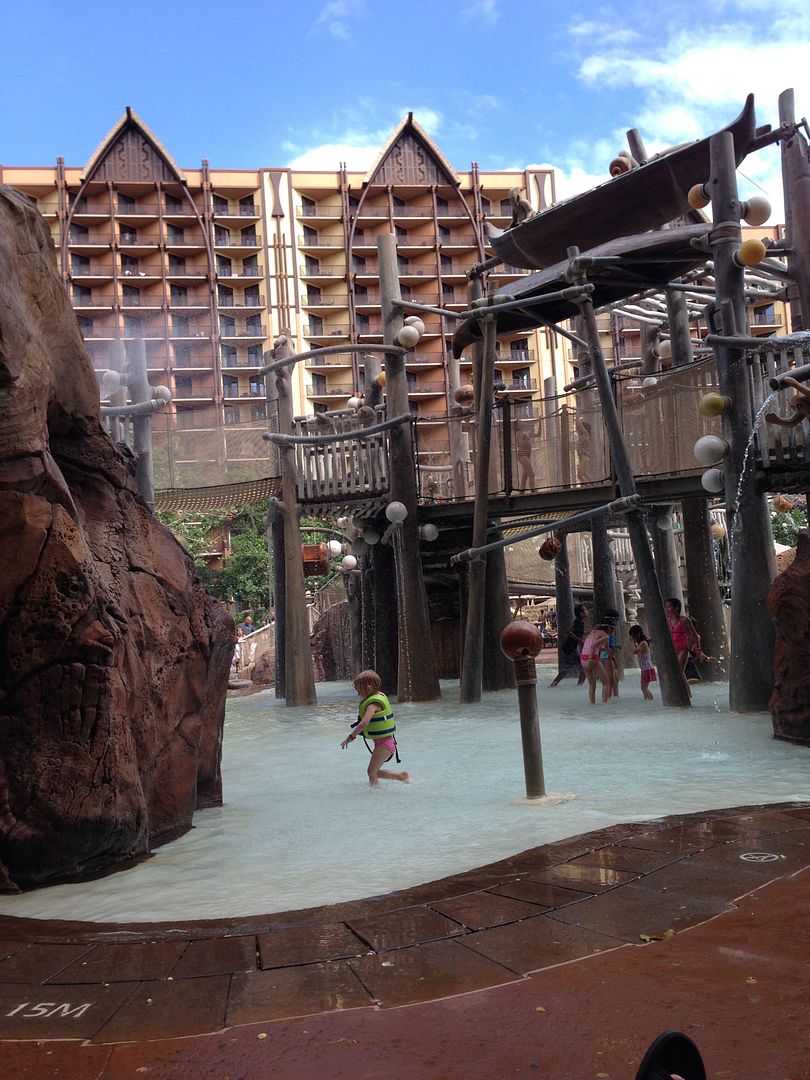 My girl's favorite water activity was the splash pad water park. It was huge and included bridges, a boat that fills with water and then dumps it all at intervals and a couple little slides. They would have spent all day and night there but it was only open from 9-5. There are lounge chairs all around the water park for adults to relax on while watching your kids have a great time. This was my favorite place to relax while they had fun. Let's just say there is only so much swimming with a 3 year old that I can handle.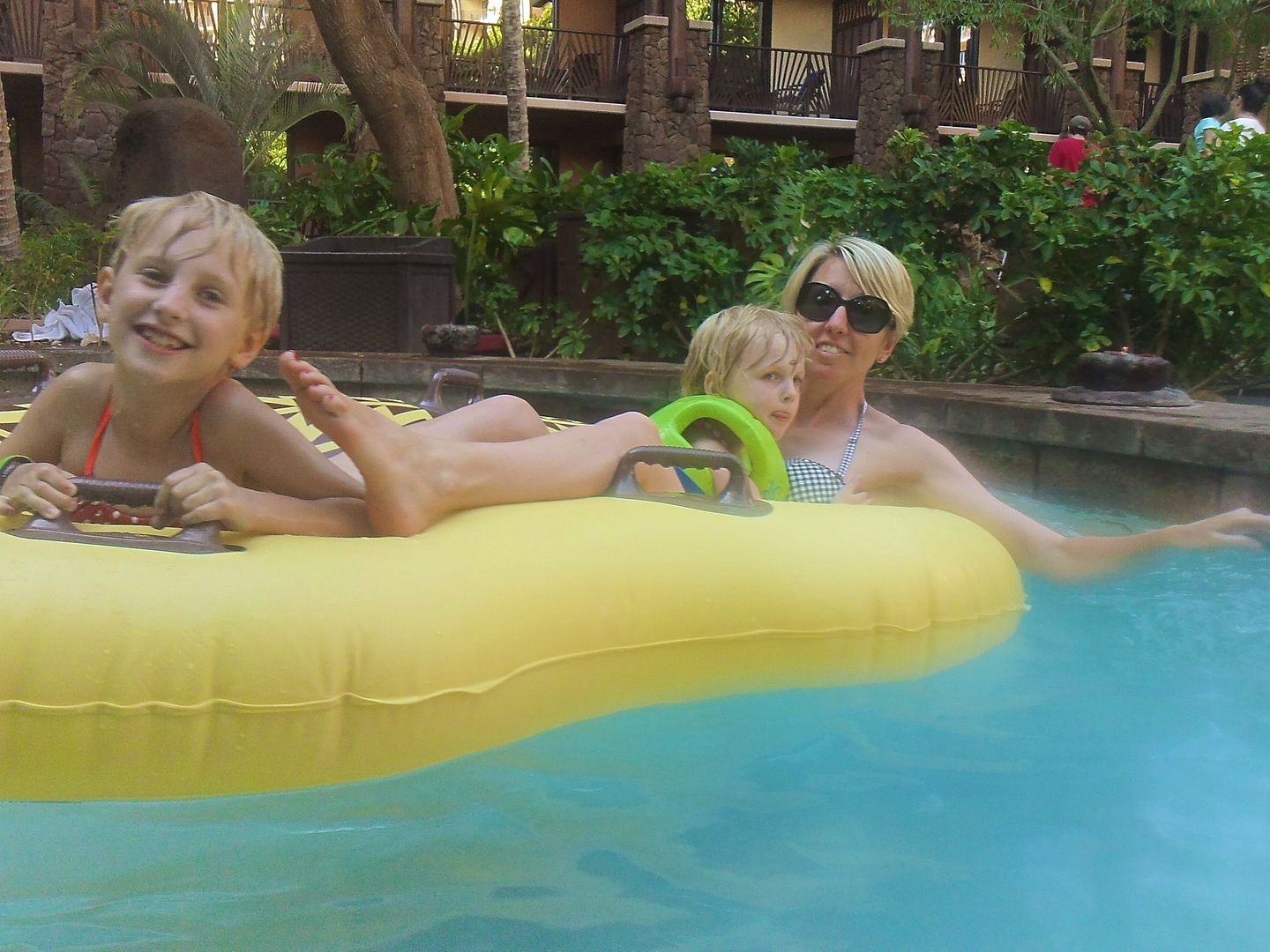 Our whole family enjoyed the lazy river and a couple of times that we were there Goofy joined us in the river! Man, that was one of the best parts of Aulani, the fact that you'd just be hanging out having fun and a Disney character would appear that you could meet, greet and take photos with. Fabulous!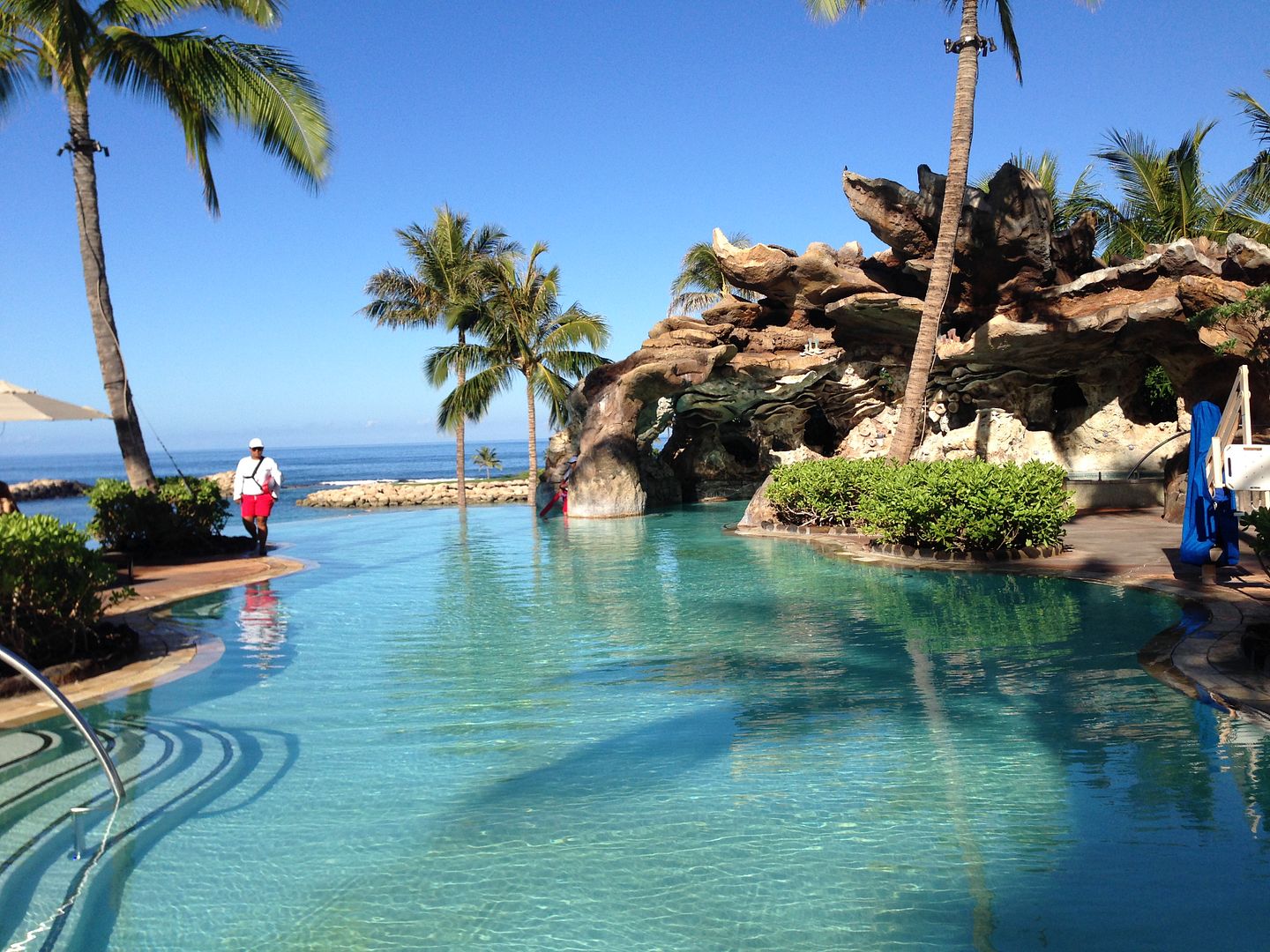 The infinity edge pool with grotto was a favorite as well as the two big slides. Especially the inner tube slide that I could go down with either child, even my 3 year old.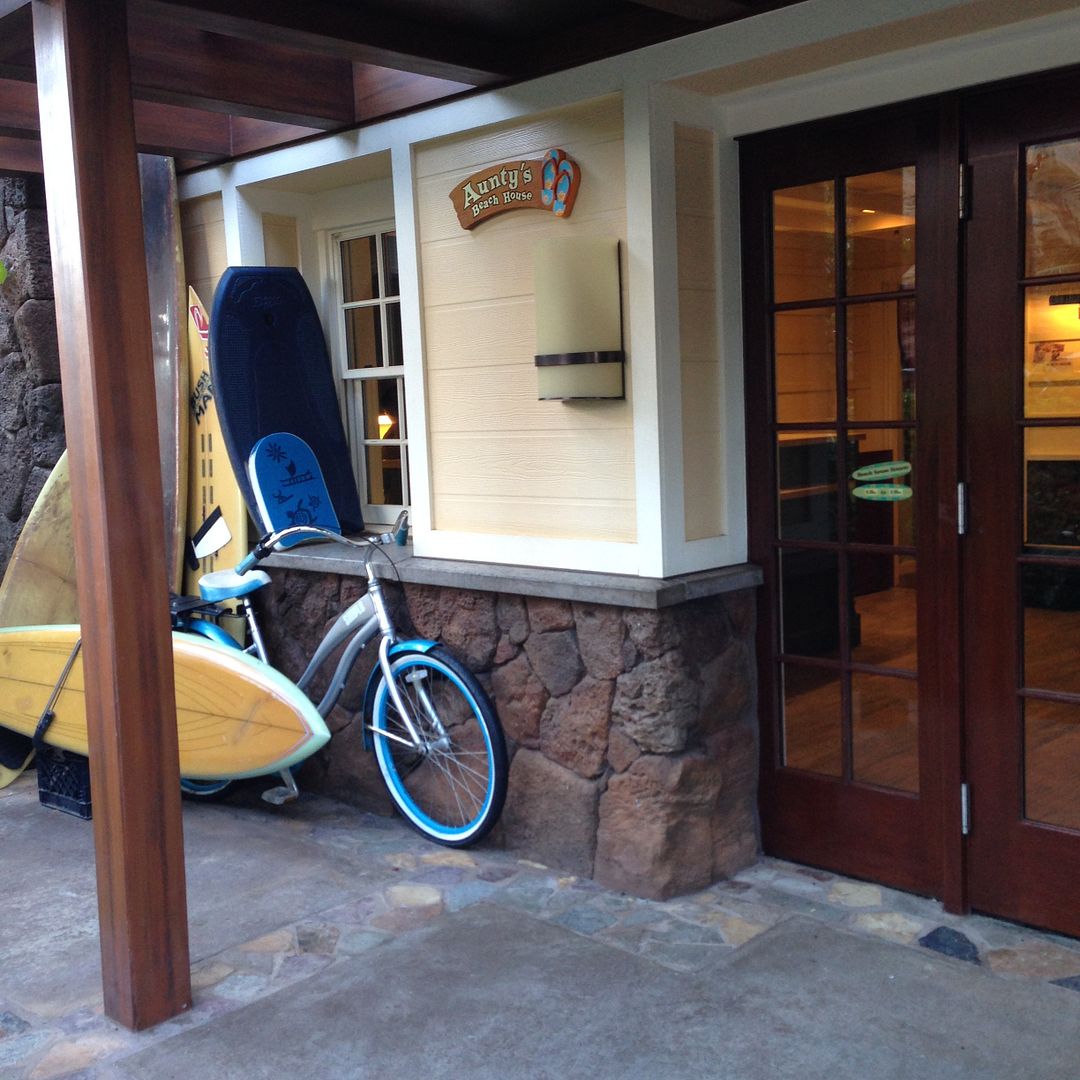 Now, to get back on dry land the absolute best part of Aulani for my children was Aunty's Beach House. The Beach House is the childcare center that is included for no additional charge. This amazing place had so many fun activities and options for kids, my girls were begging to go every single day!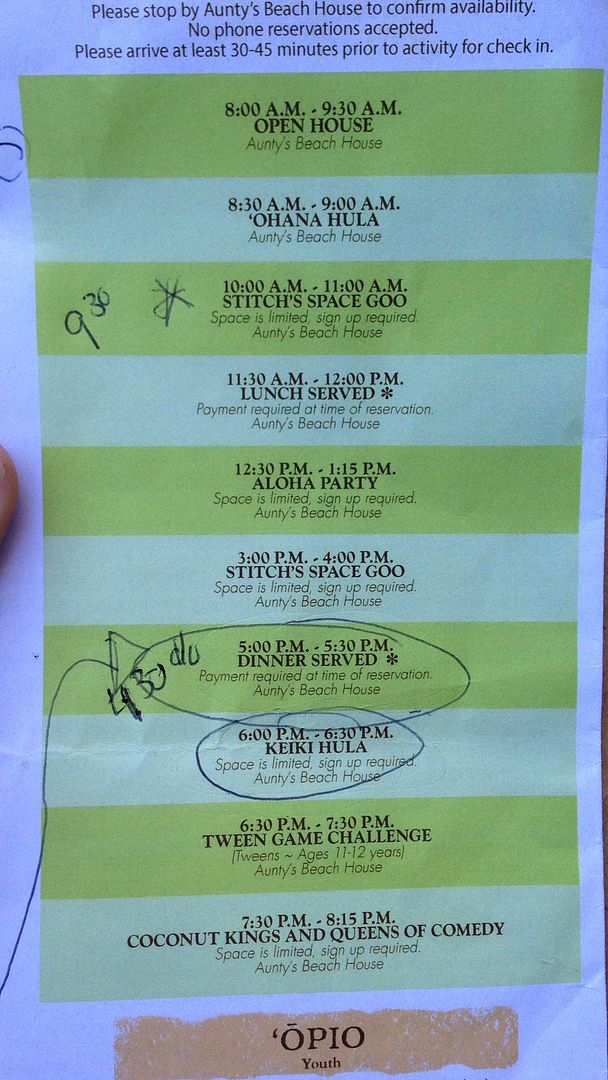 Open from 9:30am-9pm you can drop off your kids during the day for any length of time. The only exception being if they are at capacity, then you have to keep coming back until they have room. The way to avoid this is to sign up your kids for scheduled Beach House activities during the day. For example, I signed them up for a 11am Beach Party and that guaranteed that I could bring them in at 10:30am. They could stay as long as we wanted, especially if we signed them up for meals (lunch and/or dinner).
Meals at the Beach House are the best deal around, only $8.17 a child is a bargain at
Aulani
for kid's meals, especially since they serve family style which was ideal for my picky eater.
To sign your kids up for Aunty's Beach House you have to plan ahead. Aunty's opens at 8am for sign ups/registration/meal payment but...you want to be there MUCH earlier to wait in line. The tickets for programs (ie- your guarantee to get your child in) are first come first serve. We appeared at Aunty's the first morning a little before 8 and the line was already around the side of the building. The next morning I got smart and took my coffee and a book and got in line at 6:55am. I spent an hour reading, meeting new people and ultimately getting my kids signed up for everything I wanted. :)
The staff come out of the Beach House around 7:15-7:30 and they'll start passing out tickets. If you aren't signing up for meals you'll be able to fill out your tickets and be on your way. However, if you are paying for food you have to stay in the line until 8am when they open. This is also true of registering your kids for the first time, that can't be done until 8am either.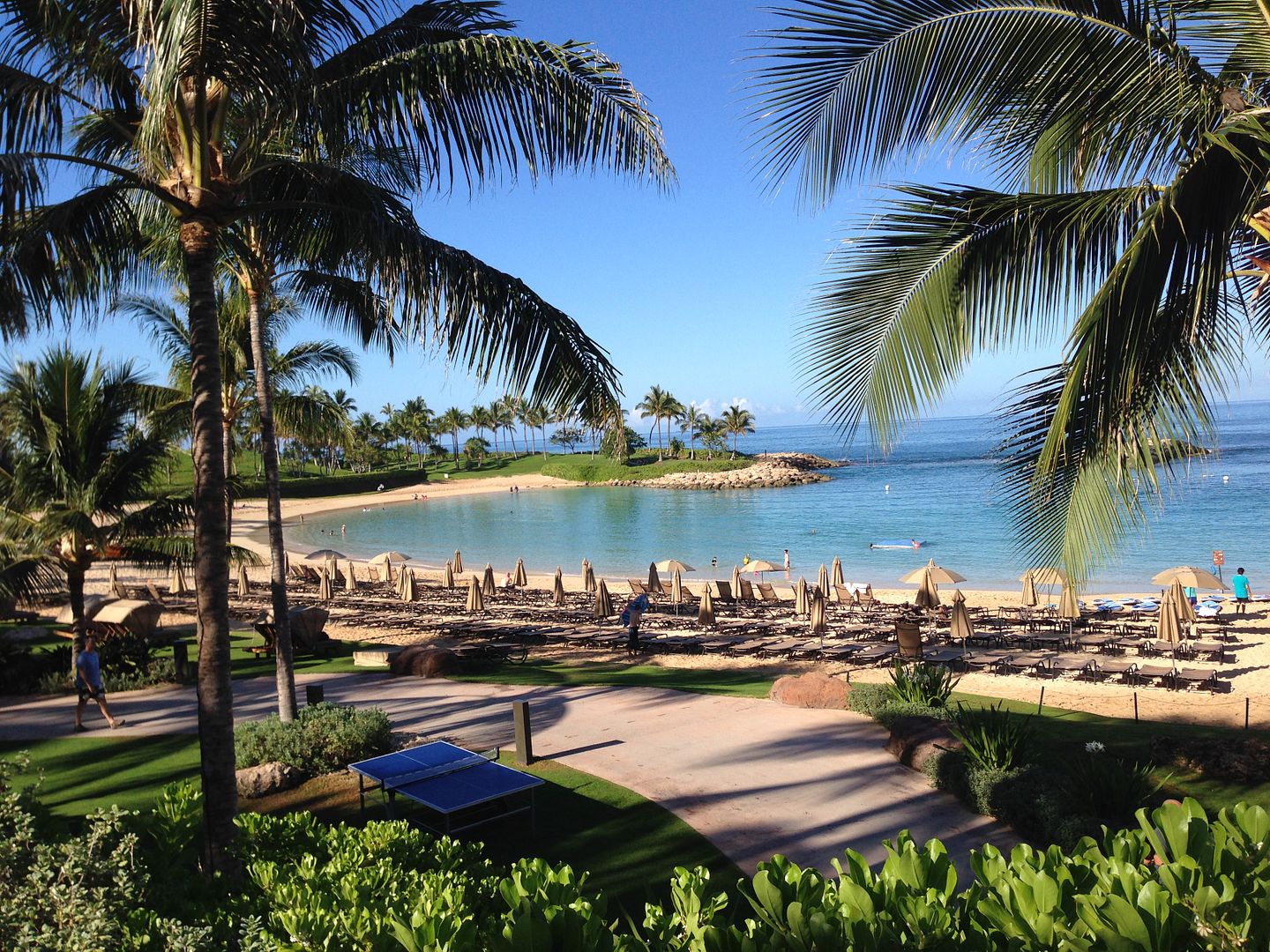 I loved the early morning start at Aulani. It was a peaceful and relaxing way to start the day. I suggest that you get one of the refillable mugs and grab yourself a cup of coffee and get in line!
Note: The refillable mugs are a must-have at Aulani. These plastic mugs are about $18.99 and you can refill them for no-additional cost at any of the beverage stations for the entirety of your visit. This includes soda, iced tea, lemonade and coffee.
For more on our magical Hawaiian visit check out Part II for our review of the Spa, Dining options, on-site Entertainment and other goodies!!