The other night I was looking around Pinterest and I saw this recipe from about.com. It said 7 minute fudge and I thought hey, I have 7 minutes. Pinterest is such a dangerous place when you're having sweet cravings. This recipe is my new favorite and I think will be on a regular rotation around here.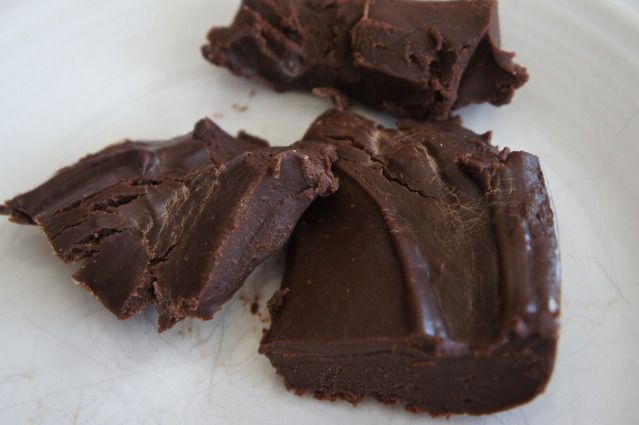 The fudge is rich, sweet and has a great texture. I will no longer be a sucker to those fudge sellers at the open markets and fairs. :) You must try this recipe, I'm not kidding!
Seven Minute Dark Chocolate Fudge
Ingredients
1 (12-ounce) package semisweet chocolate chips
1 (14-ounce) can sweetened condensed milk
1 tablespoon butter
1 tablespoon cream (some skipped this but I never say no to heavy cream)
*1/2 cup milk chocolate chips, if desired (I didn't, I prefer the darker chocolate taste)
Directions
1. Put chocolate chips and condensed milk in a microwave safe bowl. Microwave on medium power for 2-3 minutes, stirring after 2 minutes. Continue microwaving, stirring at 1 minute intervals until chips are melted and the mixture is smooth and thick. Make sure not to over cook, you don't want burnt chocolate! You could also melt the mixture on the stove, just keep the temperature low and watch it closely.
2. Stir in butter and cream until mixed. Then pour into a greased 8" square pan and cool. I used coconut oil to grease my pan. I recommend keeping the fudge in the refrigerator.
3. If you are more adventurous you could add nuts, marshmallows, chopped dried fruit, peanut butter chips or other flavored chips after the cooking time is done.
Try it, you'll thank me later. Well, unless you're on a diet then you might be mad at me. Sorry.