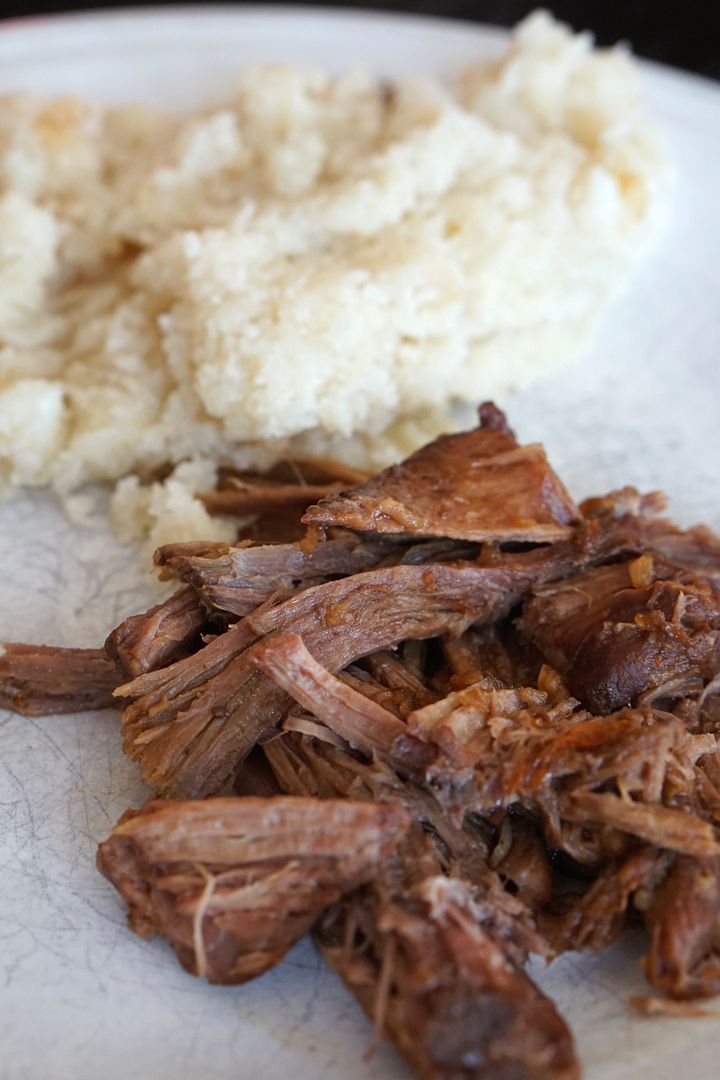 I'm a fan of crockpot recipes. I LOVE preparing food in the morning and having it ready in the evening after filling my home with delicious aromas. So when my BFF shared a recipe that she made that was tasty and cooks in the crockpot I had to make it! Her recipe was from newleafwellness but I made a few changes to fit my family's needs.
The riced cauliflower was an addition for the beef to either go over or as a side dish. Now I am a cauliflower fan and my family is absolutely not. I've tried so many different ways to serve it so that they'll happily eat it and unfortunately this one was not successful. They ate it but complained. I however loved it, especially with some salt and a dab of butter. Next time I make the Orange Shredded Beef recipe I will serve it over my Brasilian Rice instead.
I found the leftovers for this recipe even better than the first day by the way!
Crockpot Orange Shredded Beef
1.75 - 2 pounds of beef (roast)
1/2 cup orange juice (fresh squeezed it is about 1 orange worth)
1 Tbsp orange zest
4 Tbsp apple cider vinegar
2 Tbsp soy sauce
6 cloves garlic, minced
2 inch ginger root, peeled and grated (about 2 Tbsp)
1. In a medium bowl add orange juice, zest, vinegar, soy sauce, garlic and ginger. Stir to combine.
2. Place beef roast (preferably frozen) in your crockpot and pour the sauce over it.
3. Set on Low for 8 hrs.
4. When fully cooked shred beef with a fork and spoon sauce over the meat to fully combine.
5. Serve over rice, or riced cauliflower (see recipe below).
Note: Check your crockpot an hour or so before finishing to make sure it still has enough liquid. If it's looking dry add some water. I didn't need to do this but my BFF did.
Riced Cauliflower
1 onion, chopped
1 head of cauliflower, chopped
3 cloves of garlic, diced
1-2 Tbsp olive oil
salt and pepper to taste
1. Wash and roughly chop 1 head of cauliflower (I used a medium head and had enough for 6 people!).
2. "Rice" in small batches by putting through a food processor (or blender). Took 4 batches to complete mine (and I think I made it too small).
3. In a medium to large pan heat olive oil and saute onion until translucent. Add garlic and saute for 1 more minute.
4. Add cauliflower and 1 cup of water. Cover and cook for 6-10 minutes or until heated through (and the water absorbed, like rice!).
5. Serve warm with salt and pepper (and butter) to taste.
Remember the leftovers taste even better!