I've been a fan of IKEA since my first year of college which was ah-hem over 2 decades ago. The first time I visited I was so awed by the sheer size and referred to it as "Disneyland for grown-ups". My infatuation with IKEA has waxed and wained over the years and although I don't go as often I still find it a fun outing. I always make sure to have at least one meal there and of course at least 2 free cups of coffee (it's free for members).
Although I usually only go 3x a year I've been twice in the last week! I've had my free coffee, $1.99 waffle breakfast, free kids meal (on tuesdays), $1 ice cream cone, Swedish Meatballs meal (try the chicken version) and of course picking up random odds and ends that I didn't even realize I needed until I was there!
I thought I'd share 4 of my favorite recent finds, just in case you needed a reason to head over there.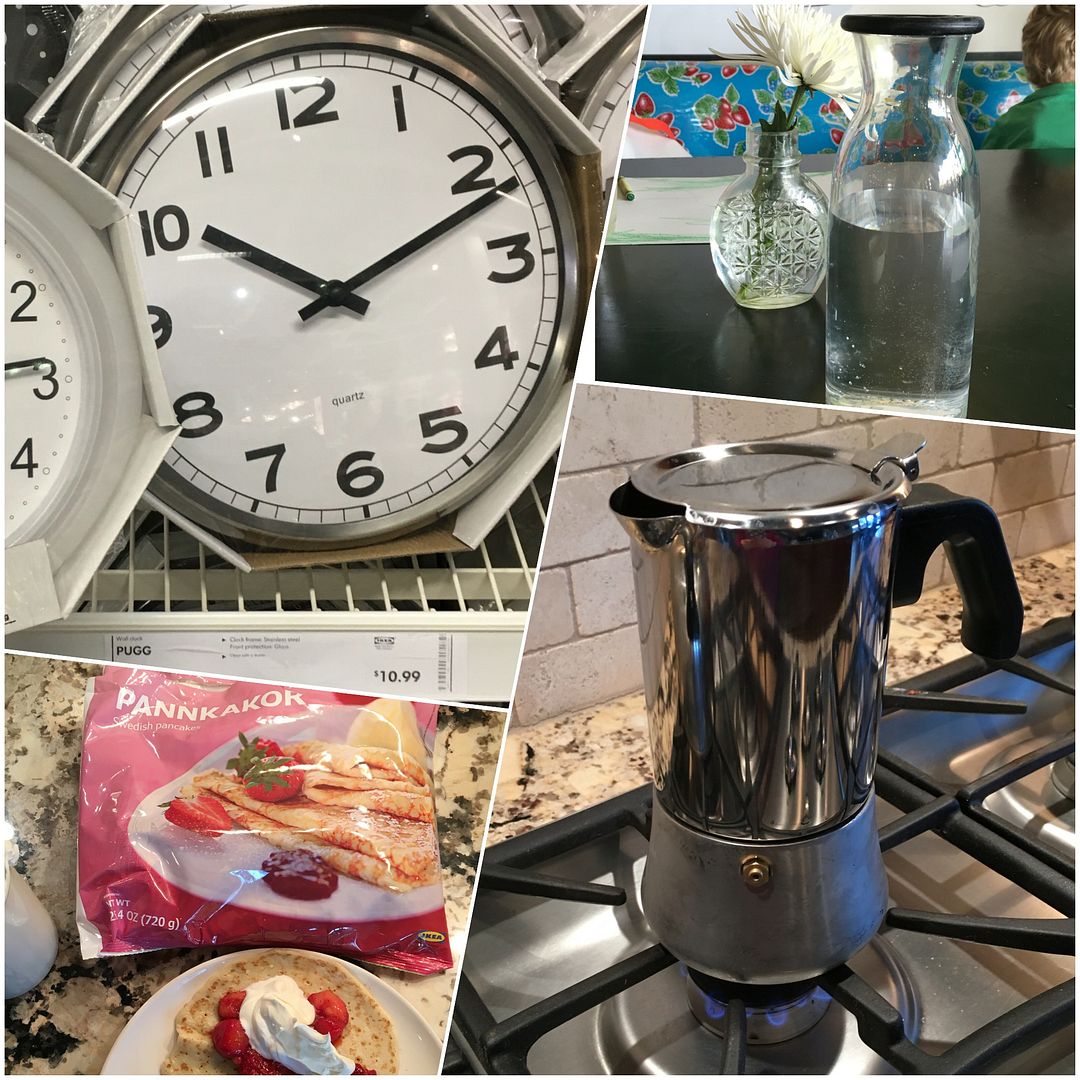 1. PUGG wall clock - this old fashioned and classic looking clock is a perfect addition to my laundry room. I've been looking for a clock to help us get out of the house on time in the morning. This clock is a bargain at only $10.99.
2. VARDAGEN carafe - This little carafe holds 17 oz and has a soft silicone lid. It fits in my car's drink holder and is my new perfect way to carry water (or iced tea, or iced coffee!). And at only $1.99 it is the deal of the day. They also make a 34 oz carafe for only 1 dollar more. I loved this little beauty so much that I bought another one yesterday!
3. RADIG espresso pot - I have been considering this little piece of coffee heaven for over a year. Since I already own a Keurig (and a coffee press and a 4 cup coffee maker) it seemed overboard to purchase another coffee making apparatus. However, I decided to give it a whirl because it is only $19.99, very pretty and I wanted to make espresso at home. I purchased some IKEA espresso grounds to go with it ($3.99 a package) and let's just say I'm a fan. It takes longer to make than my Keurig of course, but when I'm home and have the time it's a treat.
4. PANNKAKOR - Swedish pancakes that are ready in a few seconds (microwave or longer in the oven) and cost only $4.99. Yes please!
So that's my latest top 4. I could also mention the Norwegian frozen salmon filets, Kakor biscuts (cookies with jam and frosting!), SKUBB drawer organizers and of course the $2.99 milk frothers but I'll try to save those for another day. :)