Have you heard of Hello Fresh? It's a mail order subscription meal delivery service. I decided to give them a try since coming up with meal ideas is always a challenge around here. After selecting which size subscription (3 meals for 2 people) and which type (Classic Box for omnivores) I was able to select 3 meals from a possible 5 choices.
Then a few days later a big (and surprisingly heavy 14 lb) box appeared at my doorstep. Unfortunately it arrived at 8pm so too late for dinner that night as I'd planned, so if you order be aware that it comes UPS and note when your UPS man usually appears.
Despite the delay (and our having to eat cereal for dinner) it still felt like Christmas morning as we opened the box and unpacked the goodies inside.
Our three meals this week were: Spiced Salmon, Caramelized Onion Burgers and Chicken Paillard.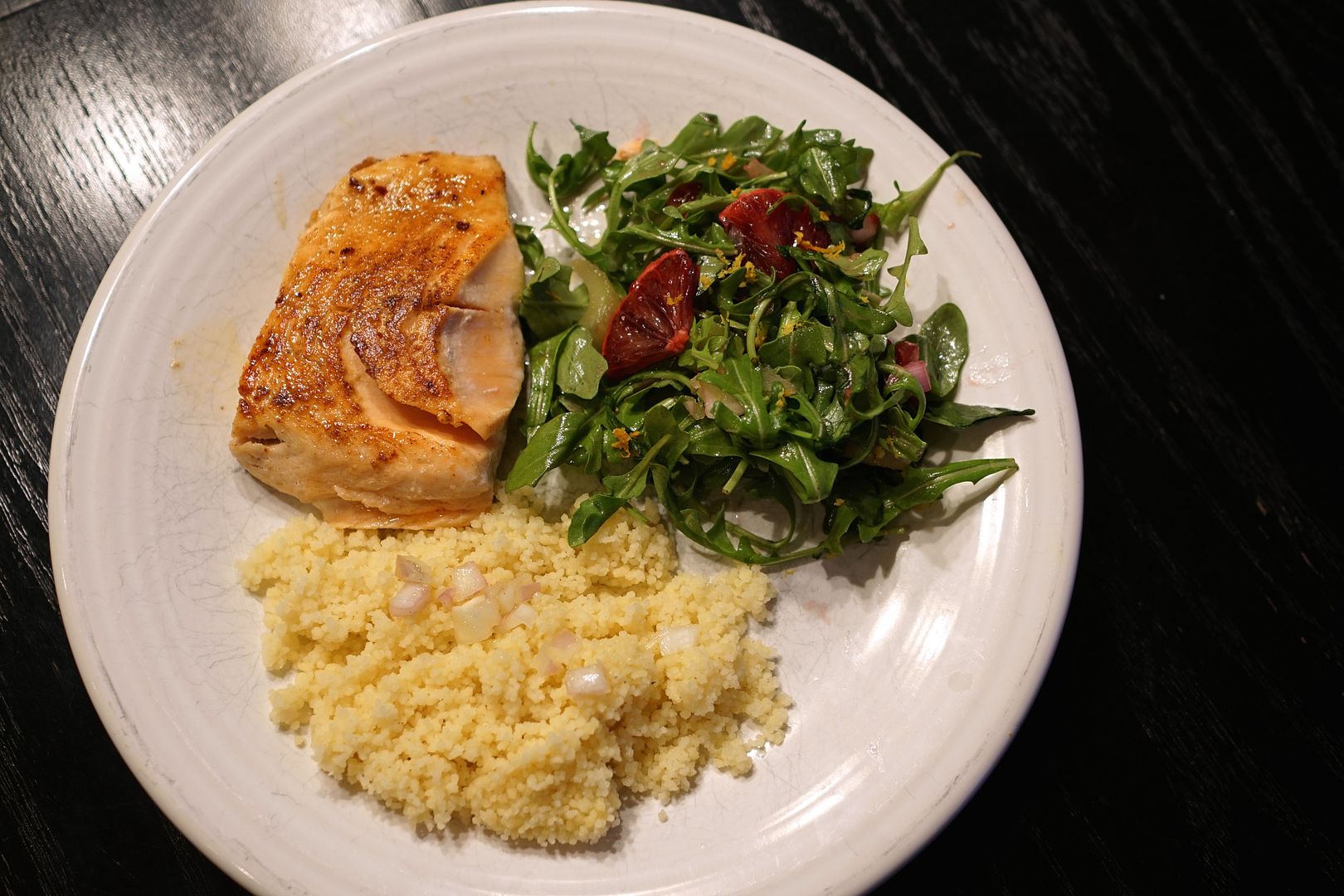 First up was Spiced Salmon with Blood Orange-Arugula Salad, Couscous and Lemon-Shallot Vinaigrette. I selected this recipe to prepare first due in part to the "eat me first" sticker on the box.
We are a family of 4 but we don't eat 4 adults worth of food, more like 2.75-3 people which is why I didn't select the 4 person (family) meal plan. This recipe came with enough couscous for 4, salad for 3 and salmon for 2 so I simply added another salmon fillet that I had in my freezer. My youngest just ate salmon/couscous the rest of us ate the full recipe.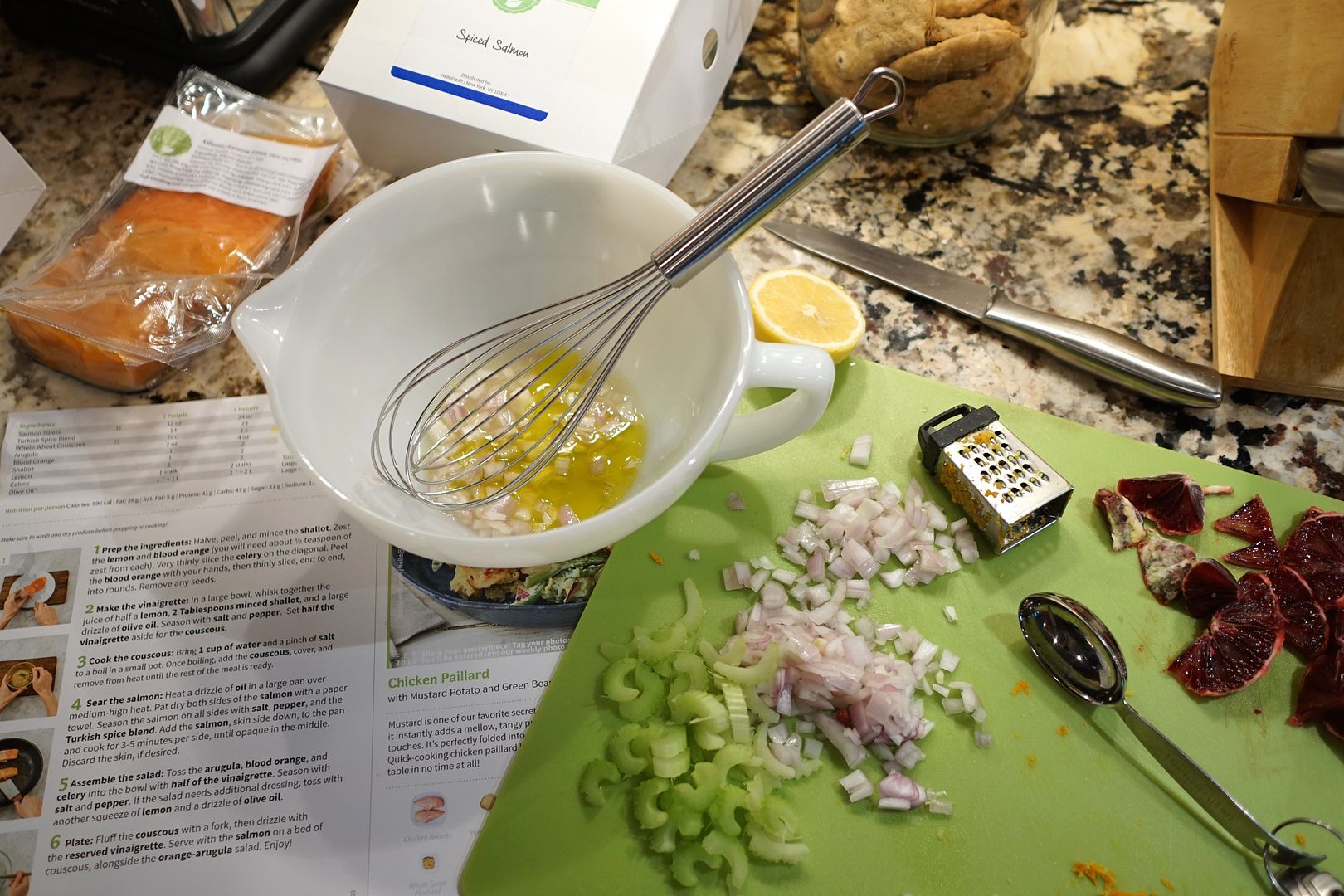 The recipe was easy to follow, the ingredients fresh and the results surprisingly well received. I say surprisingly because in the past my family has expressed a strong dislike for arugula (too spicy) and we never ever put fruit in our salads. However, we loved the combination! I added this recipe to our "favorites" list.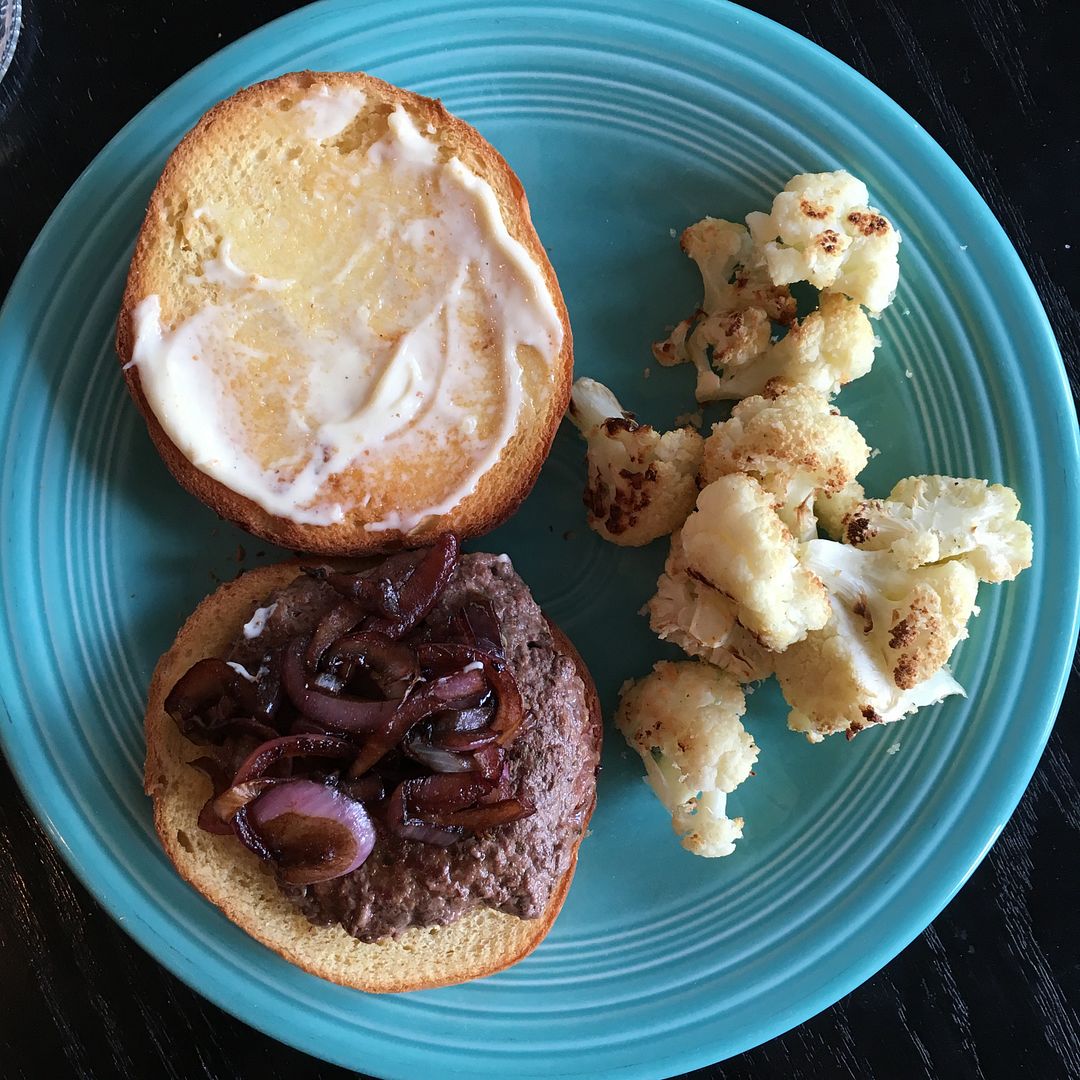 Next up was Caramelized Onion Burgers with Garlic Aioli and Crispy Cauliflower. I am a burger fan but I never make them at home so this was a treat for my family. There was enough cauliflower for all 4 of us but the burgers were only enough for 3 (husband ate 1, 8 year old and I split a burger - perfect amount for me, 4 year old had cauliflower and leftover salmon/couscous).
The recipe was easy, ingredients were fresh and the result was also well received. I found the buns especially delicious and big enough that I was satisfied sharing my burger with my daughter. The cauliflower wasn't exactly "crispy" but it was good. I've made roasted cauliflower before but never added the breadcrumbs, which provided a nice texture.
Last but not least we had Chicken Paillard with Mustard Potato and Green Bean Salad. I swapped out a larger package of chicken (16oz instead of the 12oz provided) and froze their chicken for another day. There was enough of the salad to feed 3 people, the youngest ate chicken and green beans only.
As before the recipe was easy, ingredients (except the celery, it had wilted so I replaced it with my own) fresh and result was a hit. This is saying a lot because I am the only one in my family who likes mustard, especially whole grain mustard. However, as it was presented they liked it! This recipe actually had some ingredient leftovers as we didn't need all of the vinegar, mustard and onion. The bottles were so tiny and cute!
So in review, here is what I thought:
Cons
-Waste: A lot of packing materials for a small amount of food. Although they appear to be mostly recyclable it still makes me pause to consider all the fuel and resources used to ship them to us.
-Cost: It does cost about the same as a dinner out, so you are paying for the luxury of home delivery/portioned ingredients, etc.
-Delivery schedule: You are responsible to stay on top of your deliveries and selecting which meals are being sent to you. If you forget (ah-hem like I did) and miss the deadline you may end up getting a meal that doesn't meet your family's preferences. Or meals delivered when you are out of town, busy, etc.
-Delivery days: They only offer Wed-Sat delivery and I'd prefer a monday.
Pros
-New recipes and ingredients that I don't normally select or try.
-Pre-portioned ingredients make cooking so much faster and easier.
-Less waste of vegetables especially and other ingredients and they only send what you need.
-Step by step instructions on how to prepare the meals, I even learned a couple different ways to cook/prepare items than I normally do.
-Ingredients were all fresh, high quality and consistent.
-We liked all 3 of the meals!
-Now that I've made the recipes and have directions I could recreate them later on my own if I wanted to.
We have another Classic box arriving this week with three more meals. I'm looking forward to more new challenges and tastes! I plan on trying another meal delivery company to compare and decide which one we like better. I'll be back with that review in the future.
Do you want to try Hello Fresh? If you use this link to sign up you will get $40 off your first box, that's a great deal! Or at checkout put in the code 4EYNB5.