Our new ice-cream maker arrived last weekend. We christened it by trying out a simple vanilla recipe. We have been devoted Haagen Dazs ice-cream lovers for awhile now thanks to their simple (non-chemical) ingredients. Imagine my surprise when this recipe tasted just like Haagen Dazs vanilla! Of course the ingredients are right on the package, but there are so many ways out there to make vanilla that I was pleased that our first attempt was right on.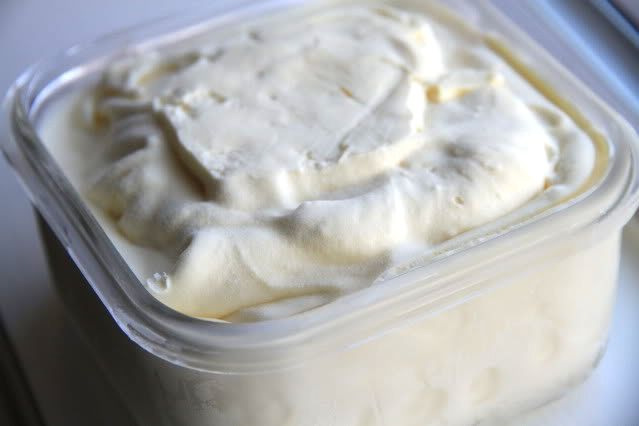 Copy-cat Haagen Dazs Vanilla Ice-Cream
Ingredients
4 egg yolks
1 cup milk
1 cup heavy cream
1/2 cup sugar
2 tsp vanilla
Directions
Slowly bring the milk to almost boiling and then remove from heat. In a medium bowl mix together the egg yolks and sugar until it's thick. Then pour the mixture into the hot milk slowly while continuously stirring. After it's mixed, heat on medium until the custard thickens, about 10 minutes. Be careful that it doesn't boil. When you see a film on the back of your spoon then you can remove the pan from heat. Leave to cool.
When the custard base is cool stir in the heavy cream and vanilla, then transfer the mixture to your ice cream maker. Follow your manufacturer's instructions.
I think this recipe will be a great base for other flavors. I'm looking forward to experimenting with fruit, pistachio nuts or even coffee. I can't wait for our next batch!
More Fabulous, Simple and Chemical Free Ice Cream Recipes:
Double Chocolate
Vanilla Bean
Coconut
Sweet Cream
Buttermilk
Luscious Lemon
Chocolate Raspberry Truffle
Key Lime
Chocolate Peanut Butter