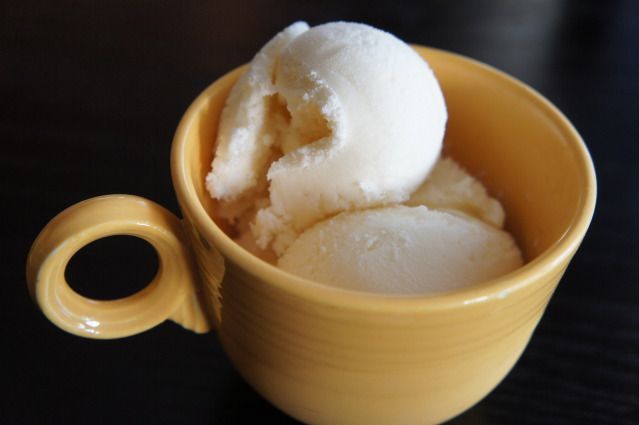 Are you ready for another ice-cream recipe? I think that I am a vanilla girl at heart since I keep being drawn to the vanilla flavors. :) Recipes like vanilla and honey or even buttermilk. So on my hunt for more vanilla'ish flavors I remembered sweet cream. Oh sweet cream, my favorite flavor back in college. I first discovered it at a cold stone creamery type of ice-cream shop. I always chose it over the other base flavors.
What is lovely about making sweet cream is the simplicity. Just a tiny bit of cooking and a bit of patience as it cools. It is also by far the creamiest ice-cream I've made so far. I might even do a little more half-and-half and a little less heavy cream next time.
Sweet Cream Ice Cream
Ingredients
2 cups half-and-half
3/4 cup sugar
1 cup heavy cream
2 teaspoons vanilla extract
2 teaspoons fresh lemon juice
Directions
1. Gently heat 1 cup of the light cream and all of the sugar in a small saucepan, stirring just until sugar dissolves. Pour the mixture into a large heatproof mixing bowl and cool to room temperature. Stir in the remaining 1 cup light cream, whipping cream, vanilla, and lemon juice. Cover the bowl with plastic wrap then refrigerate for at least 2 hours or until the mixture is well chilled.
2. When the mixture is well chilled use it in your ice-cream maker..
Makes 1 quart. Recipe from bhe.com
The first night I ate my sweet cream with fresh cherries. Amazing! I recommend a little tart with all the creamy sweet. You could also try blueberries, raspberries, blackberries or kiwi. Brought me right back to college and the berry mix-ins I'd add to my sweet cream base. :) Enjoy!