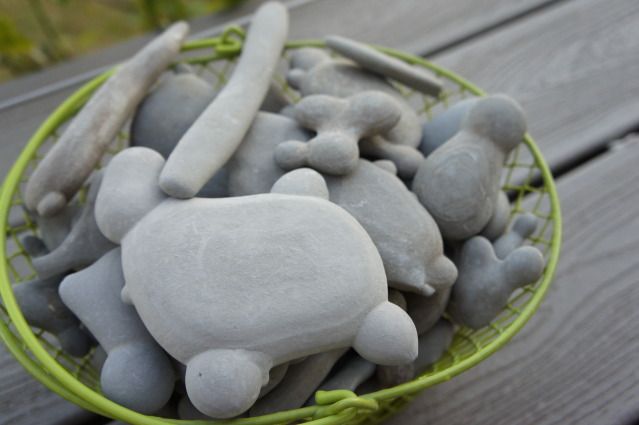 What do these interesting looking rocks look like to you?
These are clay babies (sometimes referred to as claybabies). When you take clay and tidal waters in just the right circumstances you get these fabulous one-of-a-kind formations. Over time the water swirls around the clay banks and creates shapes that eventually pop off and float away, to be discovered by eager beach combers. They are also known as "concretions" which are defined as "a rounded mass of mineral matter found in sedimentary rock". I think they are the cutest little rock people, animals or shapes. They are whatever your imagination sees!
I grew up seeing clay babies and had no idea how special they were. Besides being cute they are only created in two places on this entire planet (the other being New Zealand) and my grandmother's house in Washington State just happened to be near one of them. So I saw them at her house frequently or would find them on the beach in front of her house. My parents live there now and my mom has baskets full of them.
My niece and baby-girl sorting through the baskets.
This summer when we went out for a visit I learned about their uniqueness. My girls were also interested in these funny looking "rocks". My 4 year old was oh-so-happy to add them to her existing rock collection. My baby was thrilled to have something else to put in her mouth. ;)

This is where the magic happens on Fox Island. There are often people walking these beaches looking for clay babies, they make the perfect trip souvenir. I also found a woman collecting them to be sold on eBay at $5 a pop! I've heard that they just recently closed this beach to the public though, and you can only get access through a group permit. Hopefully this is only temporary because this beach is such a gem!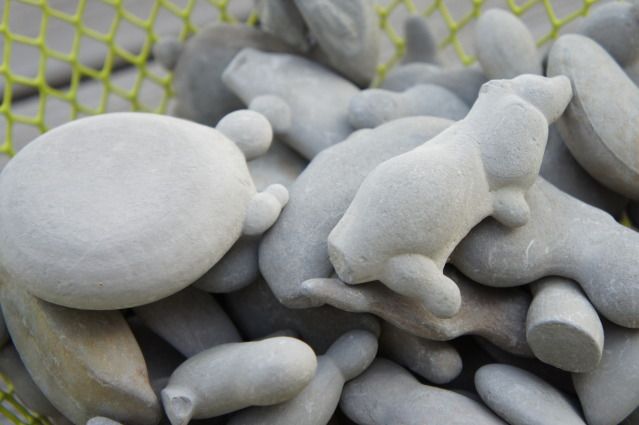 Here are a few of my mom's. I think the one on the right looks like a dachshund and the one on the left resembles a really big turtle.
I read about a marvelous Indian Legend to explain where clay babies come from. This is from the Fox Island Museum:
According to an old Indian legend, an Indian maiden used to play there in the sand, many many years ago and shape the mud into various forms.
When the girl grows up she is sought by Indian men near and far, but none suited her until a mysterious young brave appeared to her as she walked along the beach. Eventually the brave wins her over – the only condition is that she must live with him beneath the surface of the water because he is the son of the old man of the sea. She goes back and forth between her life under the sea and her life on land, but after a while she starts growing kelp on her face, and her parents tell her that she probably should not return anymore. Now when she becomes homesick for her old home, she goes to her former playground and makes the odd shapes which visitors find on Fox Island's beaches.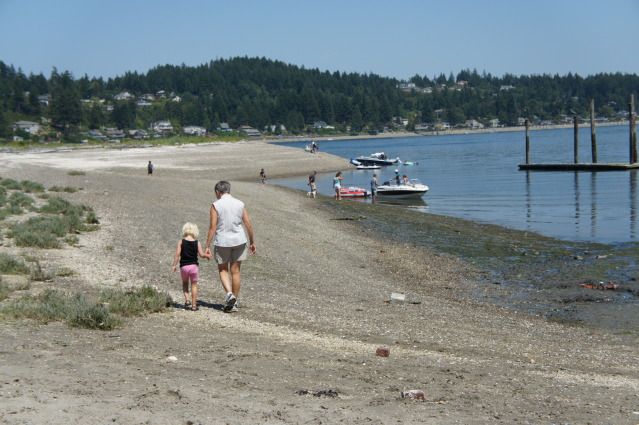 My mom and daughter looking for treasures on Fox Island.
We took a few home and I have them displayed in my bathroom. A fun reminder of our summer adventures at the beach.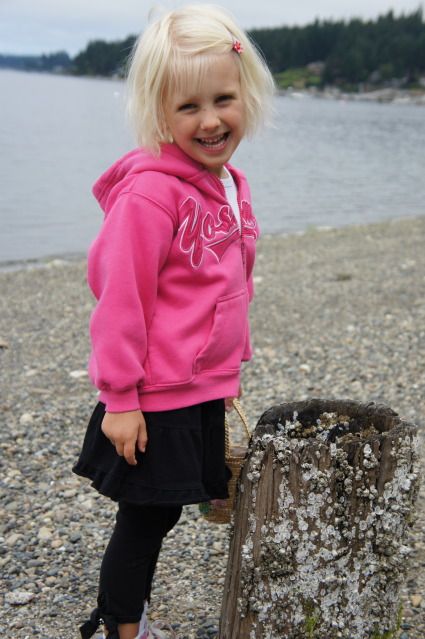 Until next summer! (and yes, my daughter is wearing a sweatshirt and we were there in JULY!!, so different from Phoenix)