Last night I decided to try my hand at giving my 6-toothed-baby something else to chew on while we're eating dinner. So I made banana pear teething biscuits. The recipe was easy and they smelled amazing while baking. In fact the recipe was easy enough that my four year old was able to help.
However, after the baking time finished they still seemed a bit gooey in the back so I ended up baking them for a bit longer. Today the baby tried them out and judging by her intense expression of focus I think she likes them!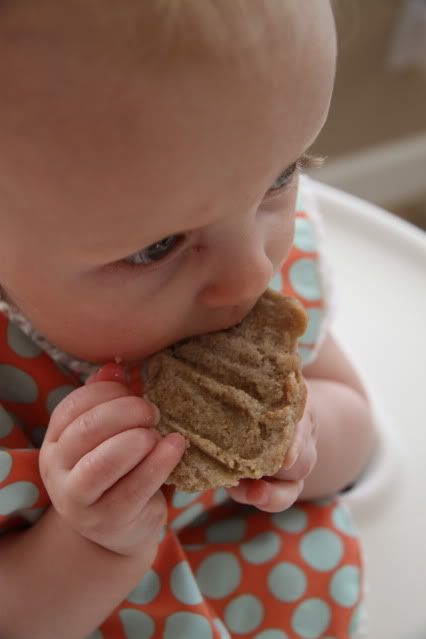 one ripe banana

one ripe pear

1/4 cup water

1 cup brown rice flour

1/2 cup baby brown rice cereal
Preheat the oven to 350

Peal, core and slice up pear. Peal and slice up banana. Toss fruit into blender and add water. Blend until it's in a liquid form.

Pour the fruit mixture into a medium mixing bowl. Add the brown rice flour and brown rice cereal. Stir until well mixed. It will resemble cookie dough (but trust me, it's not the same if you dare to taste, ha!). Add a little more flour if you need to.

Scoop the dough onto a cookie sheet and make the shape of a biscuit. I used a knife to help me shape and flatten the dough.

Bake for 45 minutes or until dough is golden and the back isn't gooey. Cool and store uncovered for a week.
I like that this recipe uses baby food cereal, since we had HAPPYBABY HappyBellies organic brown rice at home. I'd like to try a few different recipes, perhaps one with vegetables instead of or in addition to fruit. I'll let you know what I find.