I was feeling like comfort food last night so I whipped up a new quinoa recipe that I found on my friend Kim's blog. I only made a couple changes.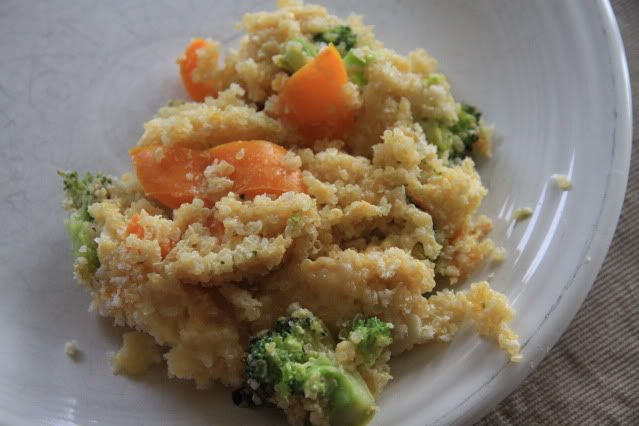 Quinoa "Mac" and Cheese
Ingredients
1 cup quinoa
veggies of choice (I used 1 broccoli bunch and 1 yellow pepper)
1 tsp olive oil
1 tsp salt
2 cloves garlic, minced
2 large eggs
1 cup milk
2 cups cheddar cheese (it called for 1 1/2 cups but I figured the more cheese the better)
Panko bread crumbs
Directions
1. Preheat oven to 350. Cook quinoa according to directions (I use a rice cooker). While it is cooking lightly saute veggies in olive oil.
2. Mix eggs and milk in a large bowl.
3. Fold in quinoa, salt, veggies, garlic and cheese. Pour into a deep pie dish (I used a corning wear dish). Top with bread crumbs.
4. Bake for 35-40 minutes or until topping is a golden brown.
The 4 year old and I loved this dish. I also thought it warmed up great for leftovers this afternoon. The husband wasn't a big fan of the different textures, but he did have two servings so it can't have been too bad. ;)