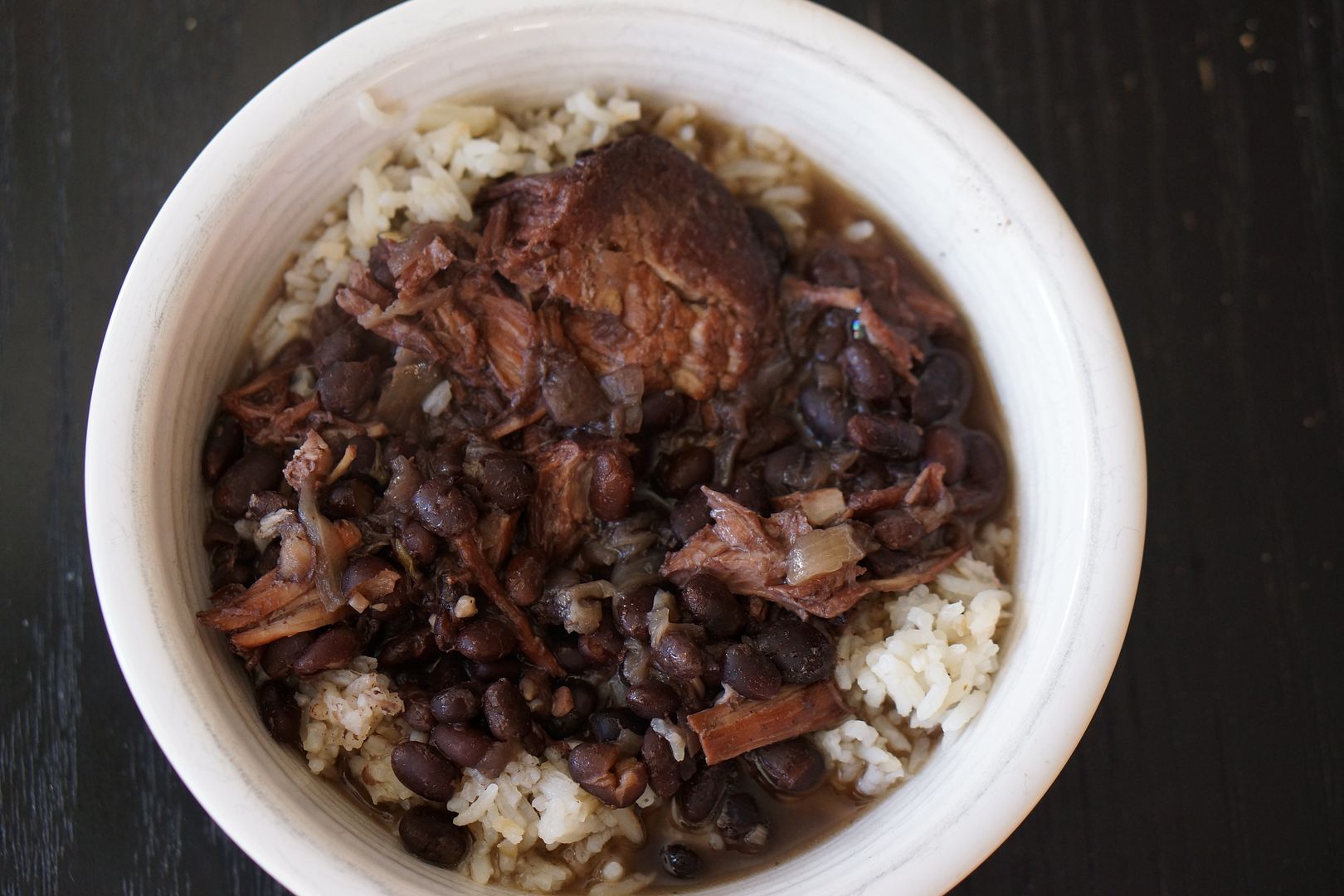 My in laws have lived in Brasil the last 35+ years as missionaries so I've learned a thing or two about making Brasilian beans and rice. I've already shared the family Brasilian Beans recipe but today I'd like to share a easier crockpot version. My sister-in-law helped me create this version last time she and her (Brasilian) husband visited.
Basically I combined the ease of my slow cooker beans (the ones I cook ahead then freeze for recipes) and my other Brasilian bean recipe. Same with the rice. We took the Brasilian rice ingredients (onion, garlic, oil) and used the ease of a rice cooker. Ah, a perfect marriage of Brasil and USA!
It is absolutely fabulous and my entire family LOVES it. My version is not spicy but full of flavor. It works well as leftovers although we separate the bean "juice" from the beans so that they don't soak up and get smooshy in the refrigerator.
Crockpot Brasilian Beans
Ingredients
1-2 lbs pork (w/bone). You can also use steak or sausage, I used 2 pork chops.
Directions
1. Measure out the beans and remove any stones. Give them a quick rinse and then add to the crockpot. Add 6 cups of water.
2. Heat medium skillet and add olive oil. When the olive oil is hot (but not smoking) add the onion and sautee until translucent. Add the garlic and cook for 1 more minute. Put the mixture into the crockpot.
3. Add the meat, salt and pepper and cook on Low for 6-7 hrs. About an hour before serving add 2 more cups of water if you prefer it more soupy (we do!). Otherwise leave out the water and for a thicker texture smash some of the beans.
3 cups white rice (uncooked)
3-5 cloves of garlic, chopped
Directions
1. Heat medium skillet and add olive oil. When the olive oil is hot (but not smoking) add the onion. Saute for about 3 minutes then add the rice. Keep sauteing over medium heat mixing from time to time so that it doesn't burn but gets a nice toasty brown color (like rice-a-roni). Add the garlic at the end and cook for 1 more minute.
2. You can now either add the water to the pan, cover and cook until the rice is tender (about 20 min) or put the rice mixture and water in a rice cooker. I prefer the rice cooker!
3. Serve with Brasilian beans.