I am a fan of zucchini and serve it all the time. I was raised to eat it sliced, steamed and then salted. My family however does not appreciate it quite as much as me. As a result I've tried different ways to prepare it including roasted, baked, stuffed, in stew, soups and even as "chips". Today's recipe topped them all according to my 6 year old. She coudn't get enough and neither could I!
I think this one will be in our regular meal rotation! This recipe is very similar to my zucchini chips, but there is something about having a stick/fry to hold on to that makes this one even better. Perhaps because it is easier to dip? I also found it easier to make than the chips because the sticks balance and fit on the rack better.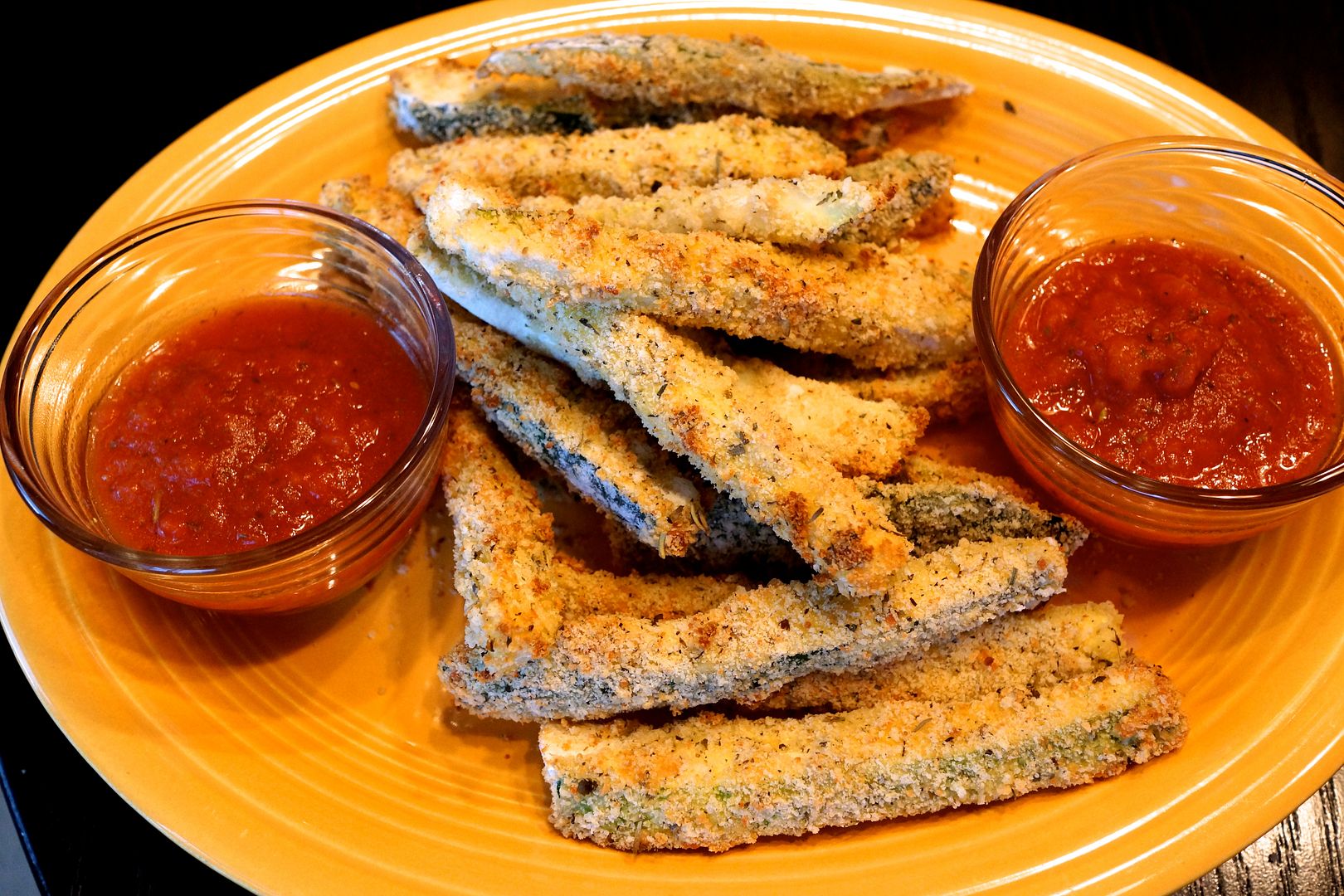 Baked Zucchini Sticks
Ingredients
1 lb of zucchini
1/4 cup flour
1/8 tsp salt
1 cup bread crumbs
1/4 cup grated parmesan cheese
1 Tbsp Italian Seasoning
1 large egg
Directions
1. Rinse and dry the zucchini. Cut off each of the ends and then slice into sticks. Try to make the sticks equal so they cook evenly.
2. Place the sticks into a large zip lock bag and add the flour and salt. Shake the bag to coat the sticks completely. In a wide, shallow bowl combine the bread crumbs, parmesan and italian seasonings. In another wide bowl wisk the egg with a little water (about 1 tsp) until smooth.
3. Preheat your oven to 425 degrees. Cover a baking sheet with foil and place 1 or 2 cooling racks on top of it. Or if you have a convection oven use the elevated rack (that's what I did).
4. Take one zucchini stick at a time out of the flour bag and dip it in the egg mixture (all sides), then into the parmesan/bread mixture. Carefully place it onto the rack and repeat for the rest of the sticks. Do not stack the sticks on each other as the air moving all around them is what makes them crispy and wonderful.
5. Once your rack is full bake for approximately 15-30 minutes until they are a medium brown color and to your desired level of crispiness.
Serve alone or with your favorite dip such as ranch or marinara. I made a quick tomato dip by cooking diced tomatoes (the canned kind), adding italian seasoning and blending with an immersion blender. Easy-peasy!
Note: They're not crispy as leftovers but I still found them to be very yummy.
For more Recipes that use Zucchini check out:
Vegetable Quinoa Soup
Spring Vegetable Beef Stew
Roasted Zucchini, Onions and Mushrooms
Baked Eggplant and Zucchini Parmesan
Quinoa Stuffed Zucchini Boats
Zucchini Chips
Zucchini Tomato and Parmesan Bake