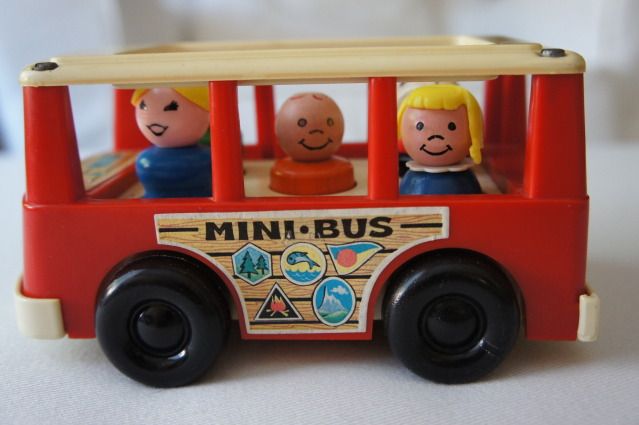 We've done a fair bit of traveling with both of our kids since they were very small. Each of my girls had their first airline flights when they were just infants. Car travel has also been regular, but it wasn't until last year that we decided to take more road trips than flights. Perhaps it is because of the increased safety regulations at airports which makes an already difficult situation more tedious, or perhaps it's just because traveling with 2 kids is HARD. I'd much prefer my kids to yell, whine or cry in our car rather than on a plane full of other judgmental people. Just saying.
However, I've learned a few tricks to keep the yelling, whining and crying at bay while traveling. Even while traveling ALL day. I actually prefer car travel and have enjoyed the 4 road trips we've taken in the last year. :)
Toys for the preschooler- Pack a soft bag for each child filled with toys, preferably new toys or ones they haven't played with in a while. Some favorites for car trips are a rubber band/peg set, magnet toys and craft activities. Make sure you have plenty of sticker sets, coloring books, crayons and colored pencils. I'd avoid glue, paint and markers, unless you are pretty laid back about messes. :) Don't forget an eye spy activity, you can make your own or buy one.
Toys for the baby - In my experience the younger the baby the easier it is because they sleep and sleep! On our last trip my baby was 13 months and she still slept quite a bit, much more than in our normal at-home schedule. However, when she was awake it took a bit of work to keep her happy. I suggest having quite a few toys on hand and just keep switching them out. Also try things in the car such as empty water bottles, papers, basically anything you have on hand! You could even use a Kleenex box in a pinch.

Treats/Food - A must since the less stops the better! Having lots of healthy snacks on hand with easy access including a cooler makes for a smoother trip. I keep a grocery bag and a cooler behind the passenger seat so I can always reach something. Don't forget a bag of napkins, spoons, plates and other meal ingredients for rest-stop meals. Our favorite travel snacks are baby carrots, pretzels, cheese sticks, freeze dried fruit, grapes and squeeze yogurt. For quick lunches I pack bread, meat, cheese slices and a couple condiments.


Stops - We try to limit our stops. The general rule is if a baby or kid is sleeping we don't stop! That may mean later meals but it's worth it. When we do stop for gas or potty breaks we have everyone go to the bathroom whether they need to or not (adults too). With baby-girl I offer nursing whenever we stop.
Other tips
bring earplugs: My husband wears earplugs in case baby-girl is too loud. :)
bring extra: wipes, kleenex, paper towels, diapers, hand sanitizer, water bottles and patience.
consider bringing: a DVD player. Our kids don't watch tv at home and I was pretty anti-car DVD players. However, on our last trip I brought one for the 1st time and wouldn't you know it did come in handy? :) My oldest watched a video on 2 legs of the trip and it was the quietest drive! No bugging her sister, asking a million questions or complaining. So perhaps they aren't so bad. Ha!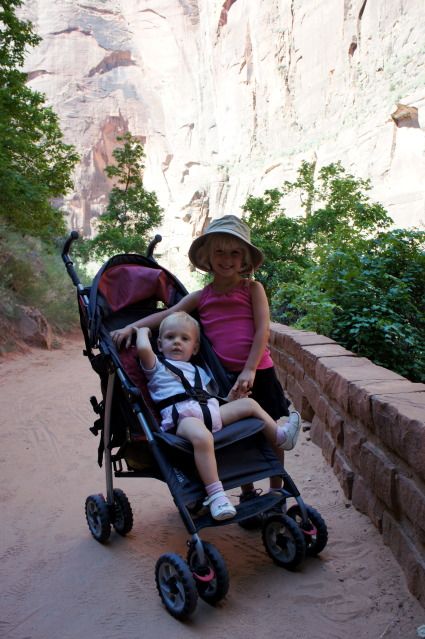 My little travelers at Zion National Park last month.
Last but not least plan on the drive taking longer than Google or your GPS tells you. Prepare for extra stops and try to enjoy the ride rather than just hurrying to your destination. If mommy and daddy are relaxed the kids will be too.
Have a great trip!