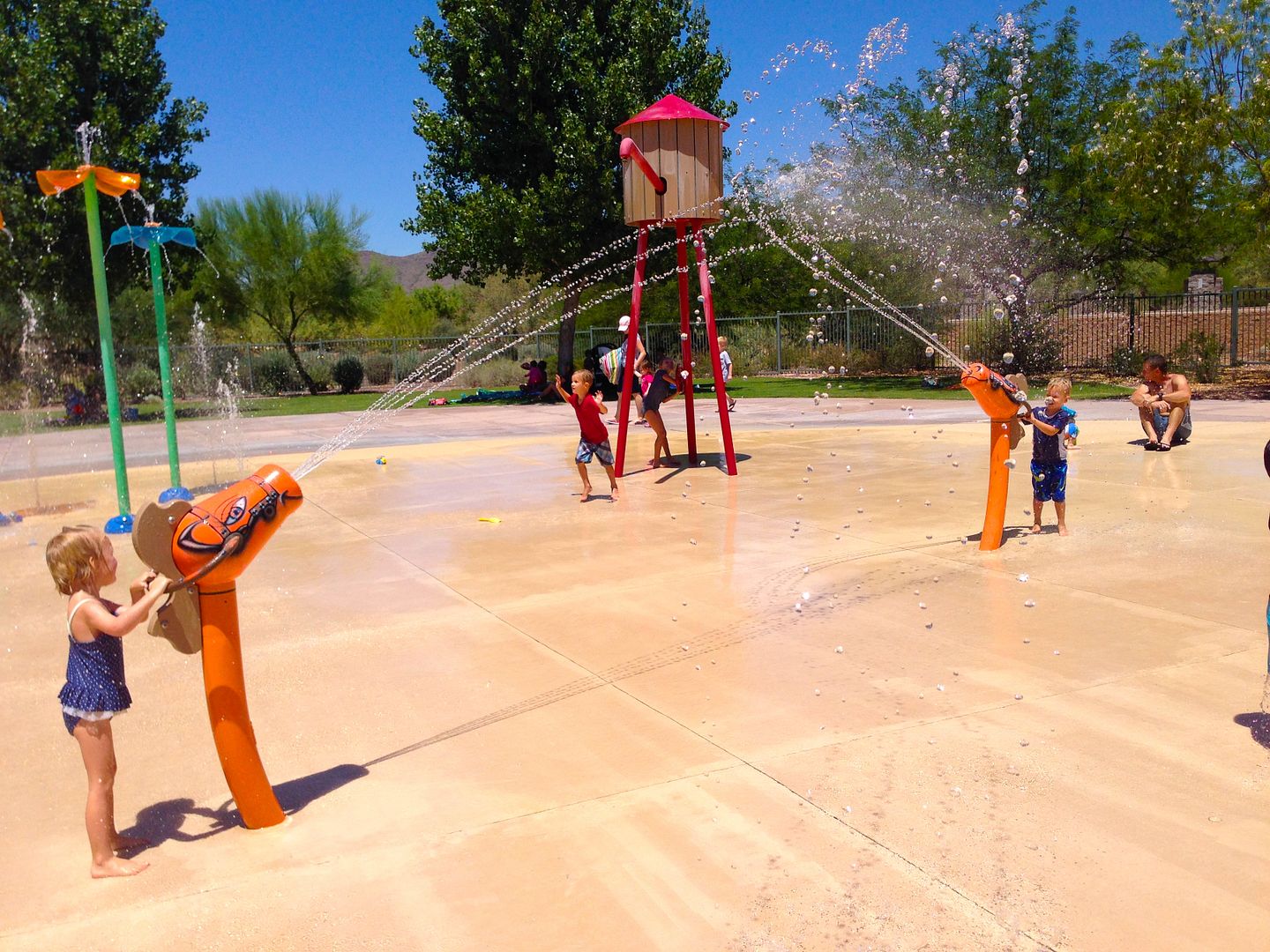 We are enjoying the last week of summer break before school starts next week. Earlier in the summer I had the idea to go on a Splash Pad adventure with our friends. Now one splash pad is fun enough, but what if we spent the day going from splash-pad to splash-pad? You know, "crawl" style. Ah, an idea was born and put on the calendar.
We waited until we could coordinate with our friends and today was the day!
It is a simple and practically free activity that the kids LOVED. We planned out 4 splash-pad locations and met up at stop #4 first so we could carpool. After all, a crawl isn't a crawl unless you're all going together!
Splash-Pad #1 had a playground and a splash-pad so the kids could go back in forth between the two. We stayed there at least an hour before moving on.
We had started the day around 10:20am so the kids were ready for lunch before we hit the next splash-pad. We drove to the outlet mall and had lunch in an oh-so-lovely air conditioned food court. This was key because it was between 105-111 degrees here today (yikes!!!). We packed our own food to save money.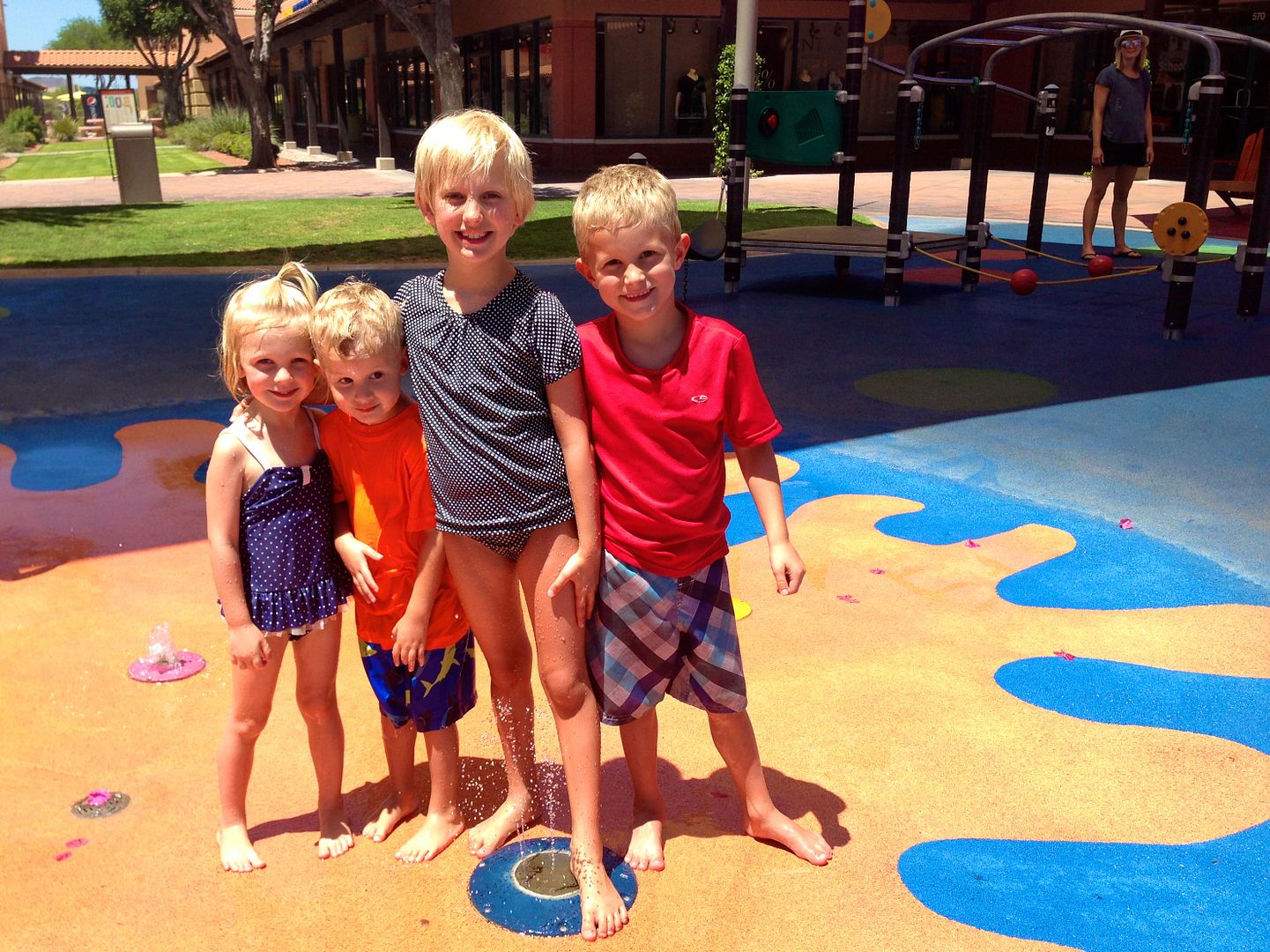 Splash-Pad #2 was at the mall and we stayed for about 20 minutes before moving on. The mom's did a quick Starbucks drive through for Trenta Ice-Teas before we arrived at Splash-Pad #3.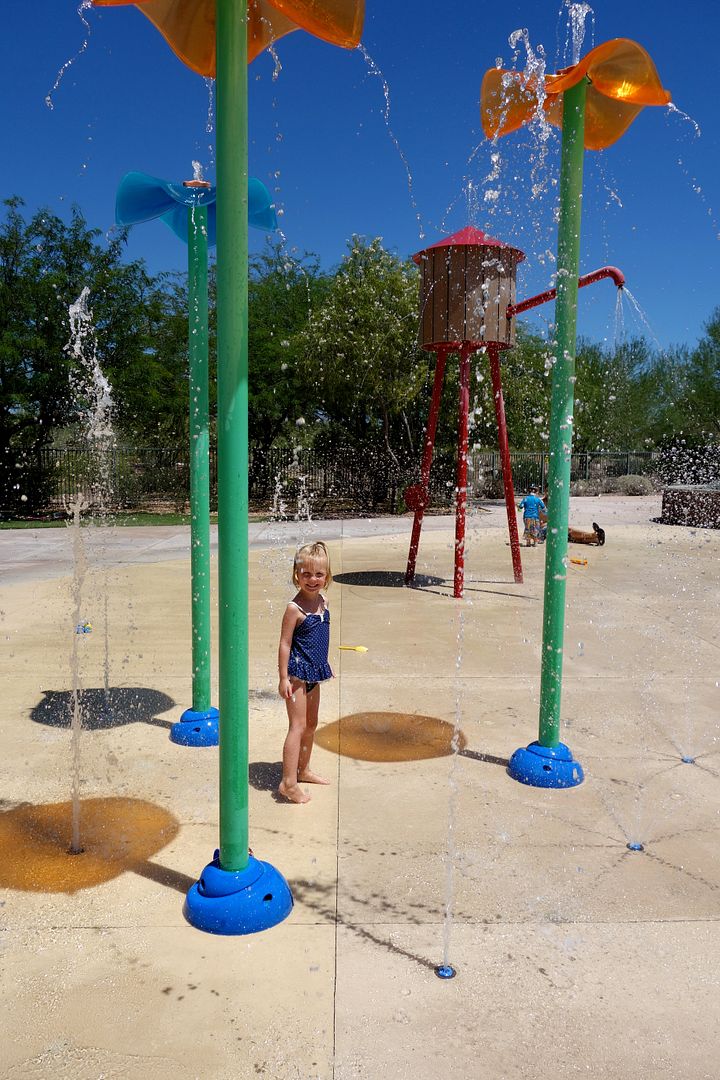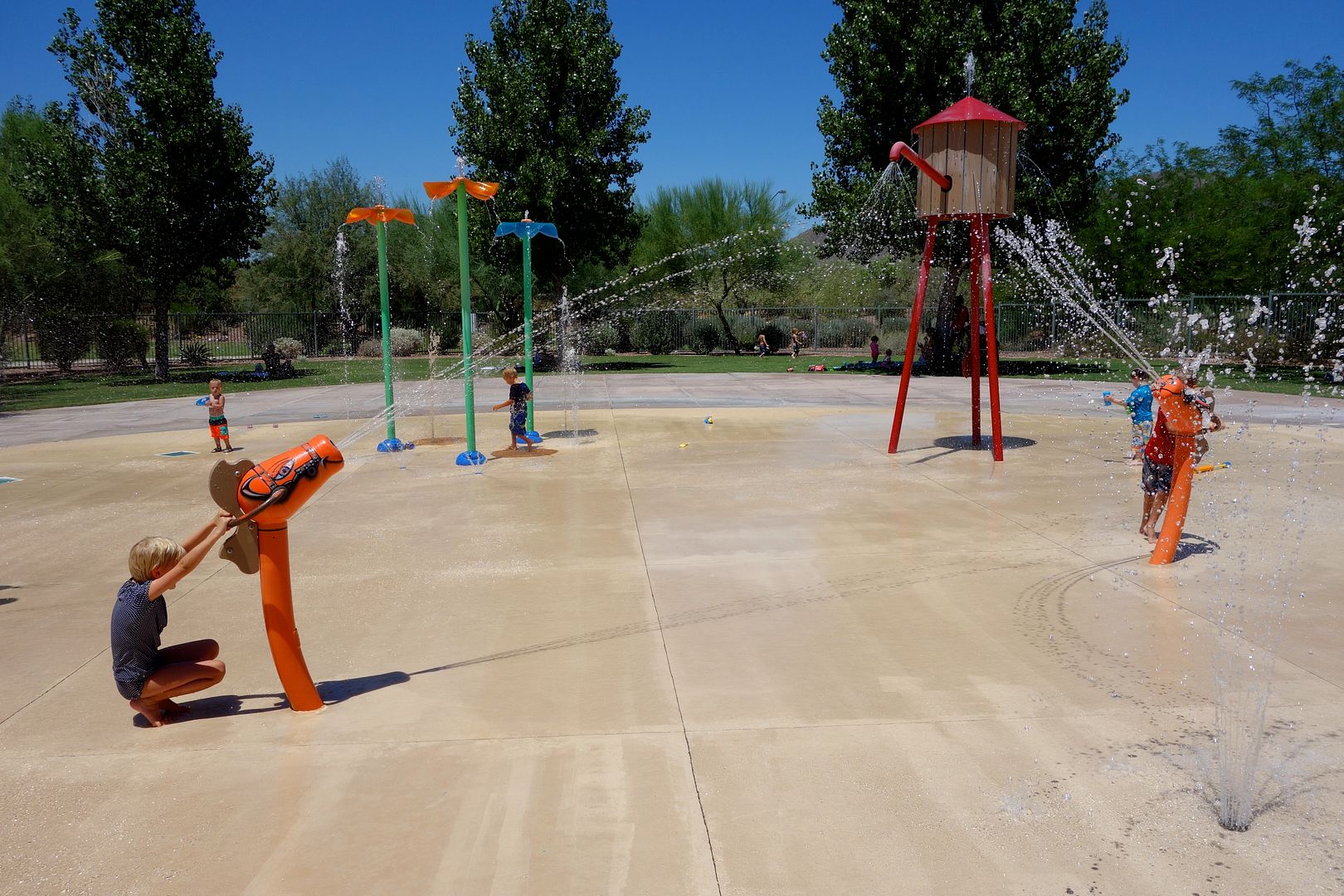 Splash-Pad #3 was by far the coolest splash-pad and we spent about an hour here. It had horse squirters, fountains and a bucket that dropped water. So fun! This splash-pad also had a bathroom which is key with 4 little kids. :)
After leaving we stopped by a nearby Sonic to pick up fruit slushes for the kids, but made them wait until our final stop to drink them (hello red drinks in my white van!!).
Splash-Pad #4 was our final stop and where we had met up that morning. The kids had slushes and more splash-pad fun before we ended the day in our local pool. Such a fun day!!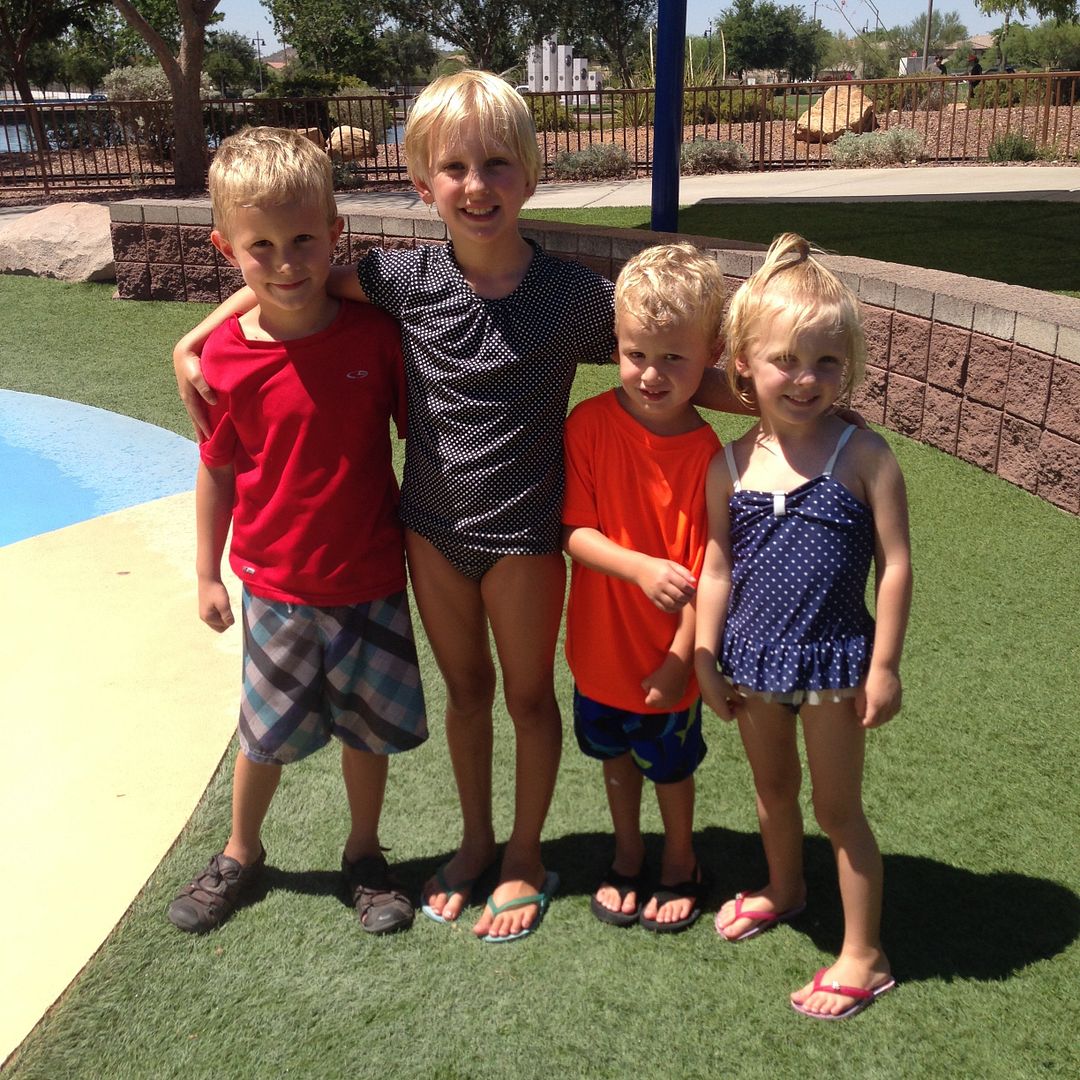 If you don't have 3 or more Splash-Pads in your community consider doing a Pool Crawl or weather permitting a Playground Crawl. You could also coordinate with friends and set up different sprinklers in backyards and do that instead. It makes an otherwise ordinary activity a little more exciting. :)
Tips and things to remember:
1. Pack a cooler with snacks and extra water.
2. Apply sunscreen before each new splash-pad.
3. Figure out a plan ahead so that you have an idea of where to eat lunch and of course bathrooms!
4. Stop in-between Splash-pads for (surprise) goodies like ice-cream, slushes or iced-tea.
5. If the kids are getting restless and whiny it might be time for a meal or snack!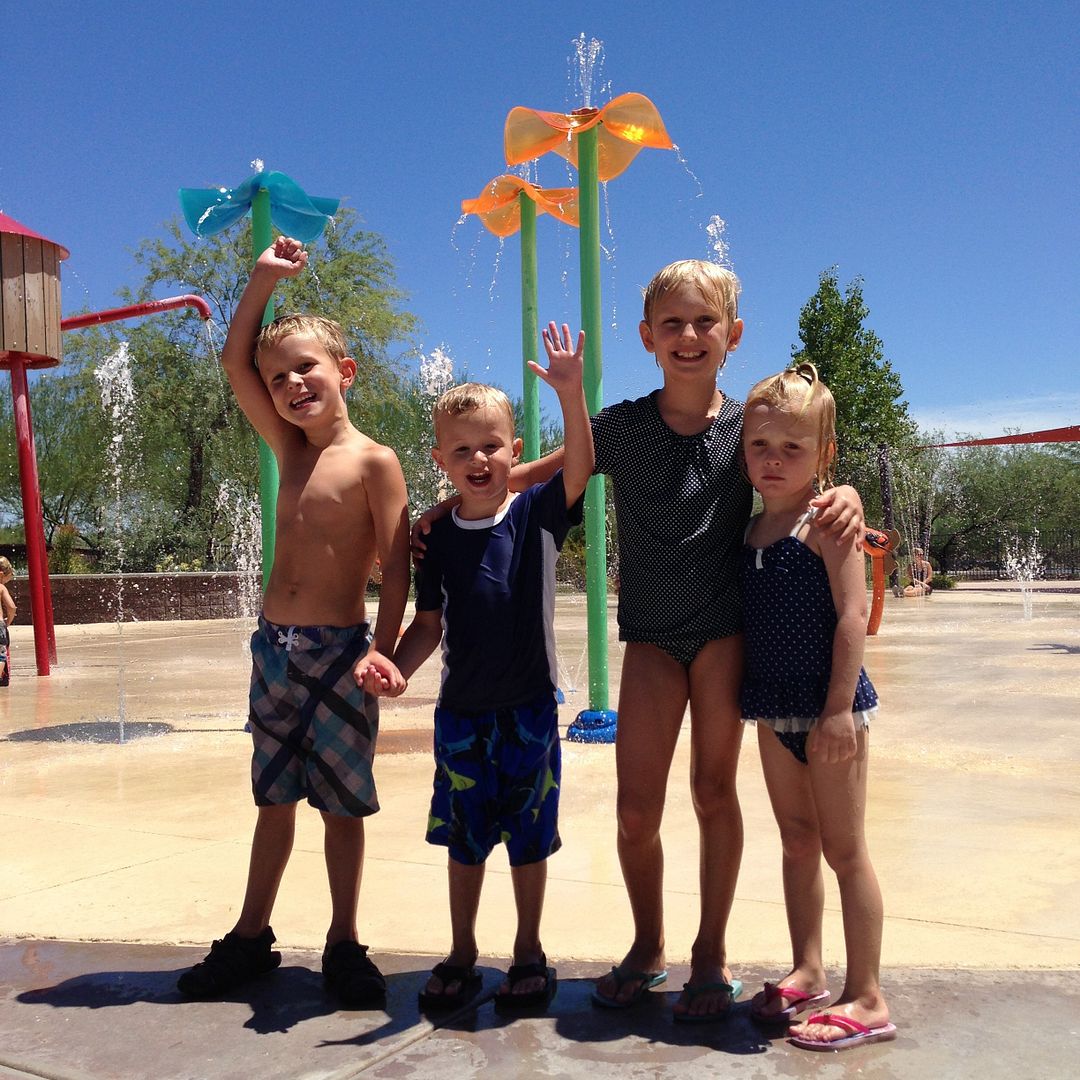 Hooray, what a super fun day!!