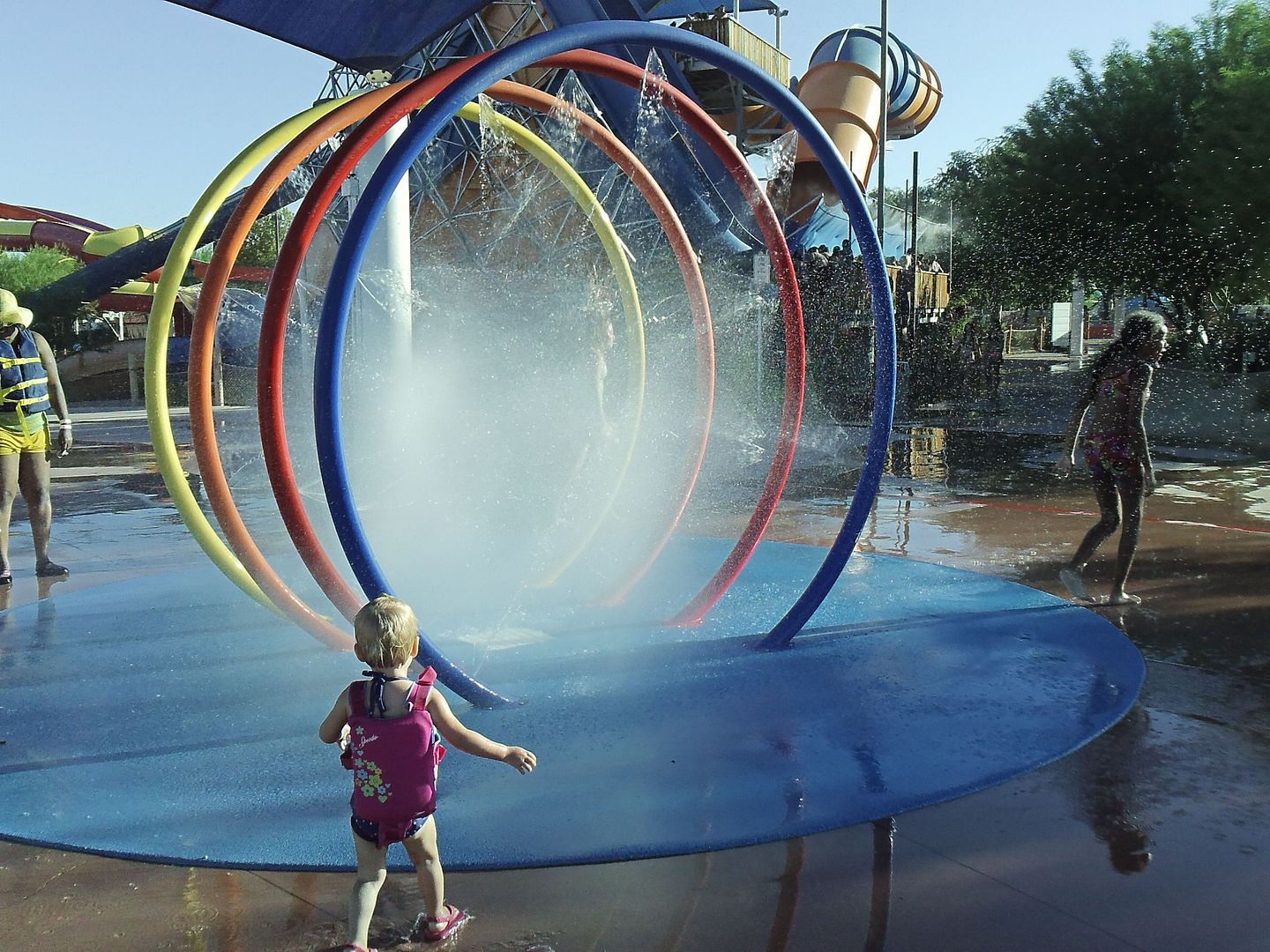 Our family had an adventure at the Wet 'n' Wild water park in Phoenix. We've lived near this waterpark for years but this was our first visit. We went in the evening are were able to get the twilight prices ($19.99 per person for after 5pm vs the $38 day price).
I'd been hesitant to go to the park in the past because I was either pregnant or had a young child. Right now our children are 5 1/2 and almost 2. The 5 year old got the 42 inch bracelet and could go on many of the rides. The youngest was free to get into the park which was good because she could hardly go on ANY rides (just the lazy river and maybe the wave pool but we didn't go there).
We started by eating dinner because we'd been in a rush to get to the park when the Twilight hours started (5pm). Two dinners (chef salad $5.99, chicken strips w/mashed potatoes $10) and a soda cost us around $22. If possible I'd recommend eating first. Know that you can't bring any food or drinks into the park except sealed water bottles and baby food.
We hit up the kids Soak Up Spray ground first which was a very cool looking "playground" with many slides, falling water features and sprays. It looked great but the water was absolutely freezing! Freezing cold dripping, spraying and falling water is not pleasant! Now remember that it was about 102 degrees outside, even with that temperature it was c-o-l-d. Perhaps in the middle of a hot hot 110 degree day it would be good, but not that night. Another problem was that my youngest was eager to explore the splash ground but was too short to go on any of the slides. However, she did not understand this concept which made it a challenge.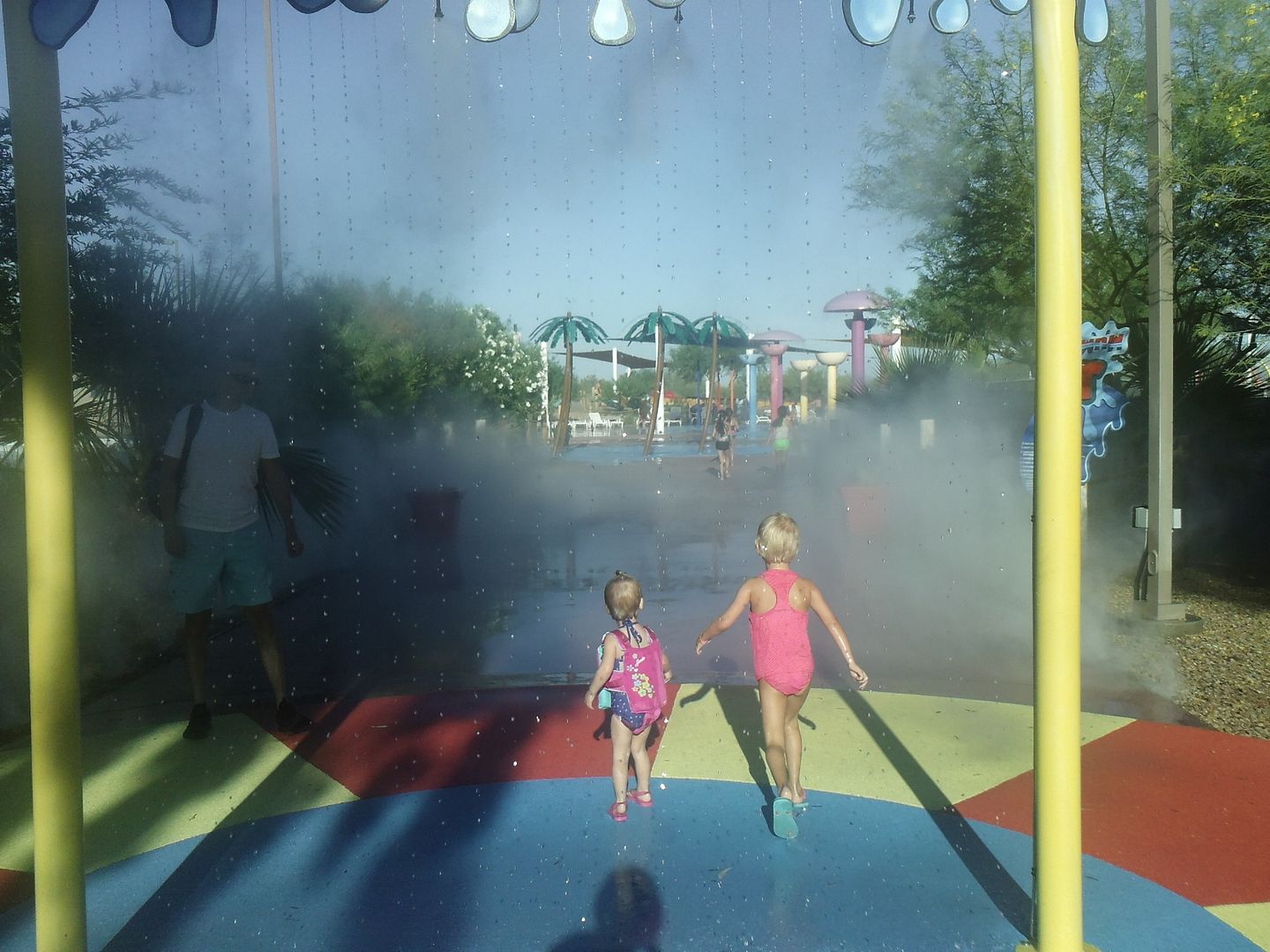 We moved on to Wet and Wild Jr next. This area had a bunch of different splash-pad
areas and a few slides appropriate for kids (at least 36 inches). My 5 year old loved it! I went with her on the Screaming Streamers (easy inner tube
ride for 2) and followed her on the Tiny Typhoon. She then got brave and went on her own many times on the Banzai Racers and the Tiny Typhoon. The baby tried to be patient but she could only play in the splash pad areas and did not understand why she couldn't go on the "slides".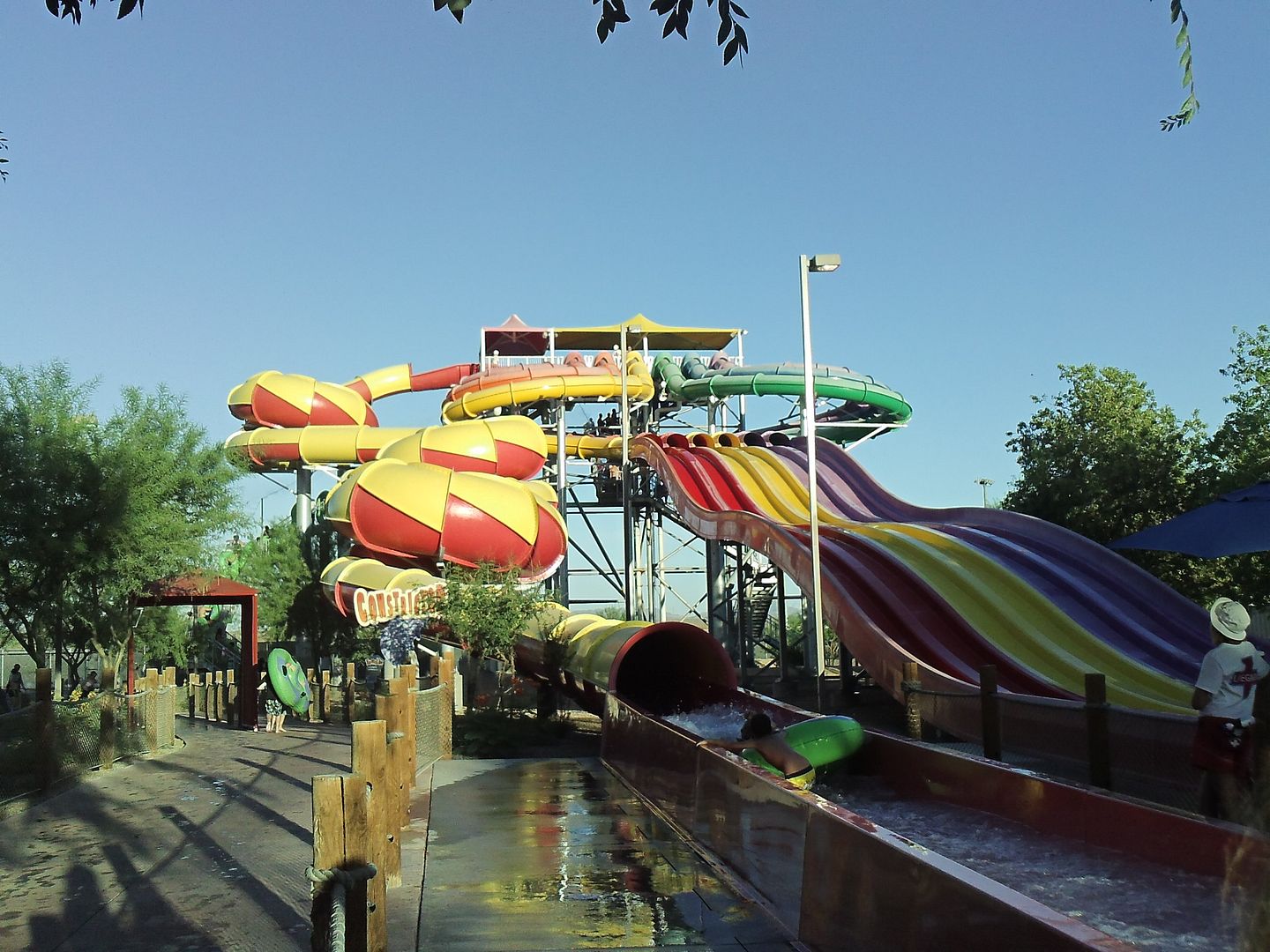 We moved back to the Soak Up Spray Ground and tried the back side (more splash pad, low water for little kids) but it was still cold! Baby stayed with my husband eating snacks and the 5 year old and I went on the Phoenix Flyer's. We climbed up 4 stories in order to catch the ride. Quite a view up there! We used a double inner tube and raced down the mostly enclosed slide screaming all the way. That was my favorite!
We tried the lazy river ride next (Cactus Cooler) and I went around on a double inner tube with both girls. By the time we meandered back to the start it was getting pretty cold (still 100 degrees out btw) but my 5 year old wanted to try the Jr section again.
After watching big sister go on a few more rides we decided to call it a night. A promise of a double scoop waffle cone convinced the girls that it was time to go. For $4.67 we had two scoops (chocolate peanut butter and animal cookie) of yummy dessert.
So what did I think?
I would go again, but not until both girls are big enough to go on the rides. Although the "baby" was free to get in it was too much of a challenge to have rides all around that she couldn't go on. I'd either bring a younger child that won't mind being held and staying in one place or one tall enough (36 inches) to participate.
I'd also skip the Twilight hours for the family. It was too cold and you can't stay long enough with kid bedtimes. I had a friend go to the park for a date night which sounds like fun, although there is still the issue of it being cold!
We'll just have to be patient and wait another year or two before we try again. But in just a few years when the kids are both school age I can already see what a fun place this will be for us. I'm sure we'll get season passes and try all the rides!
Wet 'n' Wild Phoenix
4243 W. Pinnacle Peak Road
Glendale, AZ 85310-4002
(623) 201-2000