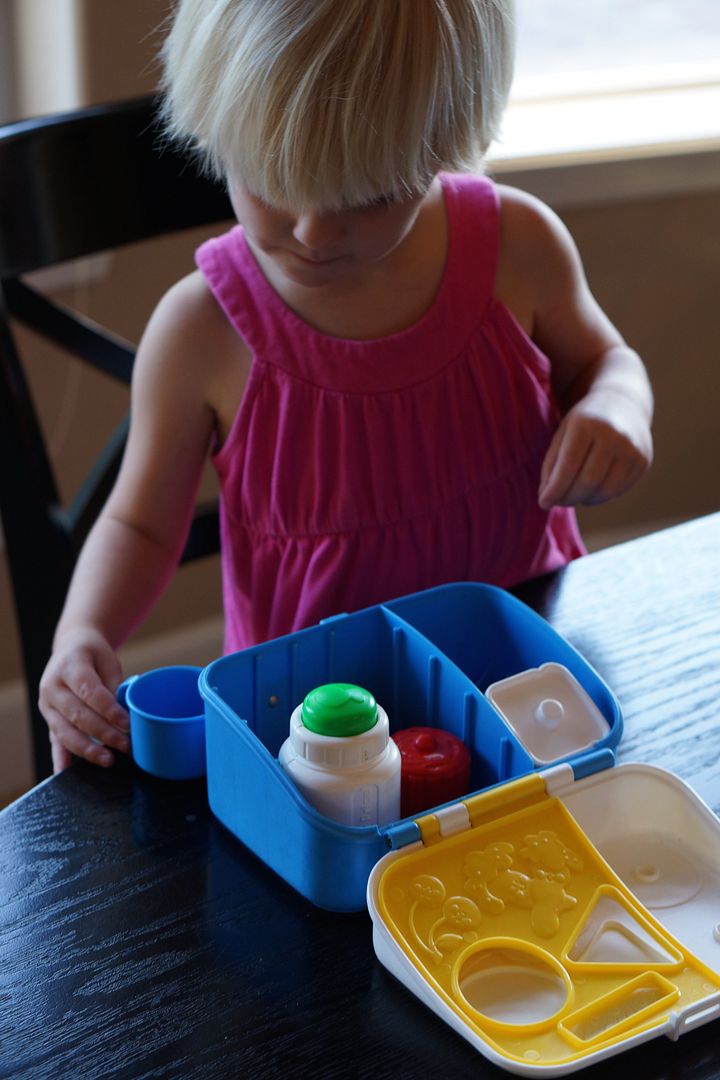 It's been a busy summer and believe it or not we're gearing up for school. My oldest starts next week! I figured this was a good time to share our Activity Lunch Box #1054. My youngest would love to bring this box to school, but fortunately I have a couple more years with her before she goes to kindergarten.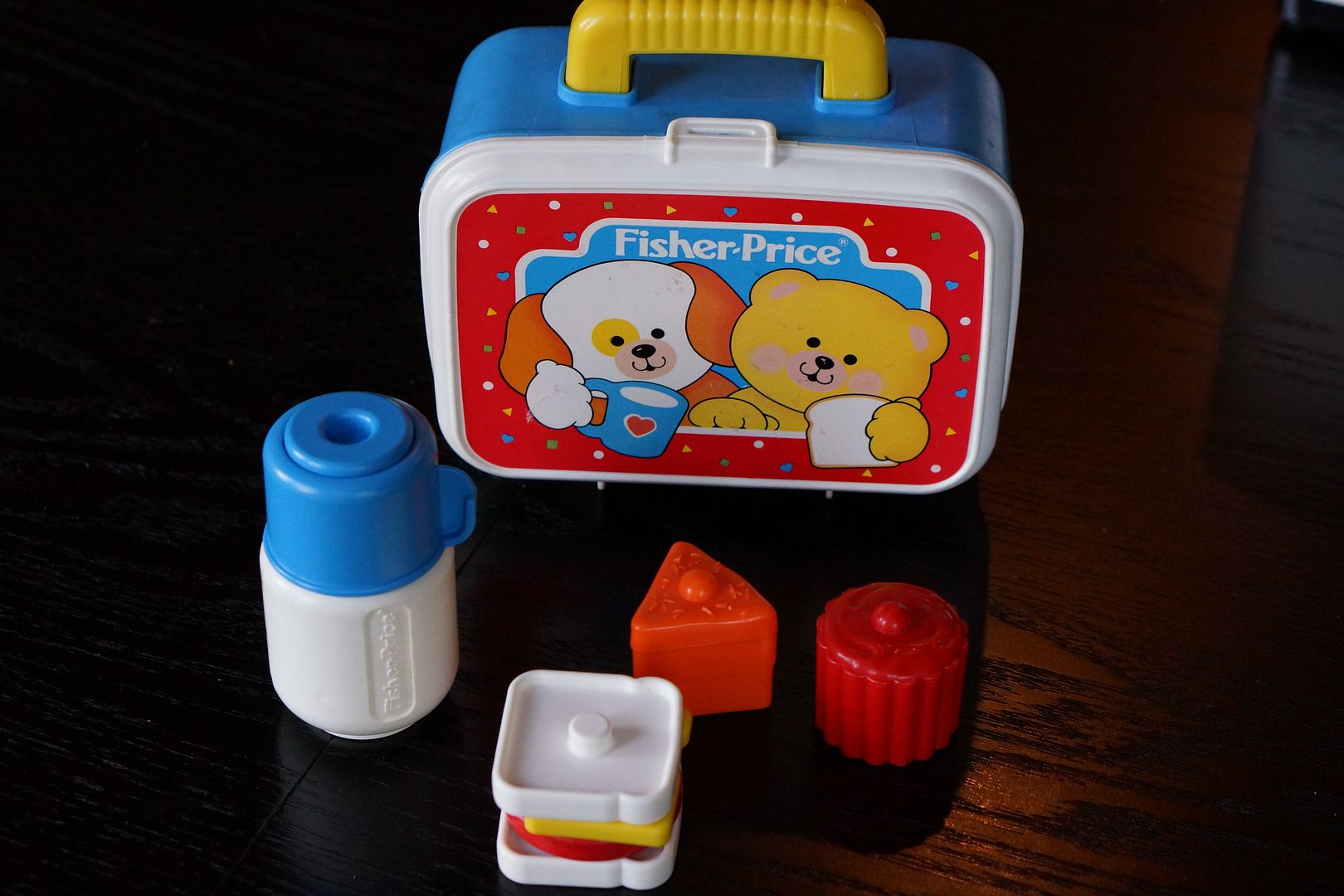 The Activity Lunch Box #1054 was made from 1993-1994 and came with 9 pieces. It includes a thermos with lid, hinged shape sorter, sandwich shapes (2 bread, 1 cheese and 1 tomato), orange triangle cake slide and a red circle cupcake. The box has a white front, blue back and yellow handle. There is an alternate variation where the front is yellow, back blue and handle is white. The lithograph on the front shows a dog and cat enjoying lunch.
The box was designed for children ages 9 - 36mo and I can confirm that it is popular with my just turned 3 year old.
The box has a hinged sorter inside that little ones can put the different shapes into. My sorter is yellow and the variation would be a white.
The thermos is a white milk bottle with a squeaker in the top. The front has a teddy bear and the back says Fisher Price. The blue lid doubles as a cup and has a rattle inside the top. Note that there is a variation where the lid is green instead of blue and the squeaker is blue instead of green.
The sandwich pieces are two white pieces of bread, a red tomato and a yellow cheese. The pieces stack on top of each other, or on the spaces in the lid of the box. The alternative variation includes bread pieces that are yellow with a white piece of cheese.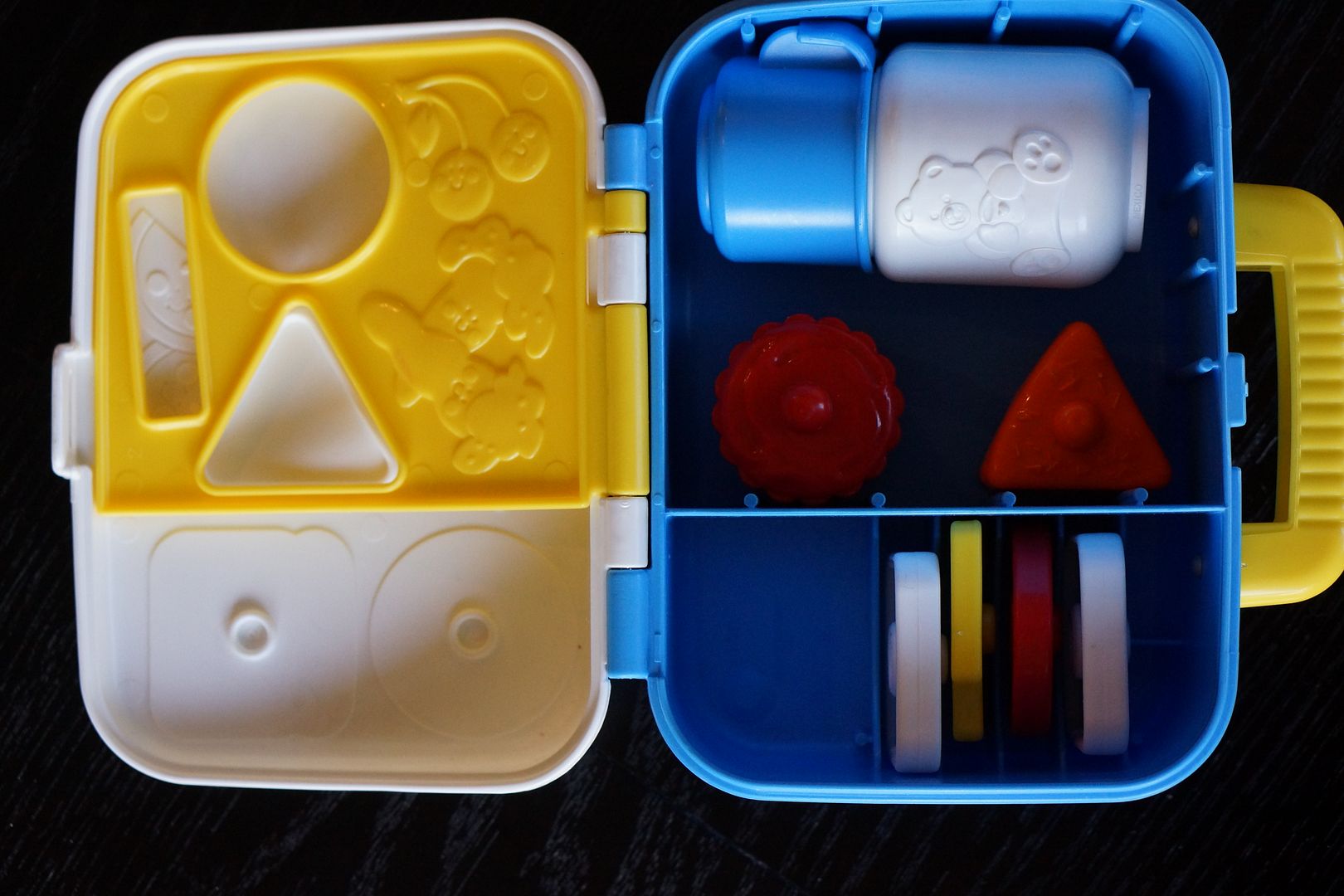 The cake shapes in my version are orange slice (triangle) and red cupcake (circle). The alternate version is opposite with a red slice and a orange cupcake.
We're ready for school!
I've got a Activity Lunch Box in my Etsy shop right now if you want one too. :)