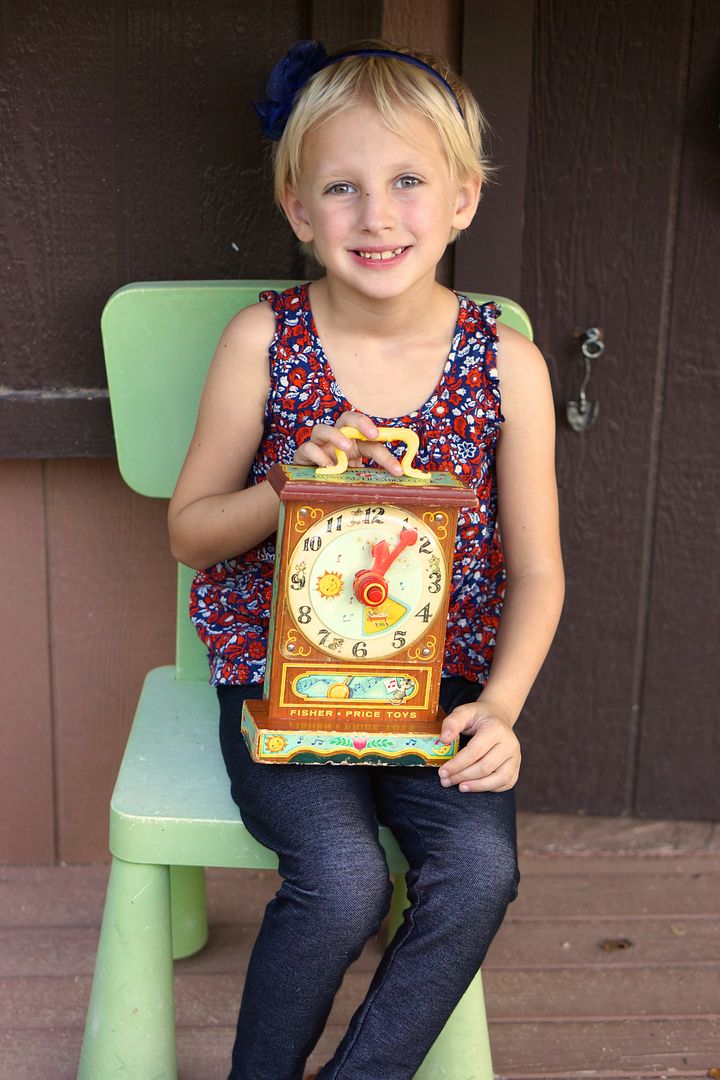 Welcome to Fisher Price Friday! Today I've got a very old toy that is both fun and educational. It's the Musical Tick-Tock Clock #997. Made between 1962-1967 this wooden clock plays the "grandfather's clock" melody with a accompanying tick-tock sound. This clock is over 50 years old but fits just perfectly in our playroom.
I'm not sure what age this toy was originally designed for but my 1st grader can use it to practice telling time and my 3 year old loves the music box and sweet illustrations.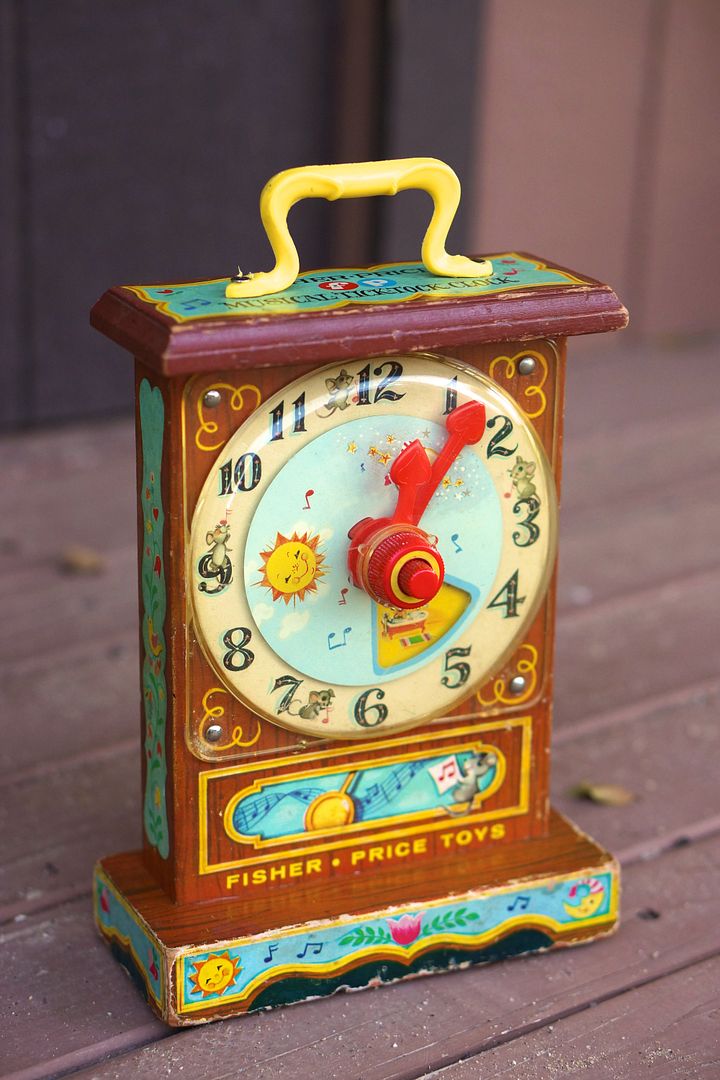 The clock is made of wood with lithographs on all sides. There is a plastic cover over the face and plastic hour/minute hands. The first edition was made between 1962-1963 (as shown). A slightly different version was made from 1964-1967 with a lighter brown color and darker blue sky (similar to the #998 Music Box Teaching Clock).
The clock has the sweetest little characters on it. On the front are happy mice and a smily sun and moon. When the clock is wound (in the back) the red clock hands move around with the music. The red hands can also be manually moved by the knobs in the front. Perfect for helping your kids learn to tell time.
The sky moves showing different illustrations behind a cutout when the music is playing. The illustrations include a little girl taking a bath, a mother and son grocery shopping, grandma reading a story in a rocking chair to a little boy, two kids on a tricycle, little bow peep walking to school with her sheep and lastly a boy waking up with a rooster.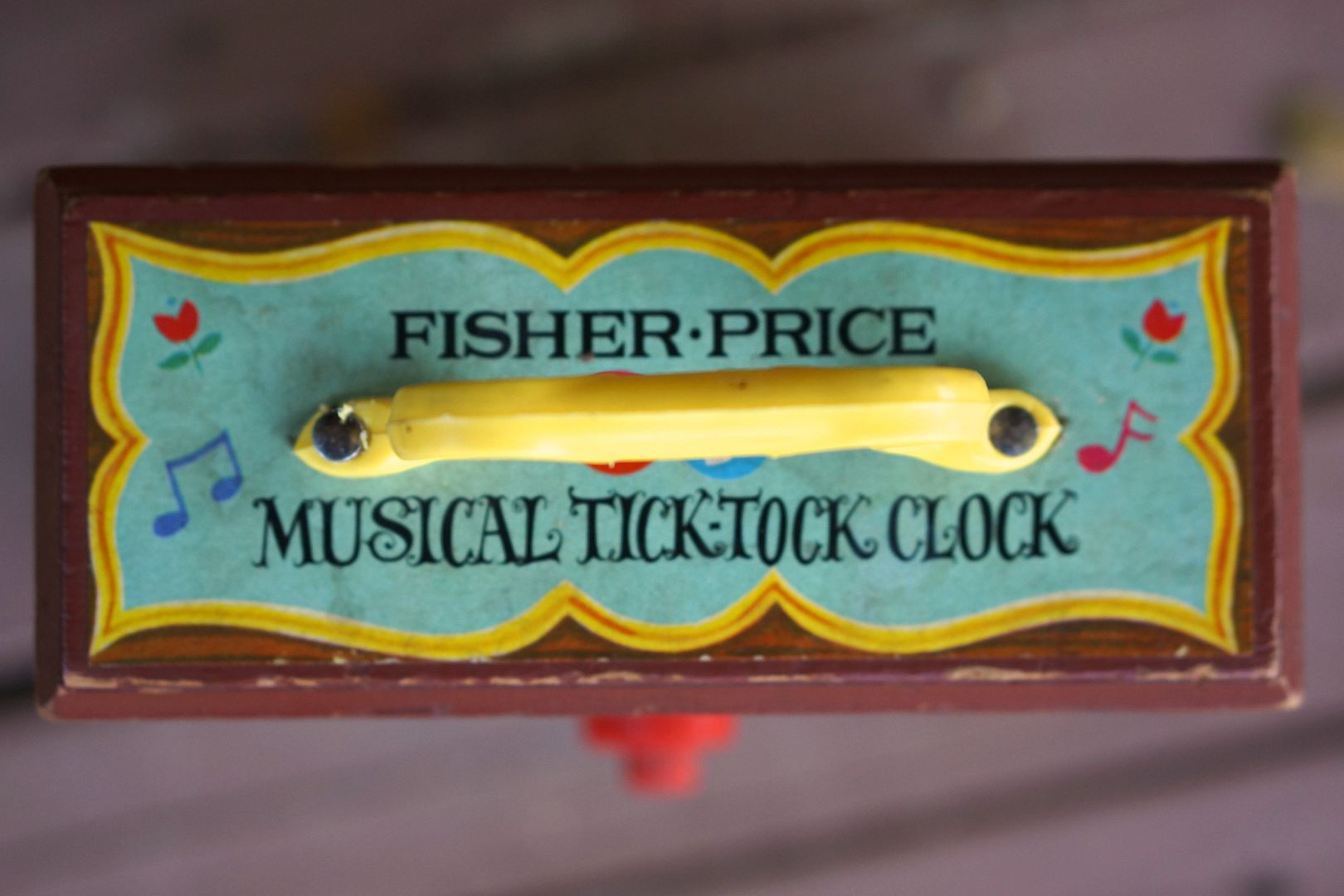 The top has a yellow plastic handle (red on the later edition).
Each side of the clock has the same turquoise lithograph with flowers, a vine and a yellow bird. The back of the lithograph has the same wood grain look as the front, bottom and back.
The back of the clock shows illustrations of every hour with accompanying activities. They have the same six as shown in the front as well as another six as shown above.
For more Fisher Price Clocks Check Out: