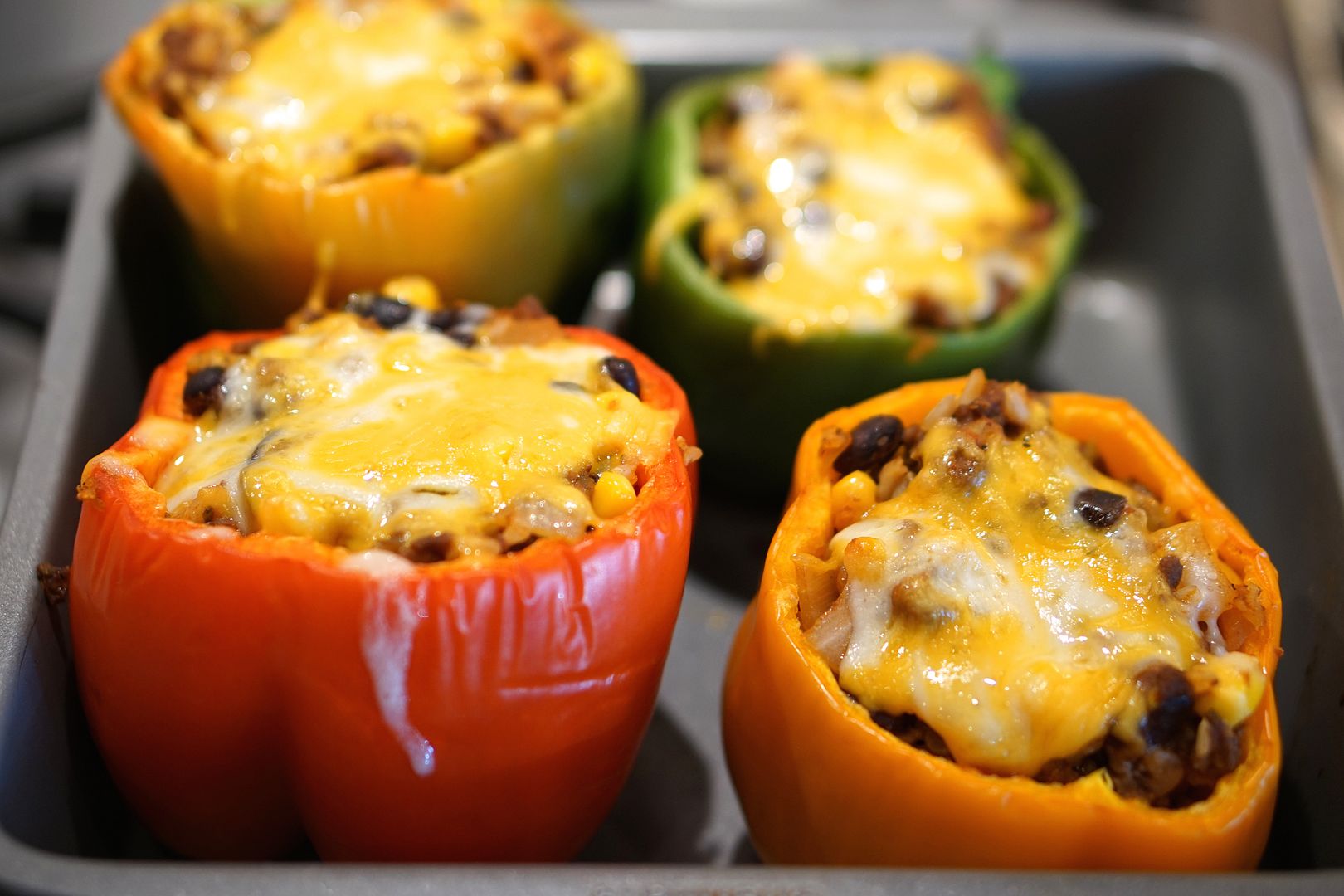 I branched out and tried a new recipe this week. Turns out stuffed bell peppers are one of my husband's family favorites and yet I've never made it in the 12 yrs we've been married. Whoops! I found this recipe on Tasty but of course made a few changes.
My husband said it was good but nothing like the way his mother made. So...I'll be checking with her ASAP to find her recipe. :) But for now it was a success and about 350 calories per serving. This recipe makes enough for approximately 7 servings (1 cup of filling each), but I only used 4 peppers and saved the rest for leftovers.
Taco Stuffed Peppers
4-7 Medium/Large Bell Peppers (make sure they have a flat base so they will stand up when cooking)
1 lb Ground Beef
1 Medium Yellow Onion - Diced
1 Can Black Beans - Drained
1 Cup Cooked Brown Rice
1 Cup Frozen Corn
1 Jar Medium Chunky Salsa
2 Tbsp of Taco Seasoning Mix (or one packet of store bought)
1 1/2 - 2 Cups Grated Cheddar/Motzarella Blend Cheese
Optional: Guacamole and Sour Cream to finish
*To make your own Taco Seasoning at home: (makes more than needed for this recipe)
1 Tbsp. Chili Powder
1 1/2 tsp Ground Cumin
1 tsp Salt
1 tsp Black Pepper
1/2 tsp Paprika
1/2 tsp Garlic Powder
1/2 tsp Onion Powder
1/4 tsp Oregano
Instructions
Cut off the top and remove the seeds from each pepper. Place in a baking dish and bake for 20 minutes in a preheated oven at 350˚F (175˚C). While the Peppers are roasting - heat oil in a large skillet over medium/high heat. Add ground beef and season with taco seasoning mix. Allow beef to brown on all sides. Add diced onion - continuing to cook until softened. Reduce heat to Medium. Mix in the black beans, brown rice, corn, and salsa. Add in 1 cup of cheese and stir until incorporated and the cheese has melted. Remove from heat. Remove peppers from oven and fill each with the taco mixture. Top with additional cheese and return to the oven for 15 minutes until the cheese has melted. Top each pepper with guacamole and/or sour cream and enjoy!