Our summer break started with a family road trip to Zion National Park. I wrote about where we stayed in Springdale, Utah and now onto our family hikes.
Zion National Park is a well maintained, well orchestrated and organized machine! They have (free) shuttle buses in the town and inside the park. During the busy season the shuttles are the only way into the park to hike/explore unless you are staying at the Lodge.
My girls love the shuttles and although they are slow going the views are amazing from the windows on the side and even in the ceiling. You can think of it as a free guided tour bus! Especially since the driver shares facts about the different sights and stops.
During the busiest times of the summer you will need to queue up at the Zion Canyon Visitors Center just to get on a bus. Our wait was between 15-30 min, then another 45 minutes to get off the bus at the last stop.
Our family did a total of 3 hikes over two days. We picked easier family friendly hikes since my girls have little legs, medium energy and high whining skills. ;) First up was the Riverside Walk. This walk was the longest but easiest with partially paved trails and limited hills.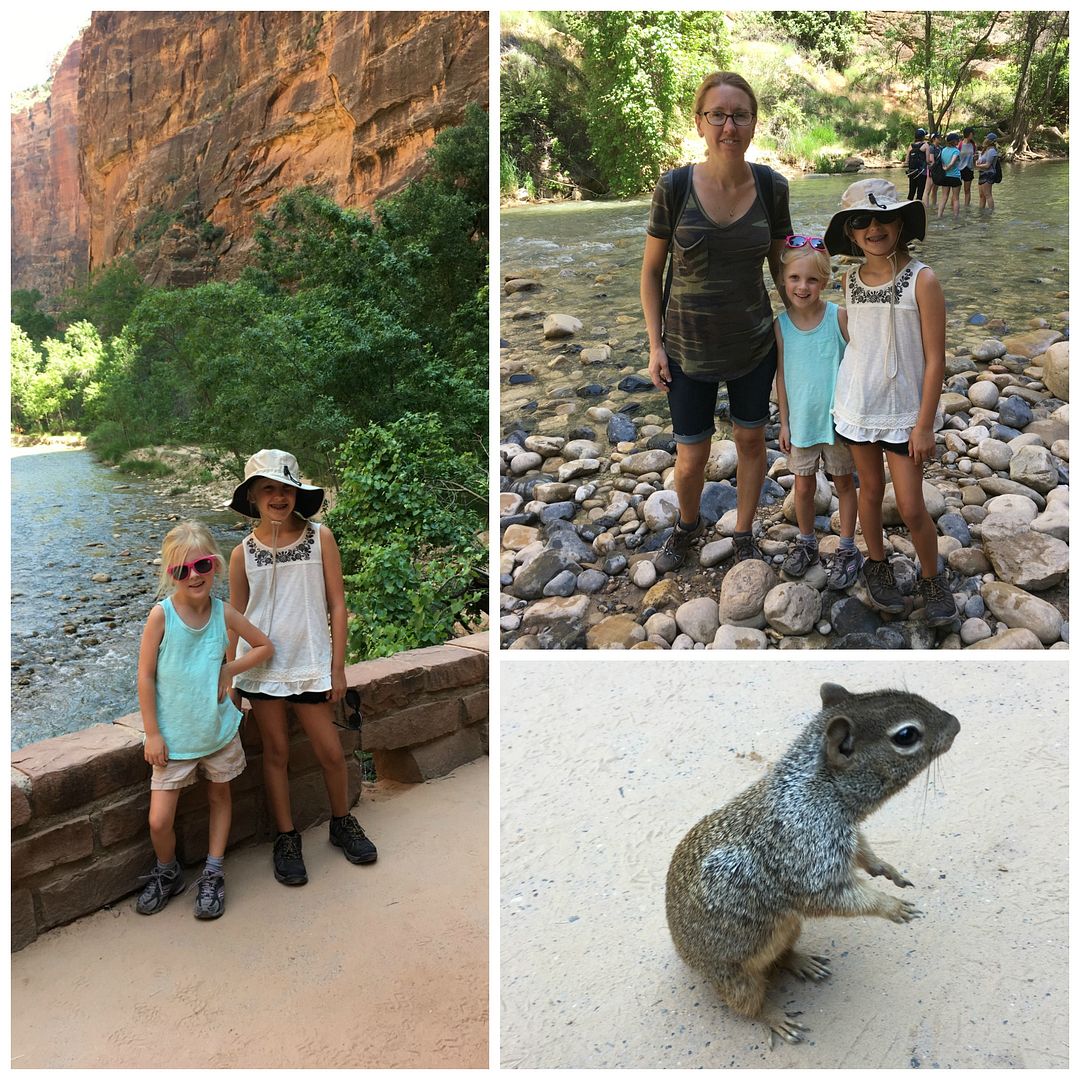 The Riverside Walk is familiar to us, we have traveled it two times before. This time was the easiest since I didn't need to push a stroller or carry a baby! The walk is my favorite as it winds along the beautiful river with lots of shade, weeping rocks and tons of overly friendly rock squirrels.
The Riverside walk leads to the mouth of the famous and not-as-family-friendly Narrows hike. We plan on doing this much longer and water logged hike someday, but not this trip. Especially since this time of year the water was often chest high and only 50 degrees! We'll save that for another year.
The Riverside walk has full bathroom facilities (running water) and a water bottle fill station. It is 2.2 miles roundtrip and takes about 1.5 hrs.
Weeping Rock was our second hike. This is another familiar hike and this marked the first time I didn't have to carry a baby up the steep (but short) trail. This trail has a bathroom at the bottom (port-a-let).
After a quick steep hike (.20 miles) there is a beautiful look out with a very satisfying view. Also naturally a weeping rock that drips down on hikers as you pass.
Here is a little trio of our Weeping Rock family photos. Visits in 2012/2014 and now 2017. All the feels!
Since Weeping Rock is a short hike I wanted to add another one that day. I had originally planned on the Grotto Trail, another easy hike that is only 1 mile round trip. However, my little hikers started complaining even before we started that particular hike. So we hopped back on the bus intending to return to the Visitor Center.
However....a small miscalculation on my part ended up bringing us to a much longer new hike that was 1.75 miles (3.5 r/t). Oops.
Pa'rus Trail is 3.5 miles round trip between the Zion Visitor Center and Canyon Junction. The trail is paved, mostly flat and follows along the river with spectacular mountain views. There is very little shade however and I will admit that it was quite a journey for my little hikers in the almost 100 degree weather.
They started out strong and excited but by the end my hot, tired and hungry hikers were whiny to be sure! But I am glad that we went and have photos to prove we survived. :)
There are no bathrooms until the Visitor Center, very little shade and no water fill stations. So plan ahead! This trail is perfect for bikes or strollers as well.
Remember:
They do not sell water bottles in the park. You will need to bring your own containers (we love our Sip by S'well, keeps water cold all day!). They do have many filling stations all around the park to fill up your bottles and for the most part the water was cold and delicious.

This is most likely obvious but remember sunscreen, hats and sunglasses! I brought a foam and a powder sunscreen for this trip. They were not messy/sticky/greasy like regular sunscreens so perfect for hiking. My kids have lightweight folding camping hats.

If you need a lightweight/foldable backpack I highly recommend the Hikpro. It is washable, light and comfortable.
Make sure to have your kids get a National Park stamp at the visitor's center. If you don't already have a National Park Passport book get one! It's fun to add stamps and stickers when you visit the parks.

Another tip: They sell National Park postage stamps at the Visitor's Center, a beautiful collection and worth purchasing.
For more on Zion and road trips check out:
Where to Stay and Eat in Zion with Kids
Cable Mountain Lodge at Zion Review
Road Trip Activity Bags
Zion Views
Summer Storms in Zion
Road Trips with Kids - Tips and Tricks