It is fall, time to bring out the pumpkin lattes, breads and muffins! I have to admit that I'm not exactly in the fall spirit since it's still in the high 90's around here, but I'm making an effort. This time of year here in Phoenix you see people wearing long pants and sweaters, despite the hot hot temperatures. It's as if we are ignoring the reality and pretending it's fall like the rest of the country. Of course the a/c in most places is high enough that we can survive in our fall digs.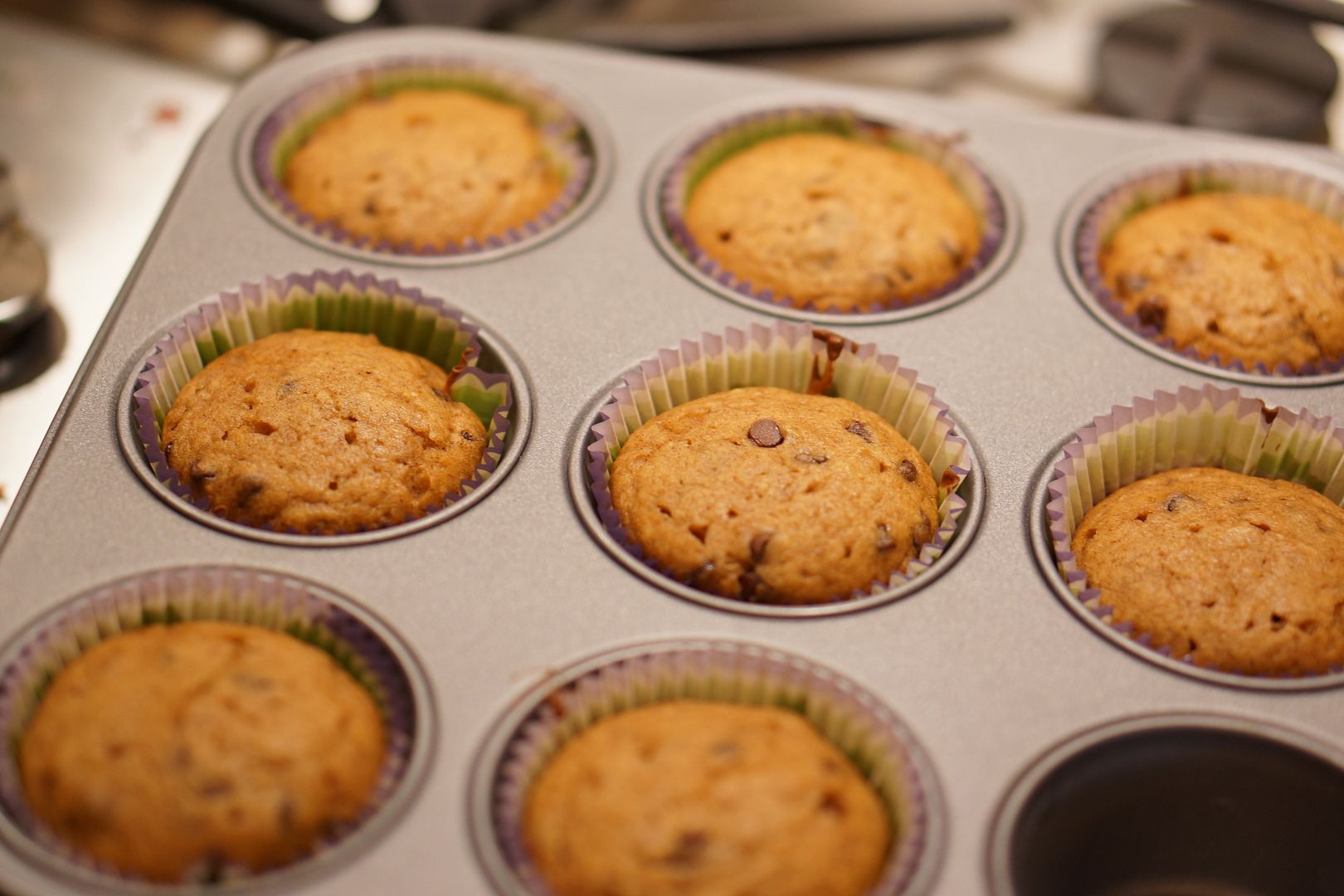 But I digress, back to muffins. I adapted a recipe from skinnytaste to use up some pumpkin puree I made last spring. We are currently trying to get through everything in our freezer before buying more frozen foods. I'm at the point where I'm getting mighty creative using what is left. So when I saw this recipe for pumpkin puree I knew we were golden. Especially since my girls are digging muffins in the mornings and I figured this was a great recipe to make ahead, freeze and then pull out to eat.
Chocolate Chip Pumpkin Muffins
Ingredients
1 1/4 cup unbleached all purpose flour
3/4 cup sugar
3/4 tsp baking soda
2 tsp pumpkin pie spice
1/4 tsp cinnamon
1/4 tsp salt
1 1/2 cups canned pumpkin puree (I used my own pumpkin puree)
2 tbsp coconut oil
2 large egg whites
2 tsp vanilla extract
2/3 cup mini chocolate chips
Instructions
1. Preheat the oven to 350°F. Line a mini or regular muffin tin with paper liners and lightly spray liners with oil for easy removal.
2. In a medium bowl, combine flour, sugar, baking soda, pumpkin spice, cinnamon, and salt. Set aside.
3. In a large bowl mix pumpkin puree, oil, egg whites and vanilla; beat at medium speed until thick. Scrape down sides of the bowl. Add flour mixture to the wet mixture, then blend at low speed until combined; do not over mix. Fold in chocolate chips.
4. Pour batter into prepared muffin tin and bake on the center rack for 22 to 24 minutes, or until a toothpick inserted in the center comes out clean. Let them cool at least 15 minutes before serving.
Makes 28 mini muffins or 15 regular sized muffins.