Have you heard of the
Dollar Shave Club
? It's a monthly subscription shaver service for men...well mostly. They are currently trying to attract women to subscribe and use their razors too.
Now I am a HUGE fan of subscriptions. I pretty much love anything that comes on a monthly basis to my door. I already have The Honest Company (home and bath products), The Simple Soap (organic bar soaps!!) and Citrus Lane (pre-school toys/activities) coming to my house every month. So when I heard about the Dollar Shave Club I decided to give them a try.
Basically the Dollar Shave Club is a mail order shaver. They send you an initial box with a handle and 4 refills. Then each month (or in my case every other month) they send 4 more blades. For the low low low price of only $6 (that includes shipping).
My first box was compact, cute and creative. Besides the razor and blades they also included a sample of shave butter (you can add a full size to your order for an extra charge) and a fun "bathroom minutes" which is a grown-up activity book of things to do/read while you are... you-know occupied in the ah-hem bathroom. ;) It appears that they send a new one out each month to keep you entertained. Ha!
What makes this razor better than the "lady" pastel-plastic wonder I used before is that it is higher quality for WAY less money. I did the math and before I was paying about $3 per blade for my Schick hydro silk razors. And the upfront cost was about $10 for the handle with 2 blades. So basically I way paying 2x more!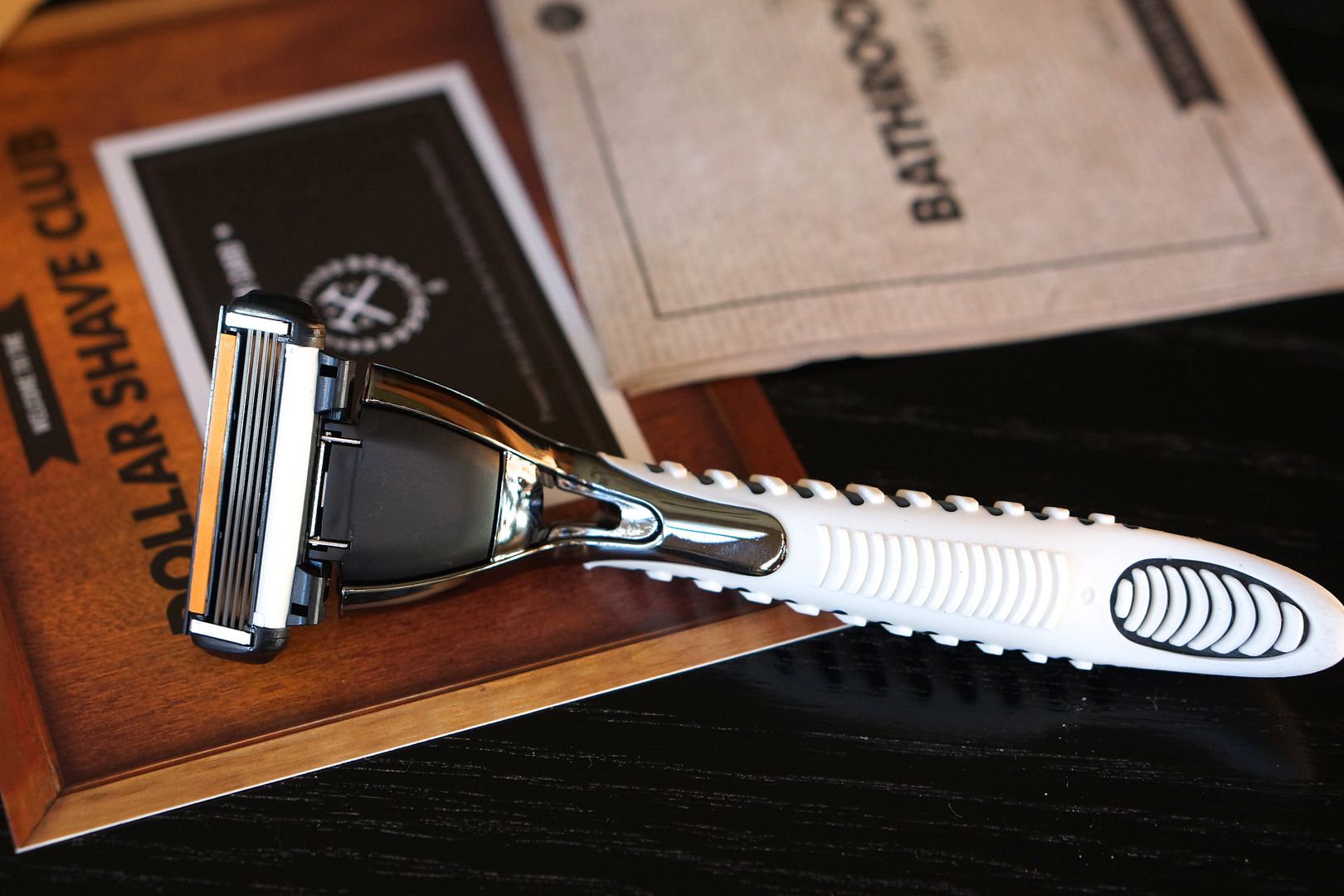 Another benefit of the Dollar Shave Club over my old "lady" razor are the Dollar Shave Club handles and blades. It appears that men have had it better on this point, their handles have a little weight to them which is more comfortable when shaving. Also the 4X I selected has lovely grippy sides. I do not think that this handle is "too manly". Hey, white is for everyone! I'd actually prefer they not add a "lady" choice, I'm SO over pastel plastic razors.
The Dollar Shave Club has 3 options; the Humble Twin for only a $1 a month (shipped!!) which includes 5 refills, the 4X which is $6 a month for 4 refills and the Executive at $9 a month for 4 refills. Note that you can adjust shipping to every 2 months if you use less refills.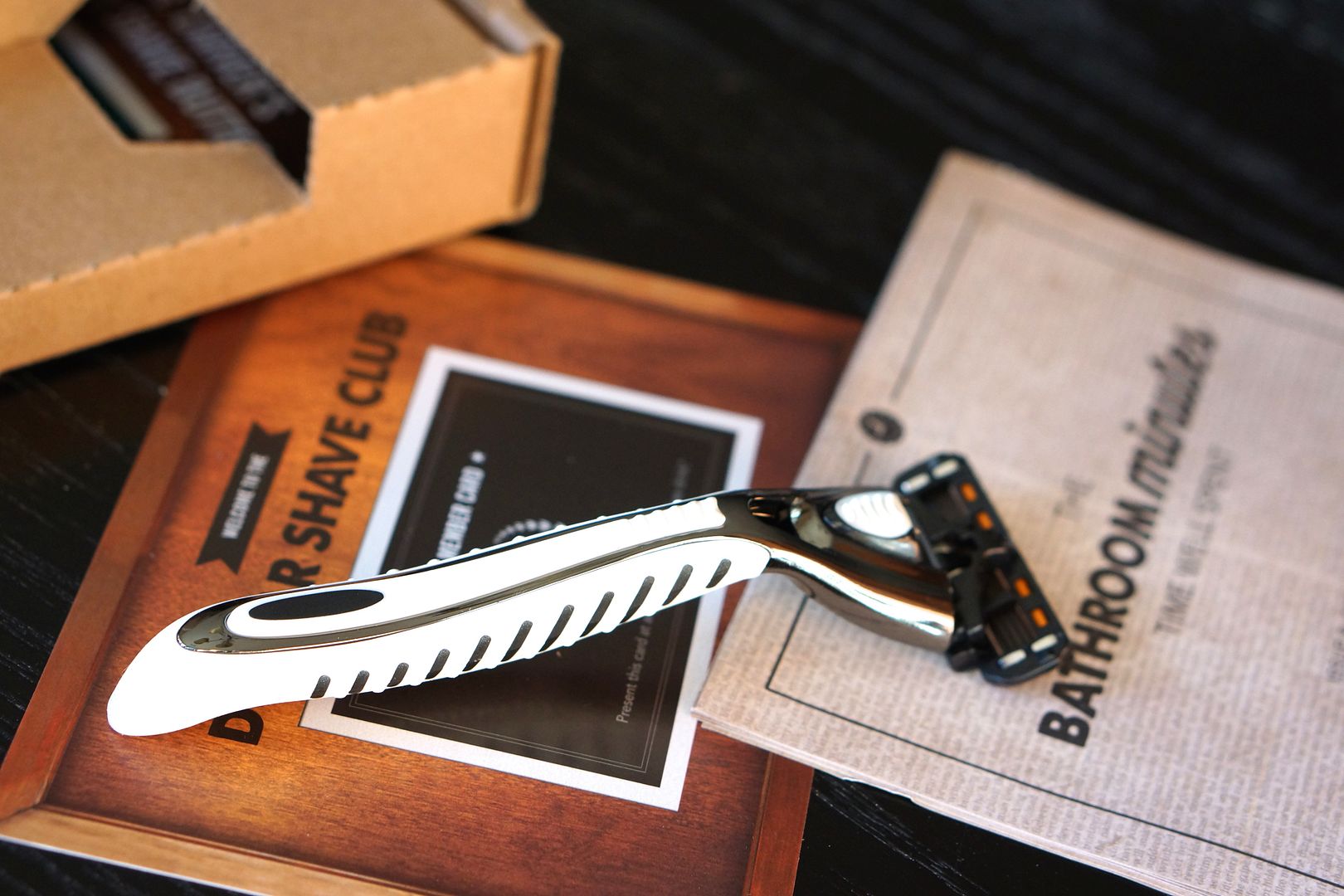 The difference in the shavers are the number of blades and slight differences in the handle. The humble has 2, the 4x has 4 and the Executive has 6. I am currently happy with my 4X. I had a smooth shave and loved how easy the blade moved around my bumpy knees and ankles.
My husband eyed my new razor with a hint of jealousy so I may be able to sign him up soon too (one time $4 charge for another handle). We could each have our own handle and share the blade refills. Ah, how simple would that be? I heard that a easy way to tell his from hers in the shower is to put a little nail polish on one of them (I'll let you decide which). :)
So go check them out! If you decided to try them please pretty please use THIS LINK. That way I get credit towards my account for more free refills.
Stay tuned for more subscription club reviews. I have the best locally made (in Oregon) organic soaps to tell you about.