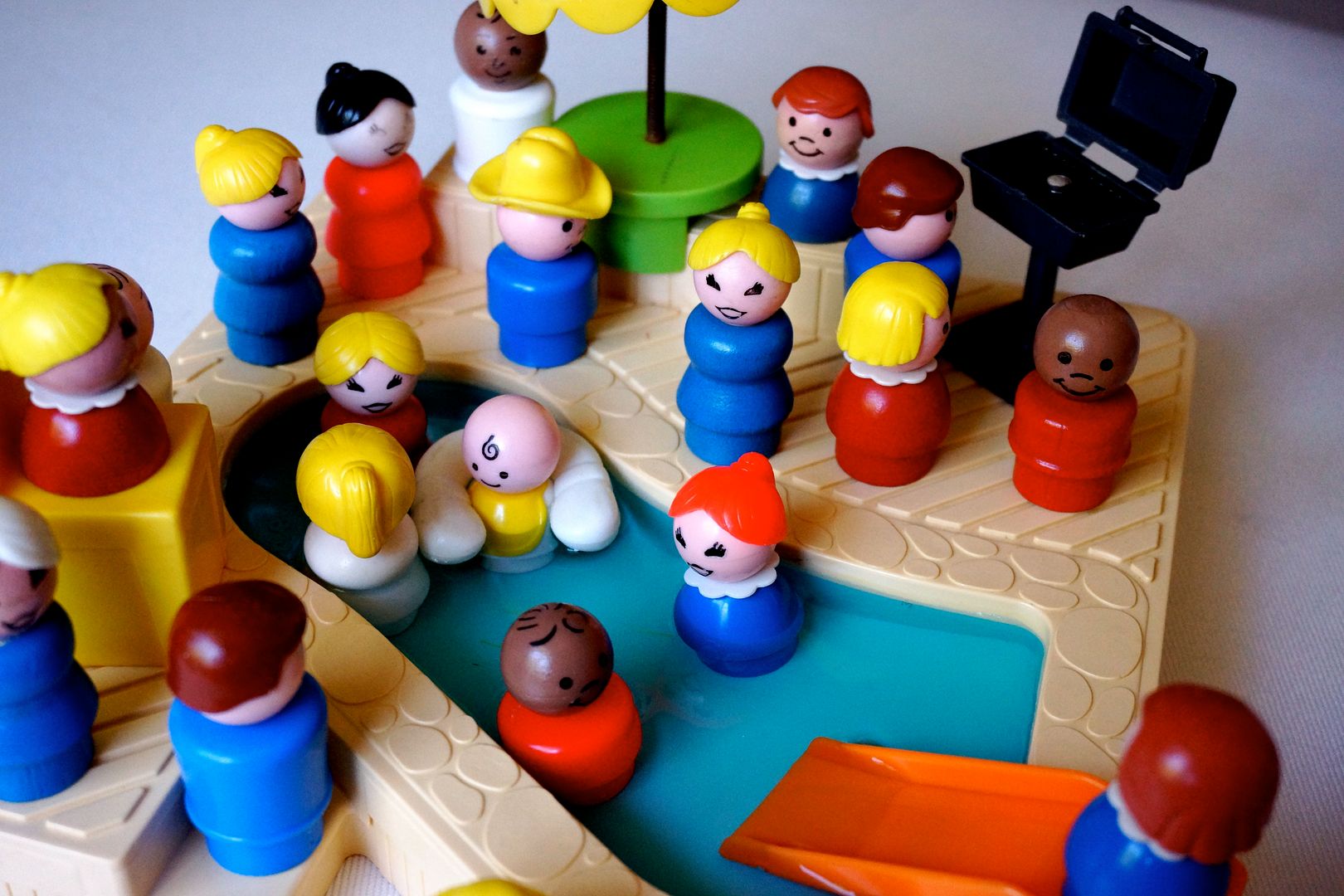 If you've stumbled upon my little blog after doing a Google Search it may be due to your shared interest in vintage Fisher Price Little People. I've been collecting/selling/hoarding FPLP for about 7 years now since I had children of my own. In that time I've learned that there are A LOT of people just like me who spend their time researching, photographing, playing with, selling, trading, writing about and basically loving these little pieces of our past.
If you are a new collector or a long-term collector who thinks they're the only one out there I've got some resources for you today. There is a rather large community out there that you can join. One word of warning though, the more people that you surround yourself that love these toys the more toys you'll want to add to your collection. We're all such enablers! :)
Facebook
On Facebook there are quite a few groups that are dedicated to FP or FPLP specifically. They vary in activity but here are a few of my favorites.
For general discussion/questions/photos:
Fisher Price Toy Collecting
Fisher Price Toy Box (some sales too)
Tammys Fisher Price Collectors Club
For Toy Selling/Buying
Fisher Price Toys 4 Sale Only
Vintage Fisher Price For Sale Tami's
Instagram
There is quite a growing community of vintage FP toy collectors on IG. There are some specific antique/collectible shops that post FP for sale as well as individual collectors that post photos of their finds. There is one specific user (loveyoudeerly) that posts photos of what she doesn't buy (b/c she already has it or doesn't have enough space) when she goes thrift store hunting.
There are also other moms like me who post photos of their kid's toys and growing collections.
To find these fabulous people and/or shops check out the hashtags:
#vintagefisherprice
#vintagelittlepeople
Or any other combo with vintage and fisher price in it. :)

In Person (offline)
If you would like to meet fellow collectors in person there is a club in the East Coast that gathers every summer for a convention that includes a social hour, dinner and toy-sale. They also put out a regular newsletter and have a Facebook Page.
The next convention is coming up fast, July 24-25 in East Aurora, NY.
I've never been able to attend but I'm a proud club member and I enjoy reading the newsletters and communicating with other members online.
Fisher Price Collectors Club
So there you go, a few resources to expand your community. Just a reminder that if you're looking for vintage FP or FPLP check out my Etsy shop VintageLittlePeople. I've got a few treasures in there and I'm always adding pieces!