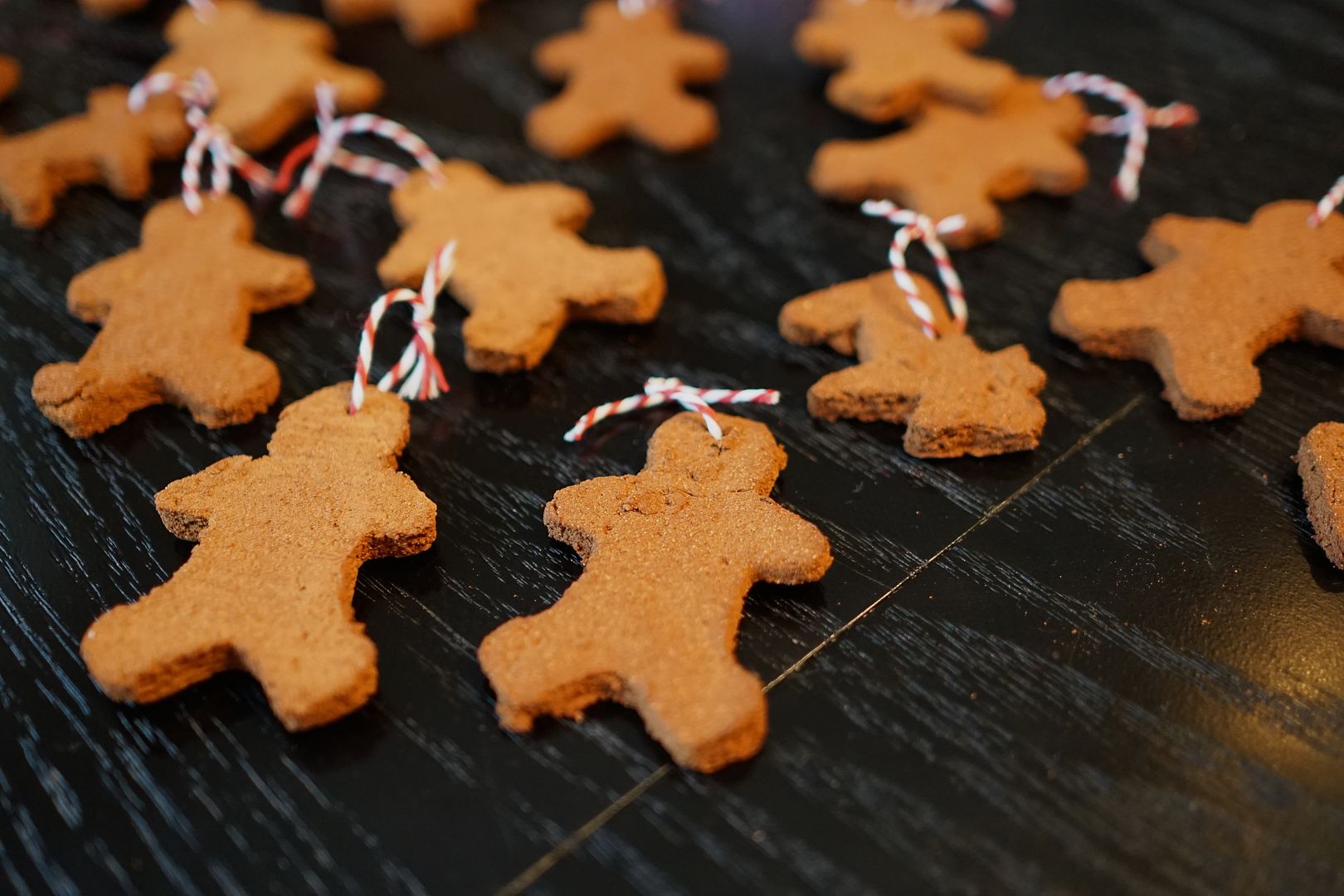 This year my girls are once again decorating our main family tree with homemade ornaments. Most of our ornaments this year (and last) were made from purchased kits that I picked up at Target and Hobby Lobby. I decided that we should branch out and make something from scratch from the many many pins I had been accumulating on Pinterest over the years. :) These Cinnamon ornaments looked perfect for making and giving.
However...in the interest of full disclosure I will admit that it was a much more involved and sticky mess than I'd anticipated. As a result I ended up making them while the children silently watched as I became more and more frustrated with my "dough". Let's just say the rolling out portion of the project is a bit more difficult than your typical cookie. They also took longer to "cook" (dry) in the oven than I'd anticipated. I'd say I cooked them for closer to 2.5 hrs. And finally, this is both a pro and a con but the house smelled of cinnamon for hours. Which is nice but after awhile my family was complaining.
They turned out darling though so I'll let you decide if it's worth the effort!
Cinnamon Christmas Ornaments
Found the recipe here
1 cup of applesauce
1 1/2 cups cinnamon (I got mine for cheap at Costco.)
cookie cutters in different sizes (I used a gingerbread man and a moose)
string for hanging
Directions
Mix 1 cup of applesauce with 1 cup of cinnamon in a large bowl. Add the additional 1/2 cup of cinnamon and continue to incorporate. If it's too wet add more cinnamon, too dry add more applesauce. You'll need to use your hands and keep mixing, mixing, mixing.
Scatter some cinnamon (like if you were rolling out cookies with flour) and roll out applesauce/cinnamon dough to 1/4″ thick. If the dough is too wet it will make a huge mess and stick to your rolling pin.
Use your cookie cutters to cut out shapes.
Preheat your oven to 200 degrees Fahrenheit. Place the shapes on a cookie sheet (I put parchment paper down first). The shapes can be really close together but not touching; they won't rise in the oven. Using a skewer carefully make a hole through each shape towards the top, but not too close. Stick the ornaments in the oven for an hour or more. The juice from the applesauce needs to evaporate. The range in cooking time depends on your house, humidity and climate. Once they are done cooking leave them in the oven overnight. They should be rock hard. If they're not, give them some more time in the oven.
The next day loop a string through each of the holes to hang on the tree.