When I was growing up we always had an advent calendar, usually the pretty paper kind where you open a different window each day. With our own children we've had the chocolate advent calendars (from Trader Joe's mostly), plus the paper kind of my childhood. Last year I branched out and purchased the Starbucks advent calendar made of 25 different tins full of chocolate graham crackers that stuck to a magnet board.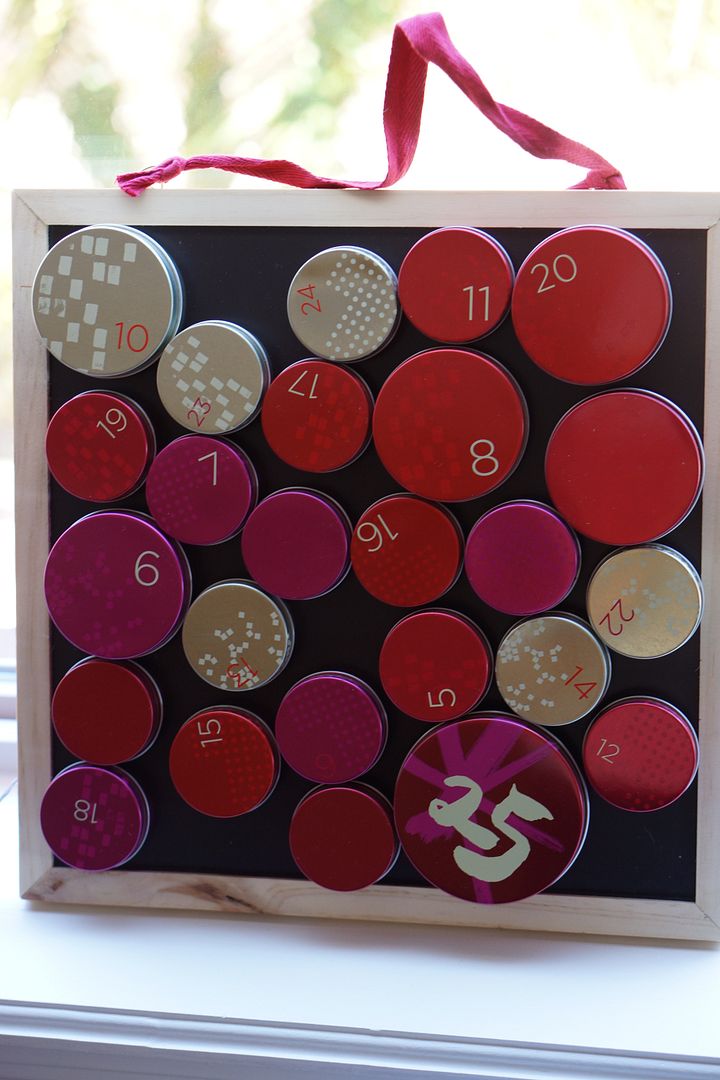 This year I decided to get my act together and put family activities and surprises in the tins each day instead of more candy. Well, they sometimes get candy too (m&m's or Dove chocolates so far) but the big thing is the activity written on a small piece of paper.
We're only 6 days in but the kids are loving it and excitedly open the tins each day (usually after dinner). Here are the activities I've come up with for the month. The beauty of this type of advent is that I can change the papers if needed before they open the day, so I'm not locked into anything. And...we already had fun activities planned (Zoo Lights, Christmas Tea) so I just put those down and will keep our plans secret until they open that day.
Advent Calendar Ideas:
1. Take down the Christmas Books and read one together.
2. Take out the wooden nativity set and take turns setting it up.
3. New Christmas Socks! (from the $ section at Target).
4. Watch a Christmas movie together.
5. Attend Christmas tea. (this was at church but you could make your own tea party at home)
6. Make a Christmas craft together.
7. Special NEW Christmas tales book.
8. Christmas Puzzle (from the $ section at TRU)
9. Make play dough snowmen
11. Draw a Christmas picture/write a letter to a family member to mail.
13. Christmas shopping for family (kids pick out for parents and sister).
14. Watch a Christmas movie together.
15. Take a walk around the neighborhood to see lights.
16. Make a Christmas craft together.
17. Read the Christmas Story out of the bible together.
18. Small Group Christmas Party.
19. Make Christmas Cookies.
20. Go see the Nutcracker ballet! :)
21. Go to the Zoo and Ikea.
22. Make hot chocolate and read Christmas books together.
23. Drive around and look at lights and get frozen yogurt treats.
24. Set up luminaries in the neighborhood and our front yard.
25. Christmas!
Other activities that I may switch out as needed:
Wrap gifts

Decorate Gingerbread House

Breakfast donuts and then play at the park

More neighborhood walks/hot chocolate
I love this time of year and I have to admit that so far doing these activities is even better than just eating chocolate. :)
My pearl wearing blond beauties at the Christmas Tea yesterday.