Our first stuffed vintage Fisher Price toy recently joined our little collection. This is the Puppy and Playhouse #110 made between 1977-1980. I purchased this little guy as a companion for my 4 year old to snuggle with while I recently recovered from surgery.
She is a huge dog fan and also loves carrying around purses/bags/any object that you put something in so it seemed like a perfect gift.
This dog was created the year I was born and my mother is convinced that we had one, although we haven't found proof yet (she's going to check our old slides). I'll make sure to update if we find any photos!
This particular toy was a unique addition for me since I avoid purchasing vintage toys that are new-in-box. Since my kids will just play with them it seems a waste.
However, I made an exception for this puppy because he was such a great price and I wanted a new condition stuffed animal for my daughter anyway. Plastic and wood toys aren't such a big deal, but stuffed animals seem more hygienic when new if you KWIM. :)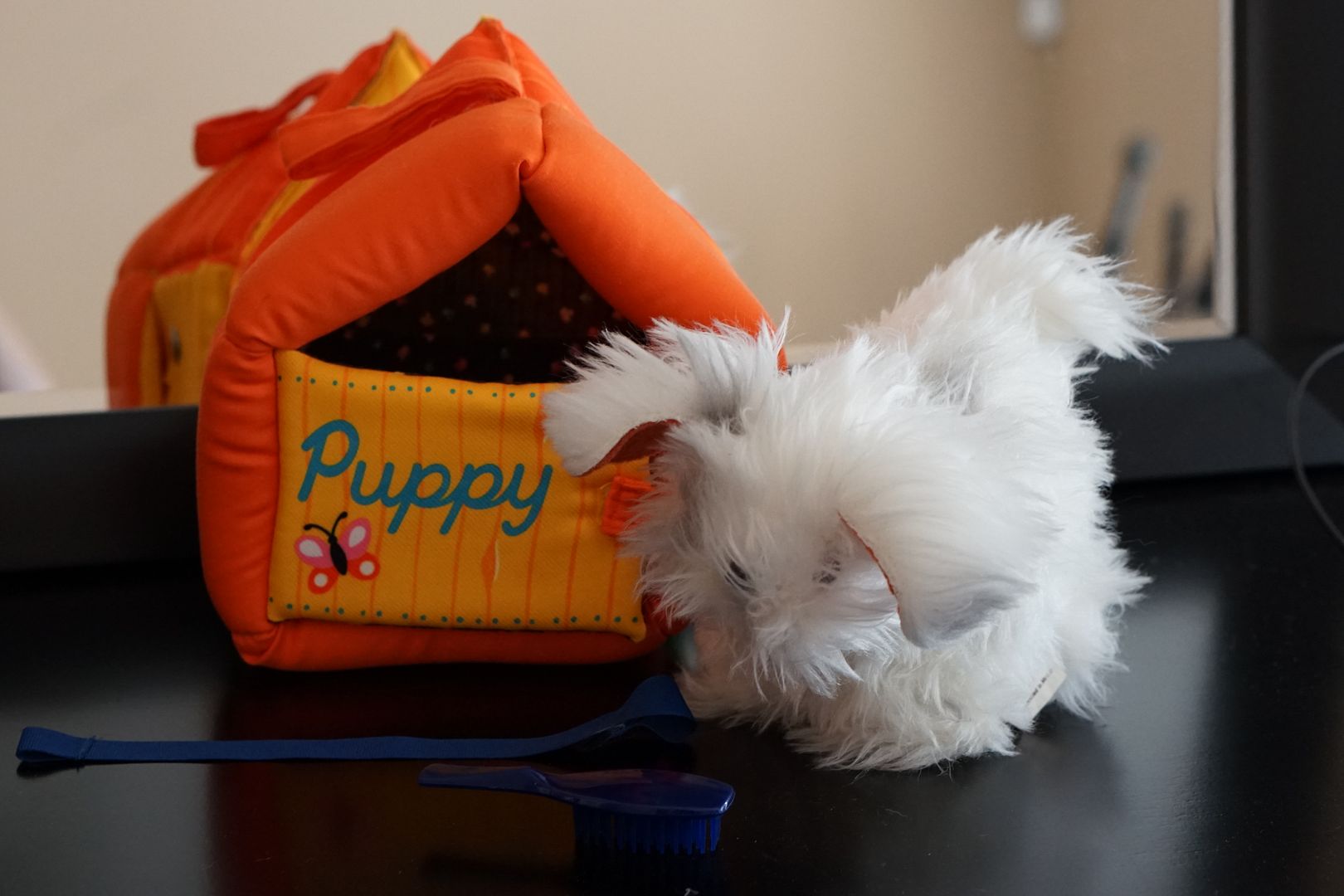 Besides being new and clean another benefit of a brand new (yet almost 40 year old!!) toy is that it was a complete set. The Puppy and Playhouse #110 set came with a stuffed dog, stuffed doghouse, plastic brush and a blue leash.
The little plush puppy has white hair with black spots, a black nose and black plastic eyes. He/she is wearing a blue ribbon collar that doesn't come off.
The inside of the puppy ears are made of pink felt.
Now onto the playhouse. It is made of a foam backed fabric that is bright and oh-so-70's inside and out. The inside of the house has a pocket (across the entire back) which holds the brush and leash.
The front "door" fastens with velcro on the side of the house. It has "puppy" printed on it. Also lines that look like wood and a butterfly.
Each side has pictures of flowers, bees and butterflies. There are lines in the roof and walls that resemble wood. The top of the house has a orange loop for easy carrying.
The bottom of the house has a FP tag with the year (1977), toy number and the fact that it was made in Mexico. The same tag is also found on the puppy dog.
The blue plastic brush and the leash are naturally the hardest pieces to find for this set, as they are easily misplaced. My daughter didn't want her puppy to have a leash so I'm keeping it in a safe place for now. :) The blue plastic brush says "Fisher Price Toys" on it. The leash attaches to the puppy's blue ribbon collar with velcro.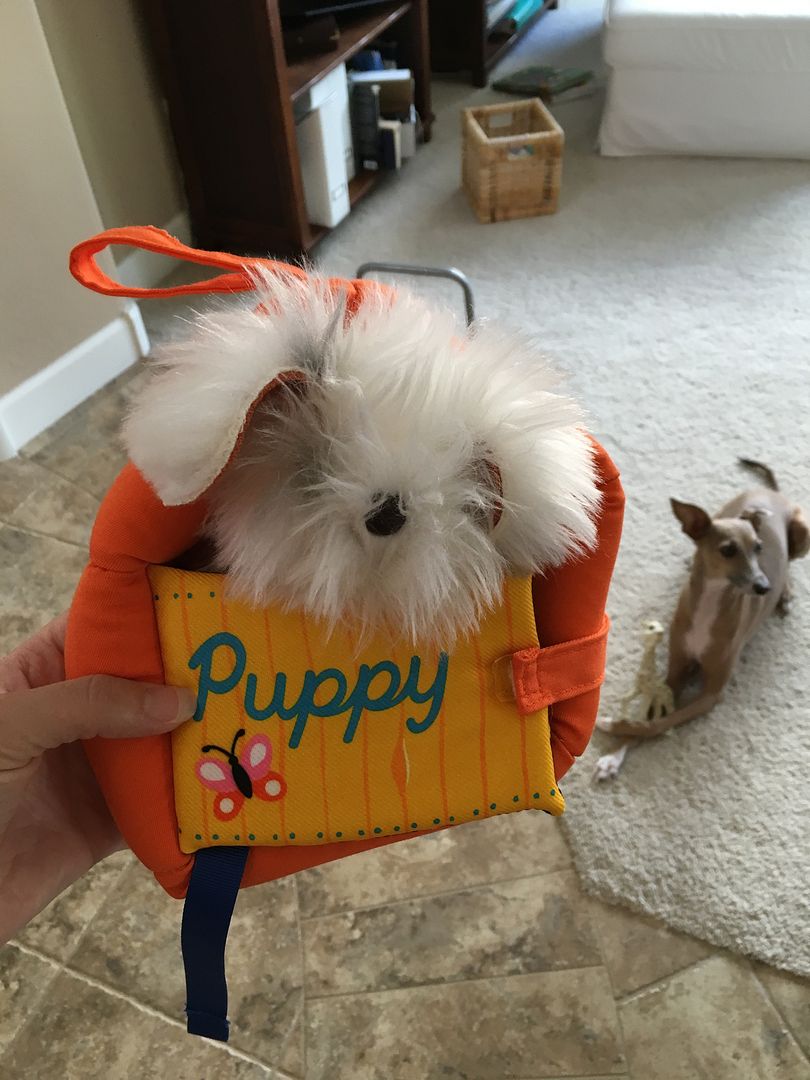 My daughter LOVES her puppy dog who she named Fluffy. She loves the dog house as much as the dog and I often find her carrying it around full of random "treasures".
It certainly has been a welcome addition to our little collection.