This week on Fisher Price Friday I'd like to show off the 2012 Hallmark Fisher Price Ornaments. I wrote about prior Hallmark Ornaments here and wanted to update with the newest releases. Hallmark has been making Fisher Price Ornaments since 2007 and there are 14 total. Sadly this is the last year that they will be producing ornaments since they couldn't come to an agreement with Mattel (FP parent company). Boo!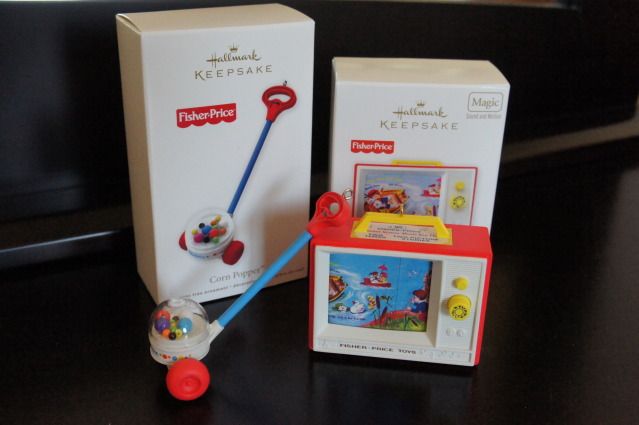 The last two ornaments are adorable. They are the Corn Popper and the Two Tune TV.
The Corn Popper retails for $12.95. It looks a lot like the full size except it has beads (with visible holes). It looks the most like the 1980 #788 version to me with the gripper handle instead of a knob. The #788 was made from 1963-1989. There were other poppers made before and after it.
The ornament "pops" when you push it. It has sweet little lithographs around the base and red wheels. I don't have a full size popper to compare it too, sorry!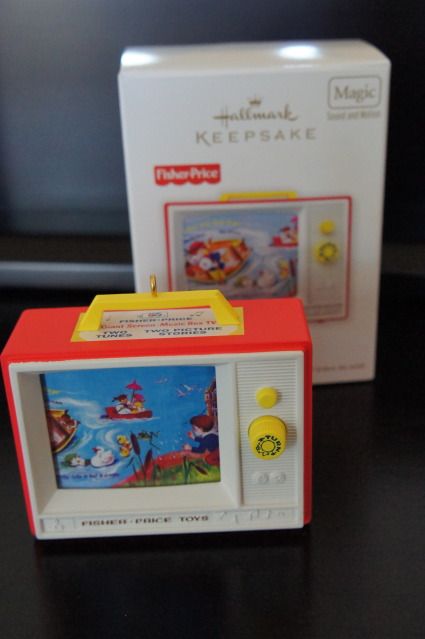 The second ornament this year is the Two Tune TV which is a small version of the Giant Screen Music Box TV #114. This ornament retails for $17.95. This ornament is "magic" and it requires 2 tiny batteries (included). It plays music when you wind it and the screen image moves as you're winding (not on it's own). The dial can be a bit touchy and I've heard it breaks easily. I had to return the first one I bought b/c the image didn't turn. I also noticed that the display one at the store was broken, so go easy on this one!
Here it is next to the full sized toy. They look exactly alike! So adorable.
The lithographs match on the sides and the top.
The sides are the same except the original has a wooden base and the ornament is of course all plastic.
Here is a view of the other main screen on the tv. The tv plays two songs: Row Your Boat and London Bridge. The images are exactly the same!
So cute, you can't help but love it!
The ornaments are sold at Hallmark stores of course, but I bought mine at Kohl's. I was able to get a discount with a $10 off card (came in the mail) and you can also use the 20% off coupons they frequently have. Just don't wait too long, since this is the last year for Fisher Price Hallmark Ornaments I have a feeling they'll be going fast!
I bought a few more of the ornaments from prior years so I'll be posting about those soon. For a list of the other 12 ornaments and the ones I've already shown look here.