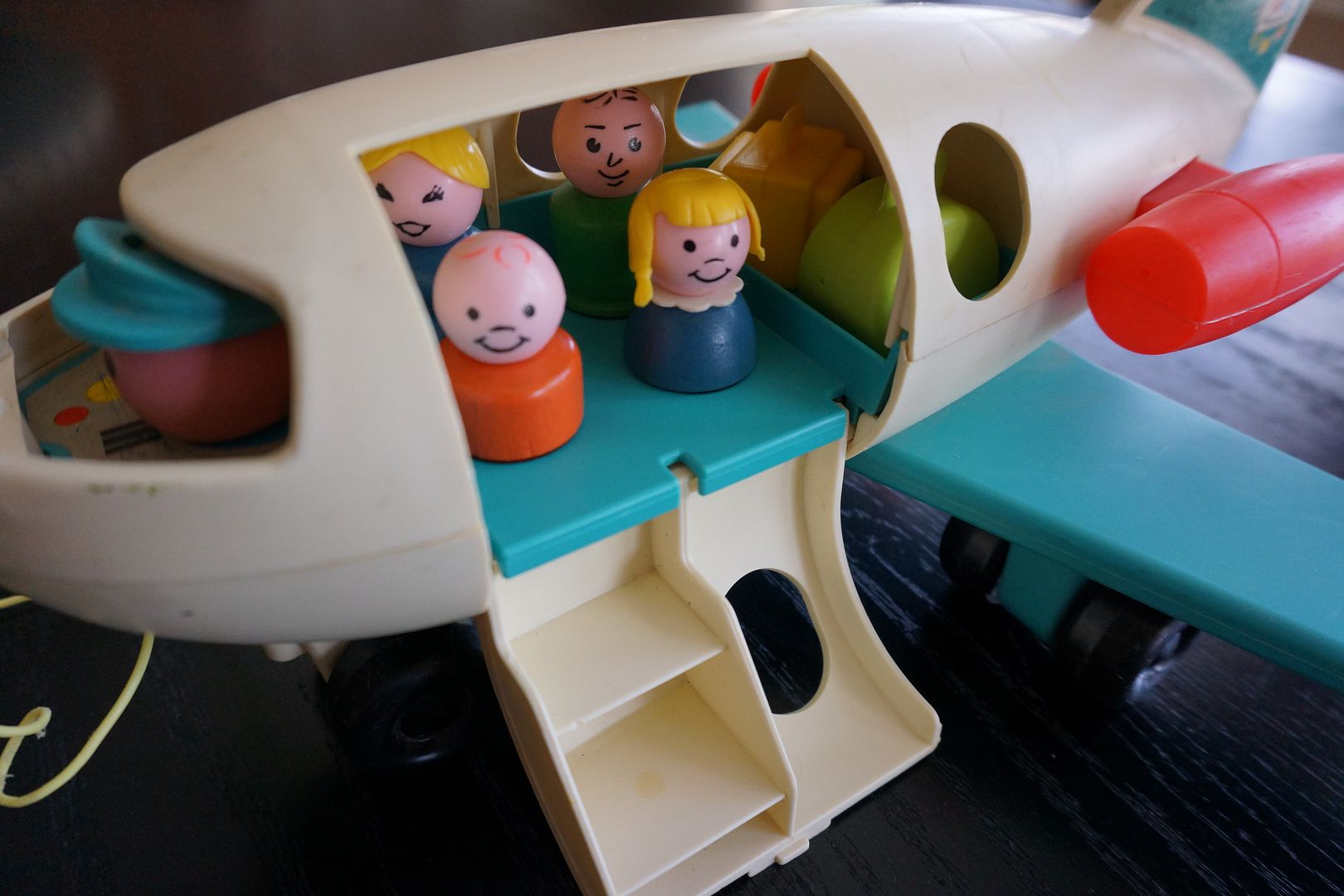 Today on Fisher Price Friday I was all set to introduce the #183 Play Family Fun Jet set (1970-1980). I'd picked up a jetliner recently and put together what I thought was the complete set. Then I realized that I actually had the jet from the #996 Play Family Airport made from 1972-1976.
They look remarkably similar, the main differences being the wing colors. The original fun jet had red wings with blue engines which were redesigned for the airport with turquoise wings and red engines. The lithograph on the tail was also changed from saying Fun Jet to just Fisher Price as shown.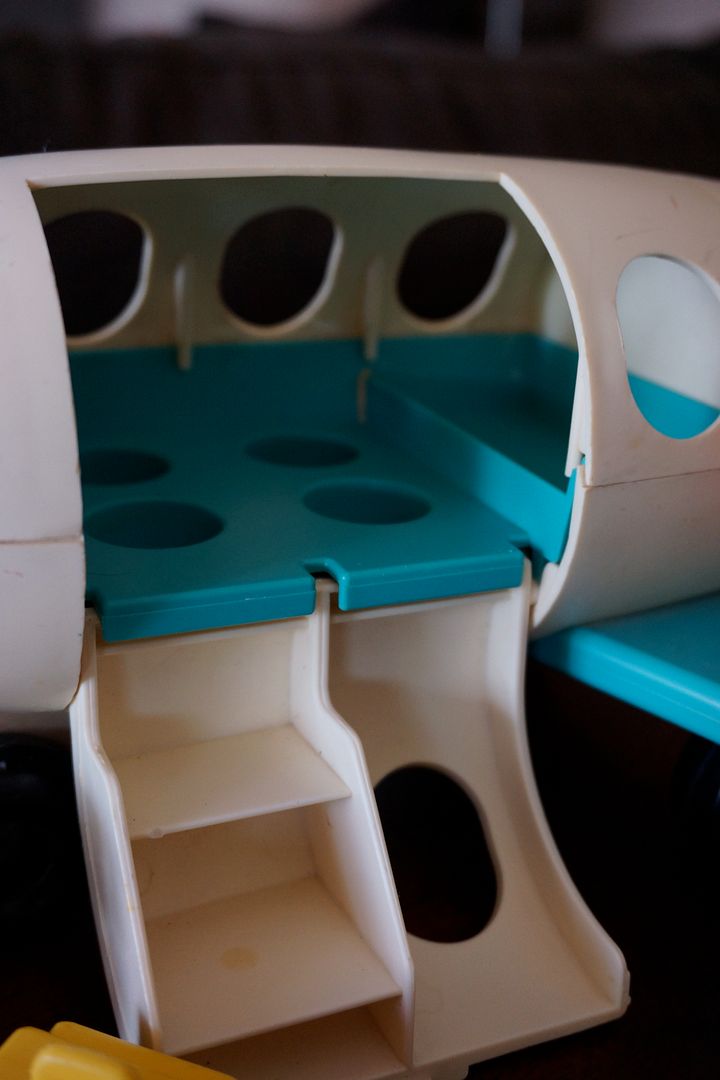 So instead of a tour of the Fun Jet you'll get a tour of the Airport jetliner instead. Come on board! Inside the plane seats 4 little people and behind them is space for 2 pieces of luggage.
The plane is pulled by a yellow plastic cord attached to the front. It makes a whirring sound (one wheel) when pulled.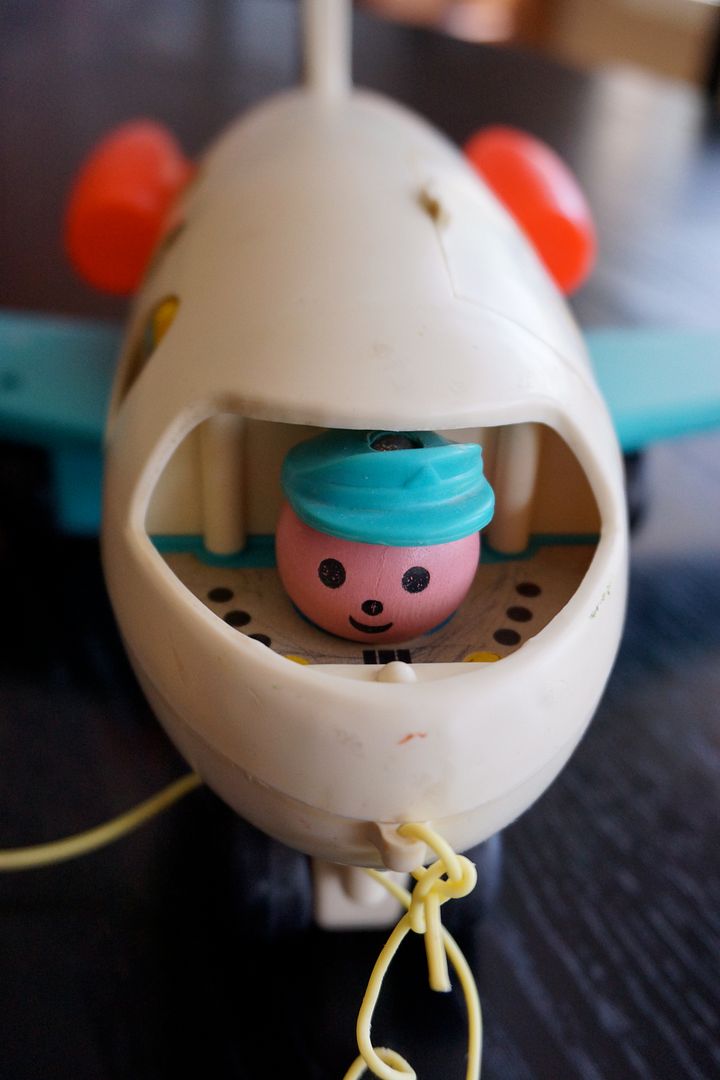 The plane is flown by a wooden headed pilot. His head moves back and forth when the plane moves.
If you have the #183 Play Family Fun Jet these are the family and accessories that came with it. They could be wood or plastic people and were always this combination until 1977-1980 when the little girl switched to a brown bob. The luggage pieces were always these two as shown, and this was the first time that luggage was created for a Little People set. The green hatbox later appeared in the #934 Western Town and the #996 Play Family Airport. The yellow suitcase appeared in the #996 Play Family Airport and the #2581 Little People Express Train. Both shapes of luggage were also produced in different colors for other sets (light blue hatbox and brown suitcase).
So there you go, a jet from one set and pieces from another.