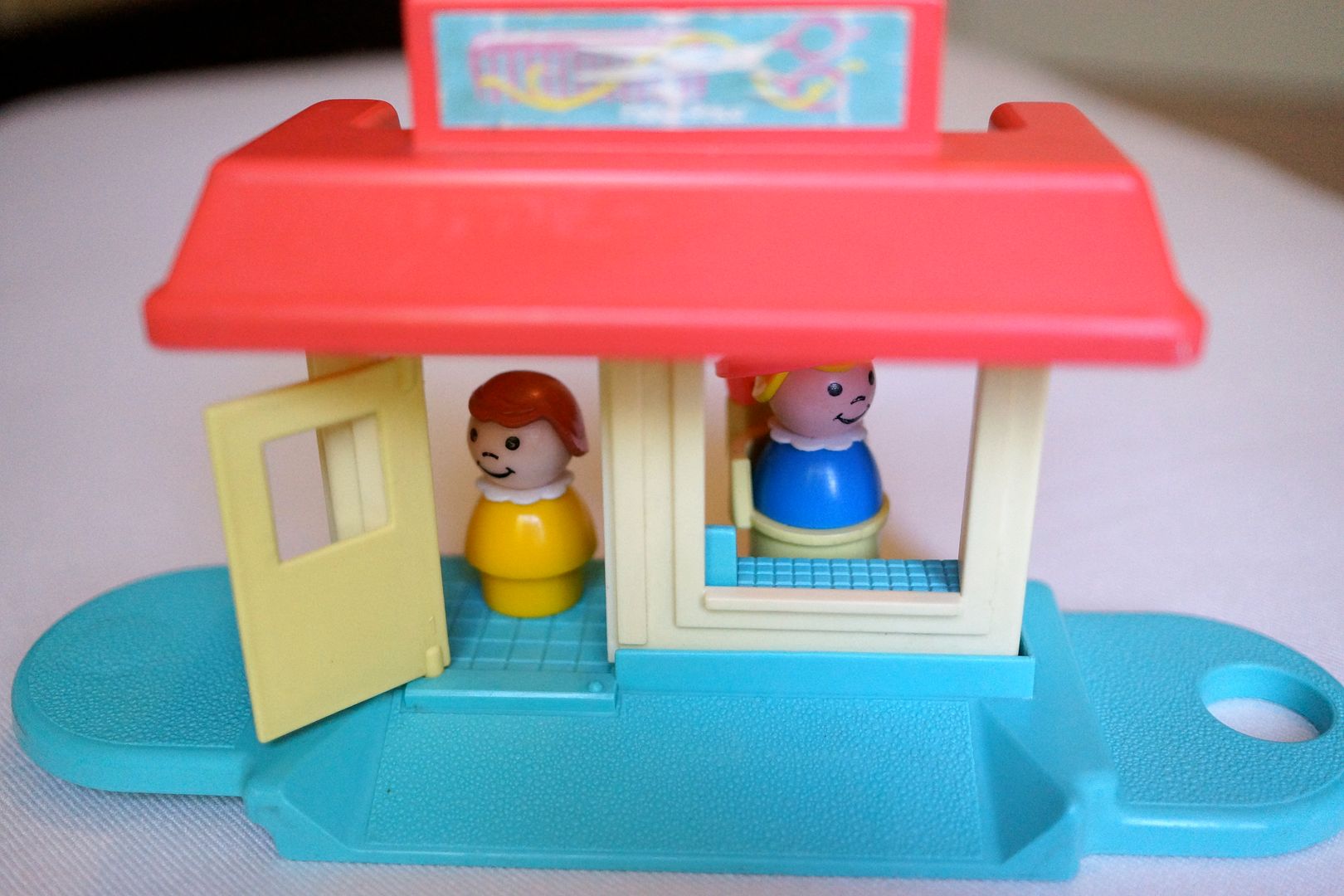 My girls are headed to the salon today to get haircuts so I figured it was fitting to share one of our newest arrivals, the Little People Beauty Salon #2453. This small 4 piece set was made in only 1990 and is designed to fit with two other sets; the Drive-In Movie Theatre #2454 and the Gas Station #2455. Each set has a peg on one end and a hole on the other so they can fit together. However, they also work independently.
Right now the Beauty Salon is our only "Village" piece but we're enjoying it all by itself. I set it up next to the Main Street #2500 which works just fine.
The Beauty Salon came with 4 pieces; the salon base, pink hairdryer, car and a little person (girl). The only variations are in the car colors and the girl (body/hair).
The pink hairdryer goes up and down and detaches. As a result this piece is often missing from sets and can be difficult to find. The chair that it attaches to swivels around and can face the tiny little mirror so the client can get a good view. :)
There were at least 3 variations to the Little People girl included in the set. The two pictured as well as a orange girl with a brown bob. I couldn't find her when I was taking photos, but if you look here you'll see her in the Jetport #933 set.
Inside the salon has tiled floors, the chair with hairdryer, mirror, swinging door and a window. There are no lithographs or other decorations.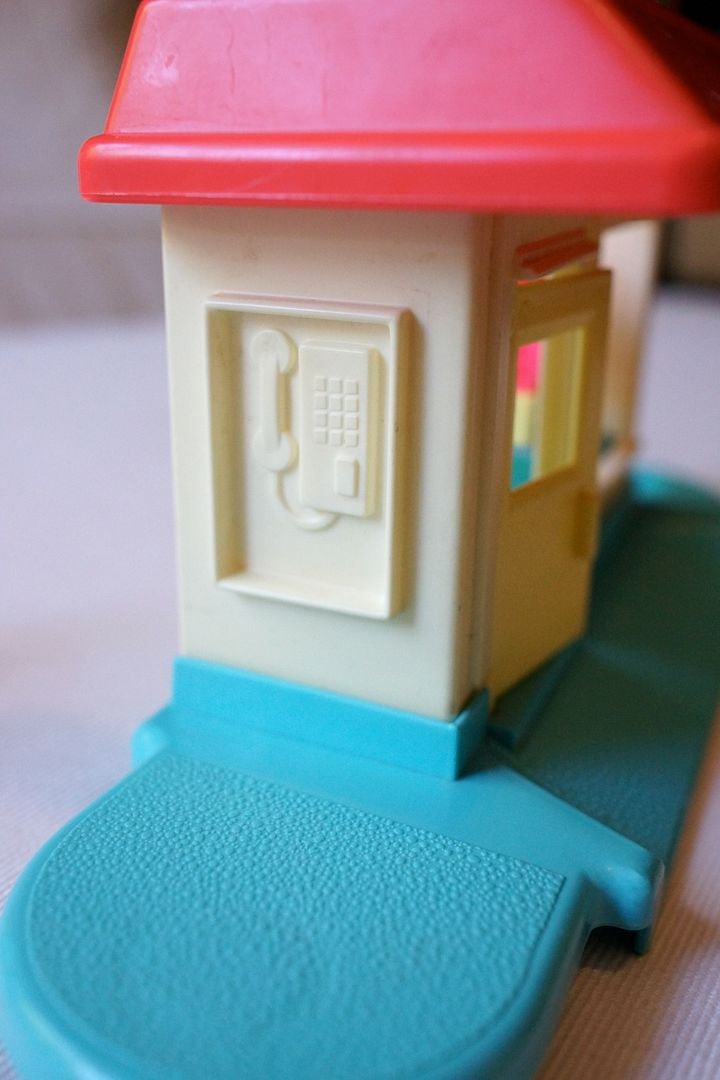 The outside of the salon has a phone booth on one side, molded into the plastic base. There is also a slight ramp up to the front door.
My lithograph is a bit worn, but you can see the sign for the salon has a comb, strands of blond hair and a scissor. The only words are "Fisher-Price".
The final piece to this sweet little set is the pink car. There are (at-least) two variations to the car. A white topped/pink bottom car (as shown) or a pink topped/white bottom car. These pink cars were only made for the Beauty Salon and can be difficult to find at a reasonable price. Since I have two little girls I decided a pink car was needed! Fortunately I eventually found one at a not-too-bad price.
ETA 12/11/14: I have both versions of the pretty pink car to show you. I also found the missing orange girl! ;)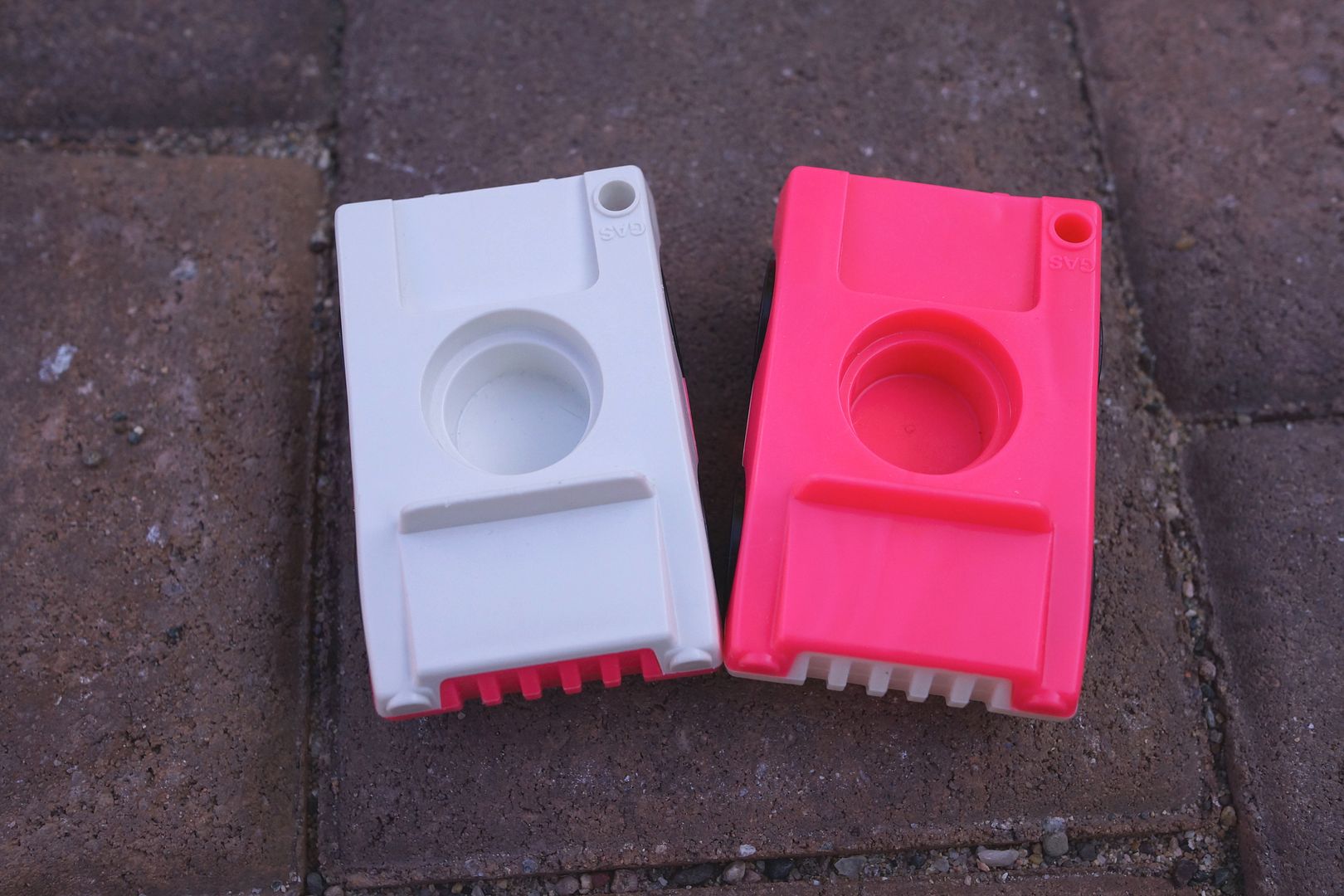 Since I have two little girls that love pink I'm glad to have both versions of the pink car!
Here's hoping our haircuts turn out as good as these little people's! See you next week.