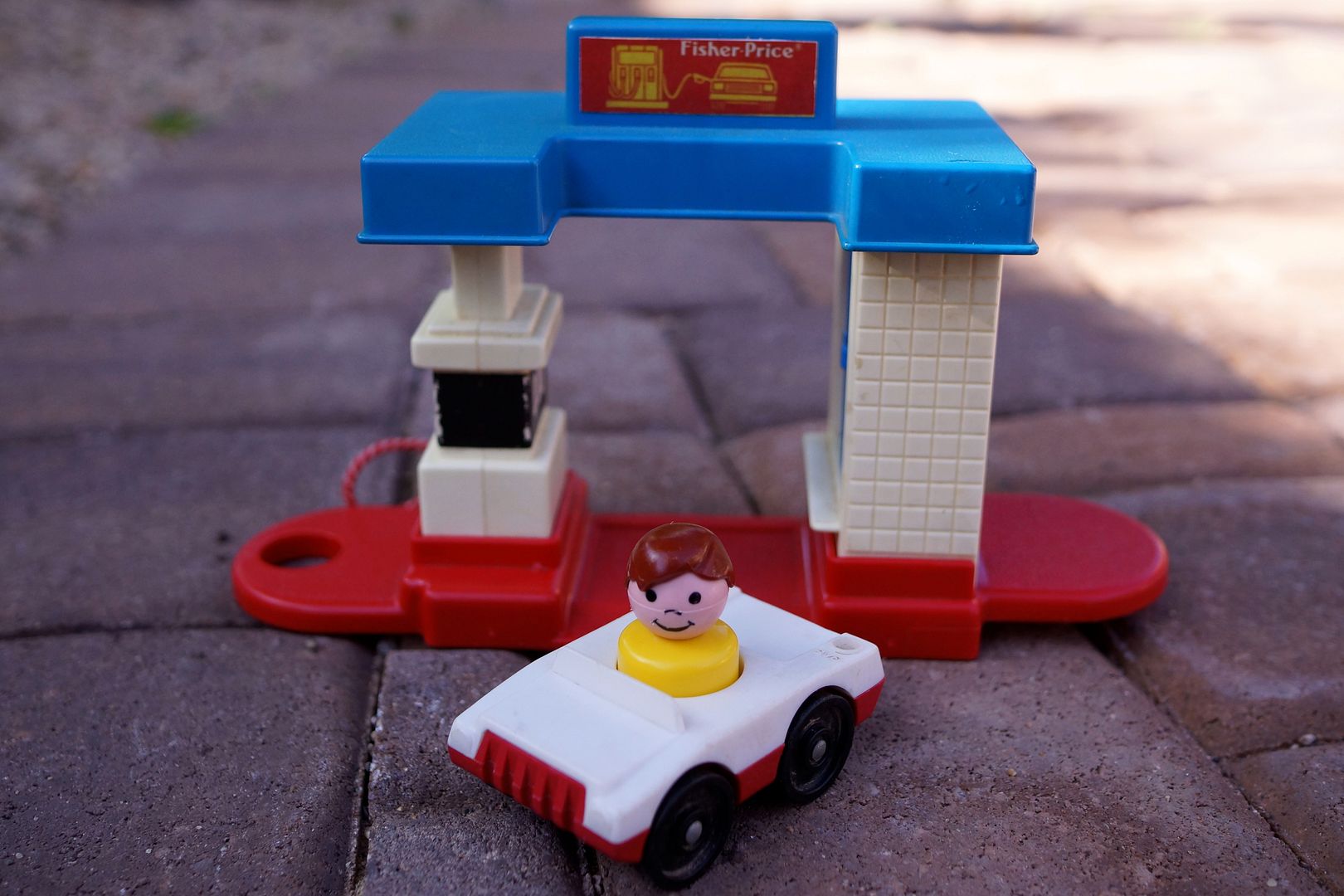 Today on Fisher Price Friday I have another (planned) Christmas present to show you. The Gas Station #2455 was made only in 1990 and it is another small set. It only has three pieces: the base, boy and car. However, it is designed to go along with the #2453 Beauty Salon and the #2454 Drive-In Movie Theater.
Fisher Price also produced a collection of all 3 sets which was #2357 Little People "Village" Assortment.
The Gas Station came with a yellow bodied boy with brown hair. There were no variations to the figure included in the set. The one-seater car has a red bottom and a white top. Alternately it came with a red top and a white bottom.
Here are is the pink #2453 next to the red #2455. In some photographs these two cars can be mixed up. I've purchased a car online before thinking it was pink and when it arrived it was actually red (and vice versa!).
Now onto the building. It has a red base and a blue roof. One side has a hole and the other a peg so that it can fit with the other two sets. There is a gas pump with zeroed out lithograph (shows on both sides). The gas nozzle is connected by a fabric hose.
The other side has an area for the attendant to stand and windows that open for the car to "pay".
The blue roof has the same lithograph on each side of a gas pump connected to an (awesome 80's) car. My lithograph was torn/worn and missing when I purchased this (very hard to find!!) set. A fabulous and talented collector helped me by sending replacement lithographs to make it new again!
You can find many replacement lithographs on Etsy or Ebay. There is some debate on whether lithographs cause more harm than good. In my case I have only used lithographs for toys that we keep. If and when I try to sell toys with replacement lithographs on them I will make sure to fully disclose this, as many collectors only want original parts/pieces (understandably).
For my purposes (Christmas gift to my 3 year old), I am thrilled to have it look new again!
Its a sweet little set and after months of searching (for a reasonably priced version) I am happy to have it in our collection.