Today was my birthday! I won't tell you what number but let's just say it's somewhere between 30 and 40. :) My kids were both off of school so we spent the day celebrating! Well, there was quite a bit of sibling fighting/complaining and general whining but you know that's to be expected even on a birthday. Ah-hem.
I decided that today would be a perfect day to visit the Butterfly Wonderland in Scottsdale. It has been almost 3 years since our last visit which was shortly after they'd first opened so my youngest had no memories of going. I have VERY vivid memories of her (accidentally) killing helpless butterflies in the conservatory (toddlers aren't so good at avoiding stepping on insects on the ground) so lets just say we waited A LONG time to return. For the sake of the butterflies. ;)
This time I am happy to report that no butterflies were harmed during our outing!
We arrived at 10am (they open at 9am) on a monday so I figured the crowds would be minimal, but....I hadn't accounted for field trips! You might be better going after lunchtime if you want to truly avoid the school-age kids. However, even with the multiple school groups it wasn't so bad.
First stop was the 3D Movie about the Monarch Butterflies. Oh man my kids loved this part. It's a cozy theater (not very big) and we had great seats right in the middle/front (they put school kids up in the back) and you can't help but reach out and try to touch the butterflies flying by in 3D.
Next stop was the waiting room to go into the butterfly conservatory...well except one of my girls needed a bathroom. That required cutting through the cafeteria, through the aquarium, past the gift shop and back out front. Sigh. Pretty inconvenient. So my advice is have your kids go to the bathroom BEFORE entering the theater (right before you hand your tickets).
We then wound our way back to the waiting room to see the butterflies. A quick delay and speech about not touching/stepping on/generally abusing butterflies and we were in!
So so many pretty varieties of butterflies all around. I think there may have been even more than our last visit.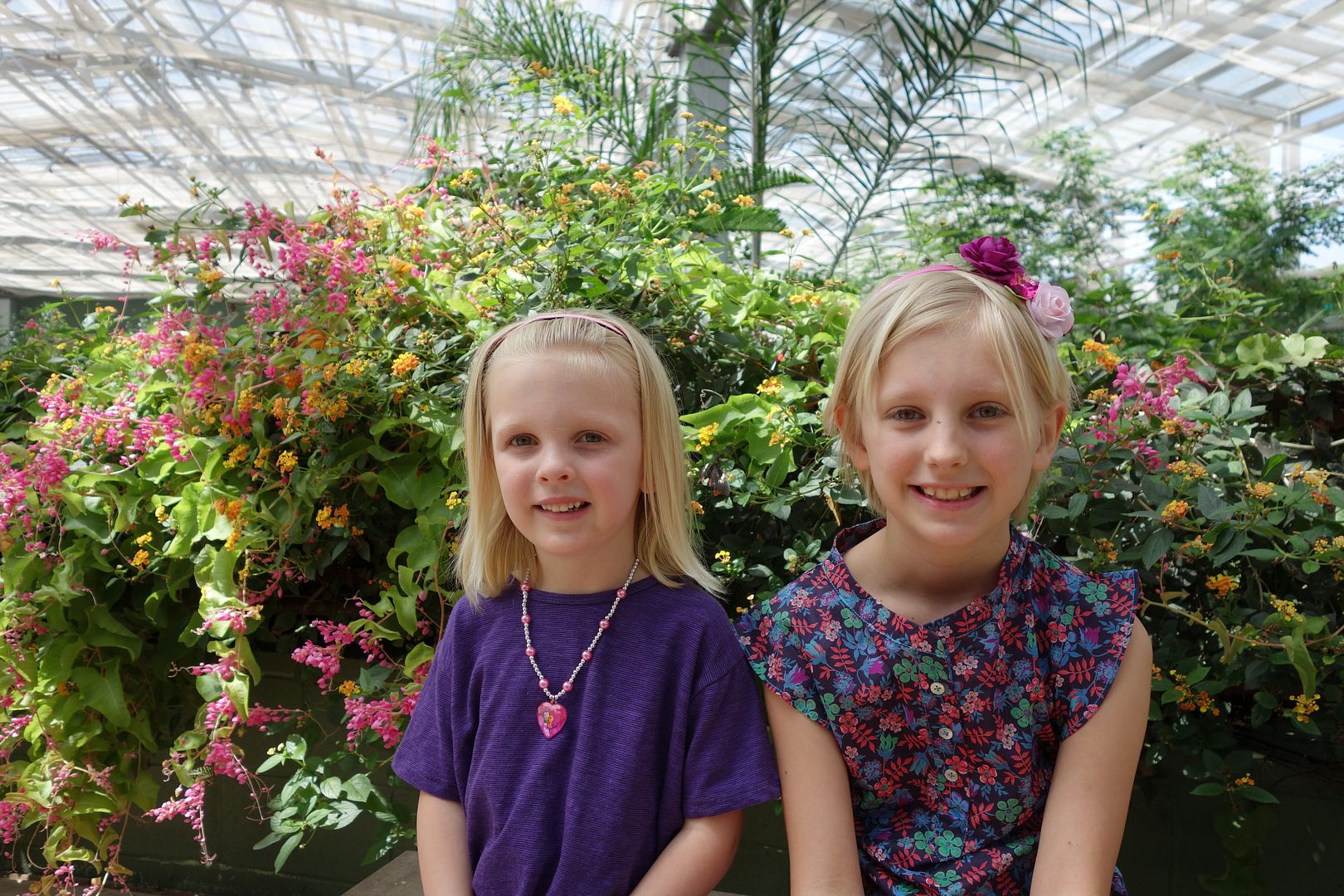 We wandered around carefully and slowly looking at the different butterfly areas. I decided that our best place to hang out was on the top level sitting on one of the two cement benches. There were flower and plant bushes right there and we could watch the butterflies in action.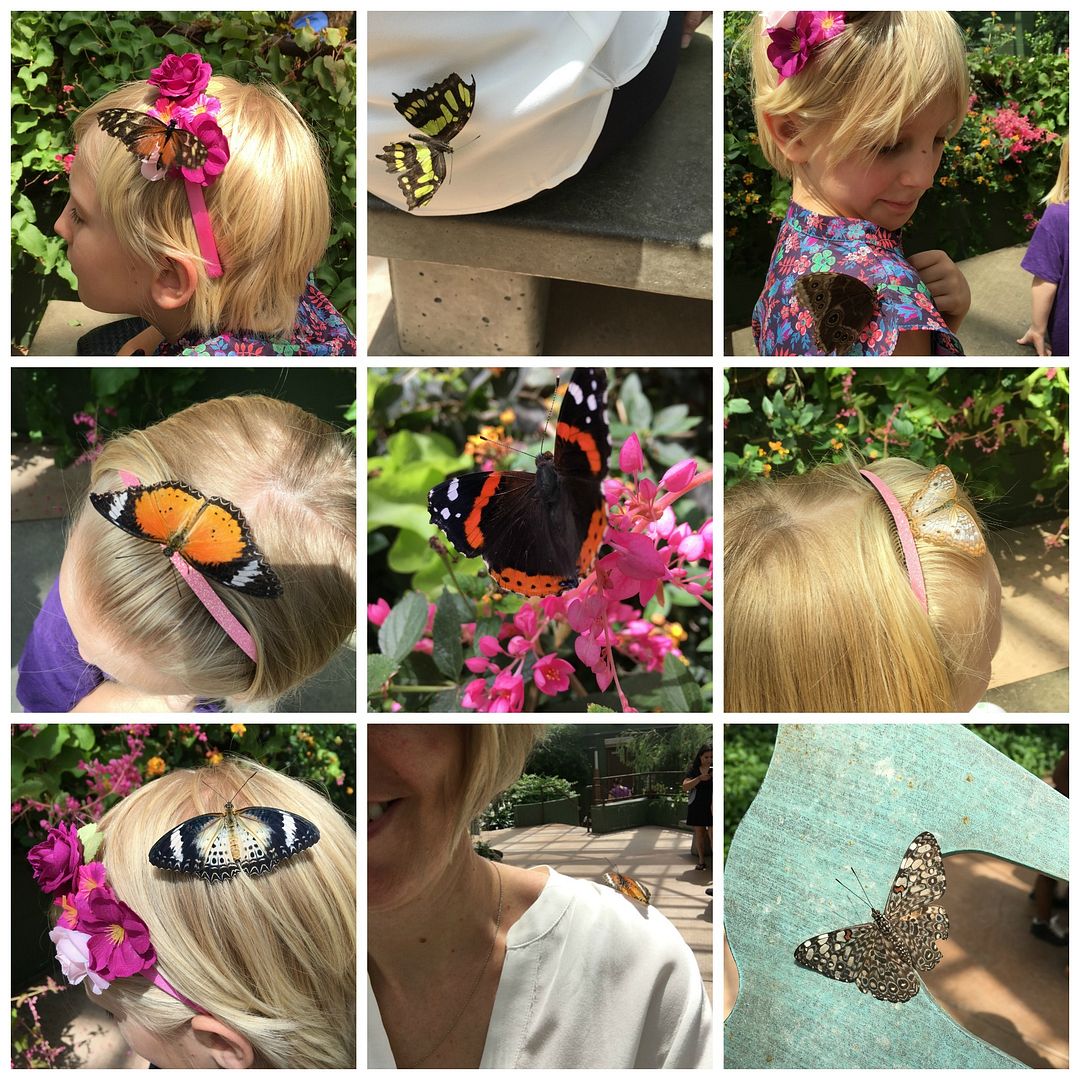 My oldest was determined to have butterflies land on her. She brought a flowered headband hoping that they would want to land on it. She sat perfectly still for minutes at a time regularly asking me if they'd landed yet.
Each time one stopped on her head or headband I took photos for her. We counted at least 6 landings all together. Her sister and I each had two of our own.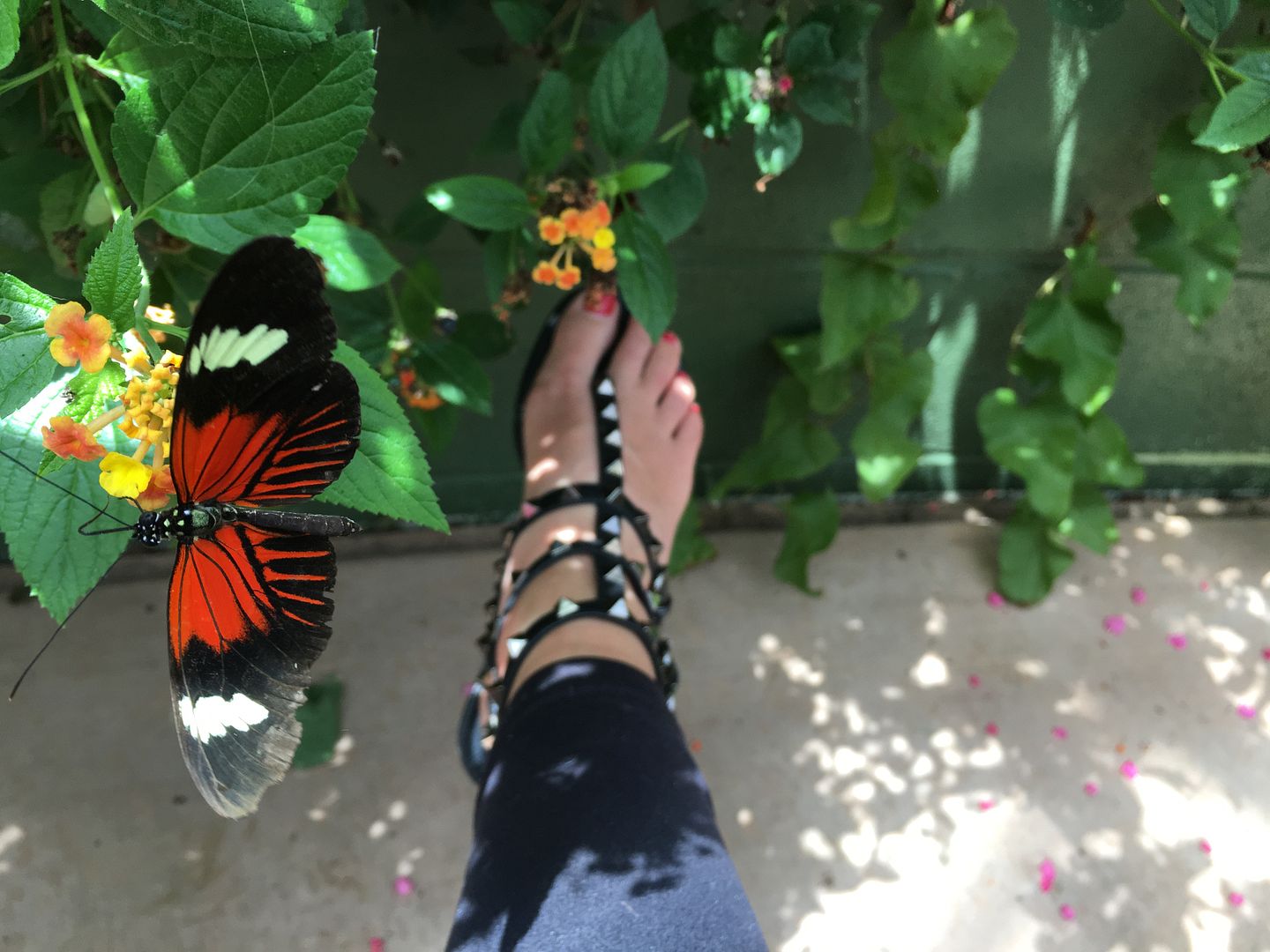 Now, if you just walked around the butterfly conservatory for a bit you'd easily be done in 15 minutes. I suggest sitting. Find a bench and just sit. If you have kids warn them ahead that this is part of the plan. Let them know that they aren't missing anything ahead that is any better than the butterflies (you know how kids want to race to the next thing when on an adventure). The butterflies are the reason for going so linger. Take photos, talk about which butterflies are your favorites, etc.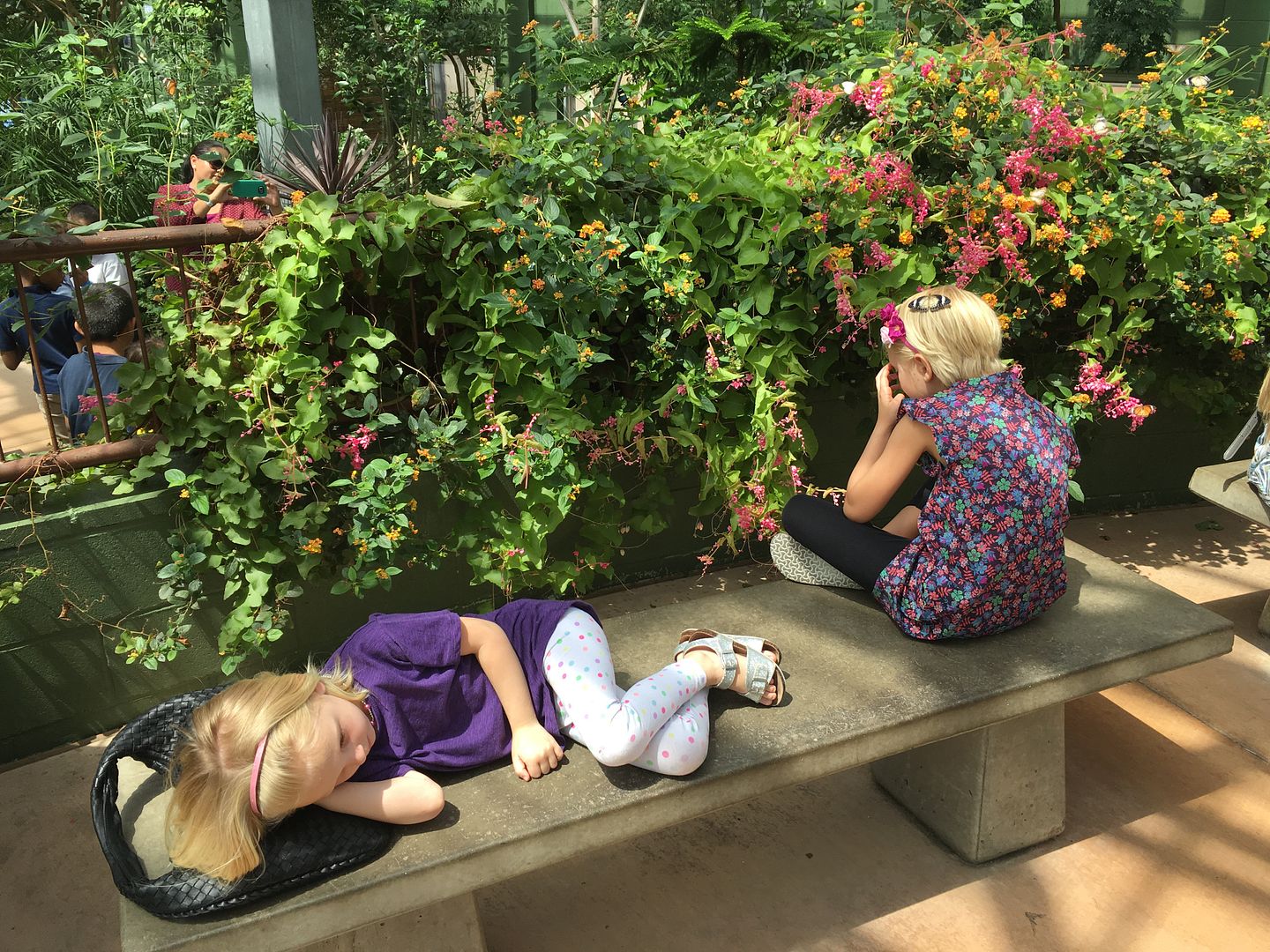 At one point my youngest became quite bored and laid down, but that's okay too. Once a butterfly landed on her she perked up again for awhile.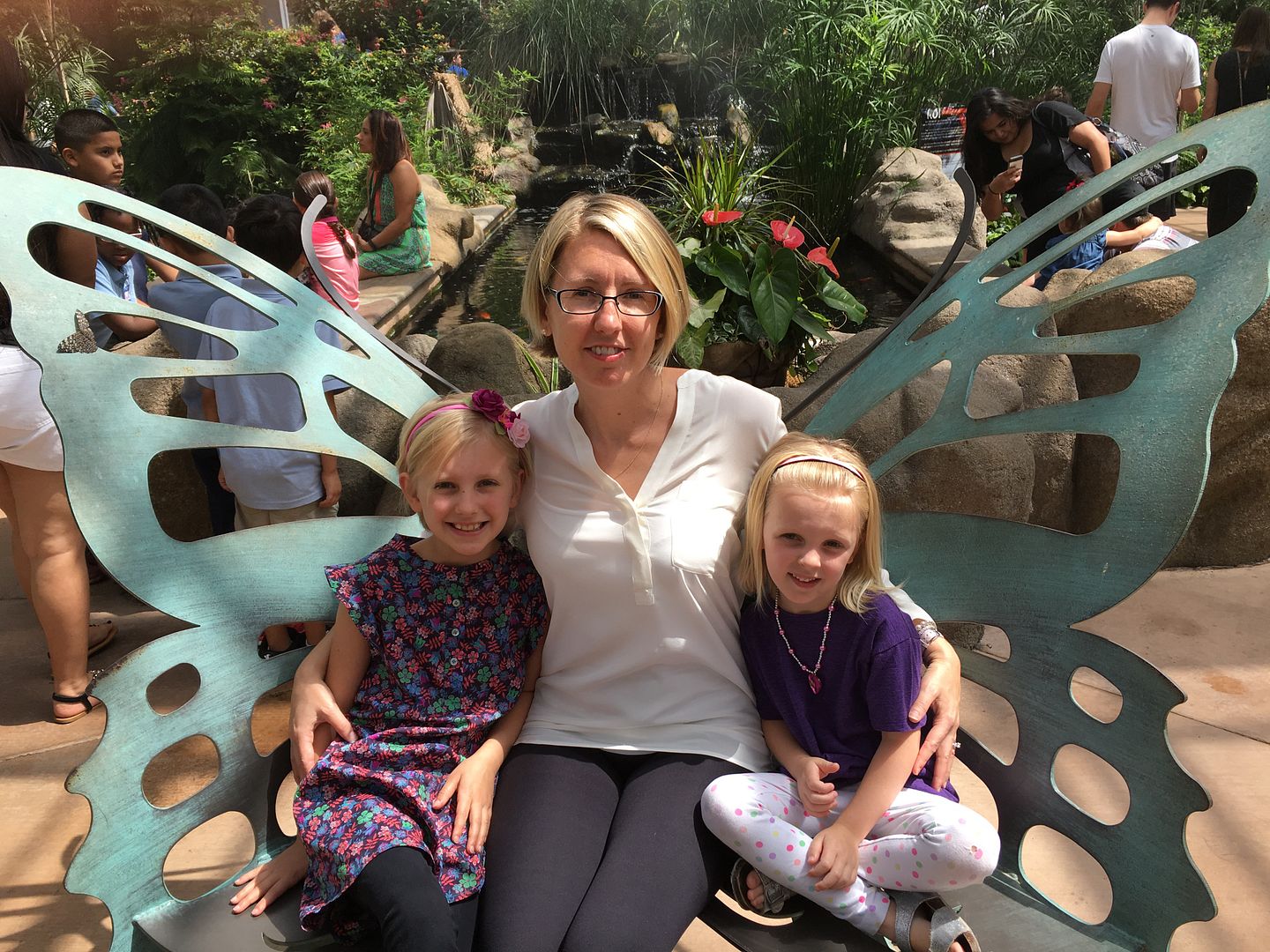 Other high points were the active bee hive connected to the outside, the butterfly bench (a must have photo opportunity) and the koi pond.
After leaving the butterfly conservatory the rest of the exhibits include a small room with desert insects, frogs and another small (one room) aquarium that includes a tank with stingrays that you can touch (warning your children will be WET).
After the aquarium room you're back to the gift shop and entrance. If you are the buy-a-souvenir-type I recommend the small butterfly activity/sticker books for only $1.99 each.
We had a great visit and will return in a couple years or so. :) We arrived by the way at 10am and left at 12:30, and that's after saying one hour in the Butterfly Conservatory.
Details
Cost: $19.95 for adults, $12.95 for kids 3-11 (0-2 are free), $17.95 for students/military/seniors, However I was able to save $9 with online coupons ($3 off per ticket up to $12 discount).
Hours: 9am - 5pm
Days: 7 days a week
Butterfly Wonderland
9500 E Via de Ventura
Scottsdale, AZ 85256
To check out my more in-depth review from 2013 go here.