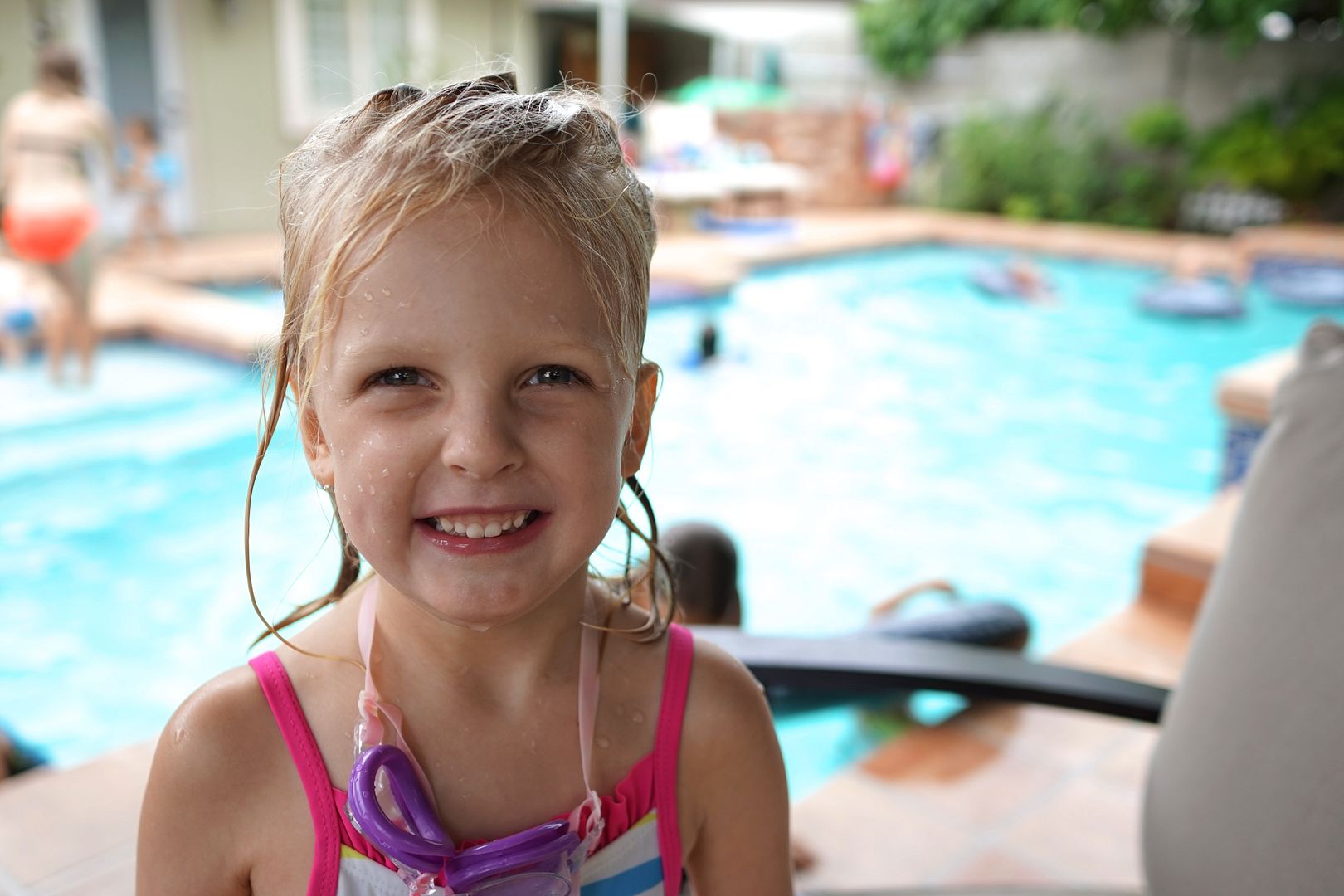 My youngest has a summer birthday (mid July) which can make birthday parties a challenge, especially here in Phoenix with temperatures of 100+. The other big challenge is picking a date where friends are in town since we all tend to try to get away from those hot hot temps! Lets just say Phoenix in July is often very very empty.
This year I got creative and borrowed a (really generous and kind!!) friend's pool and picked an earlier date before everyone left town. My soon-to-be 5 year old chose a Hot Wheels theme (so so fun) and we made it a Hot Wheels Pool Party!
Since it was a pool party on a summer morning my prep was pretty easy, but I still wanted to make it fun and memorable.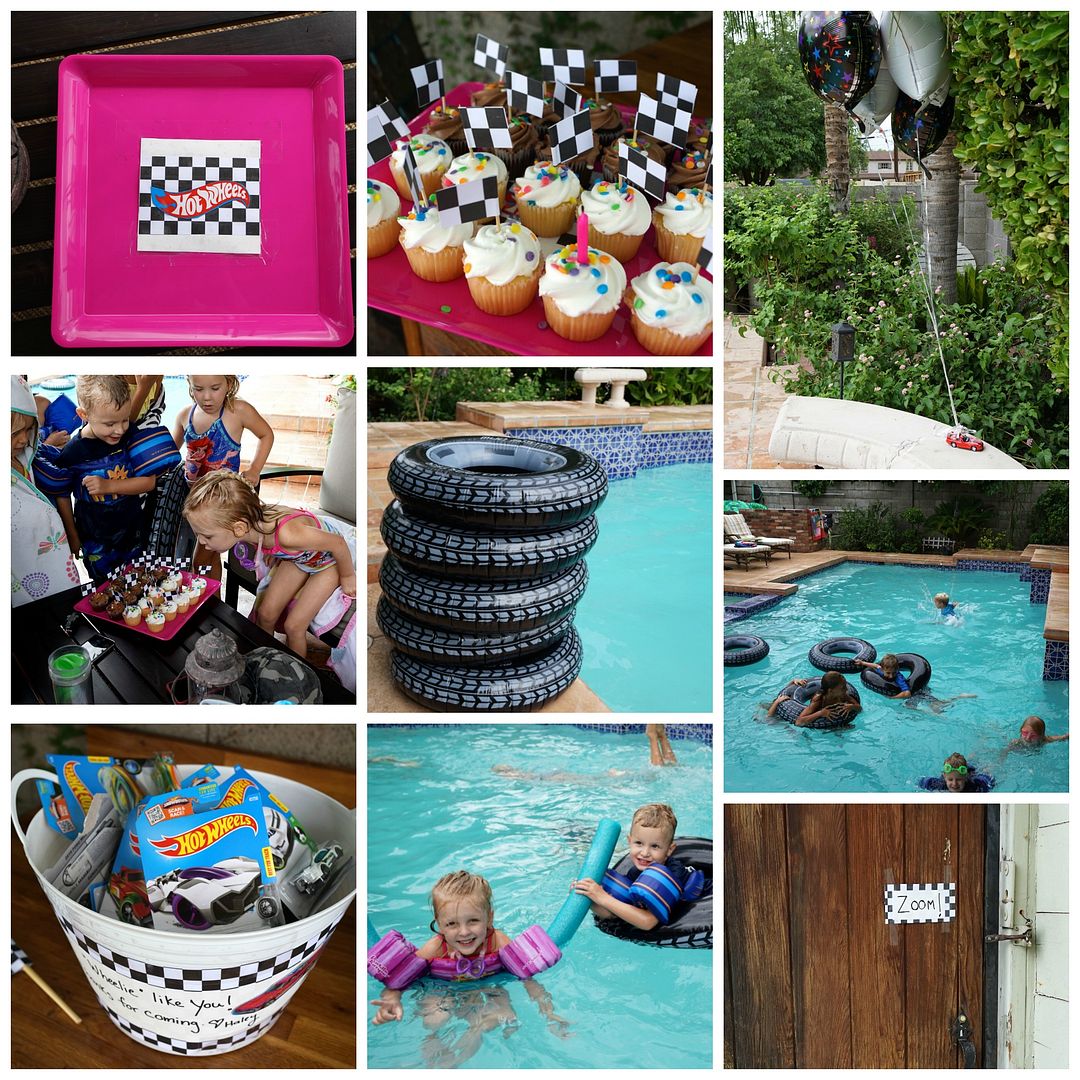 Theme- Hot Wheels/Pool Party
Food - Small cupcakes with checkered flag decorations. The tiny cupcakes meant we didn't need napkins or plates and less waste from tiny people that only eat the frosting anyway (anyone else have a kid that does that?).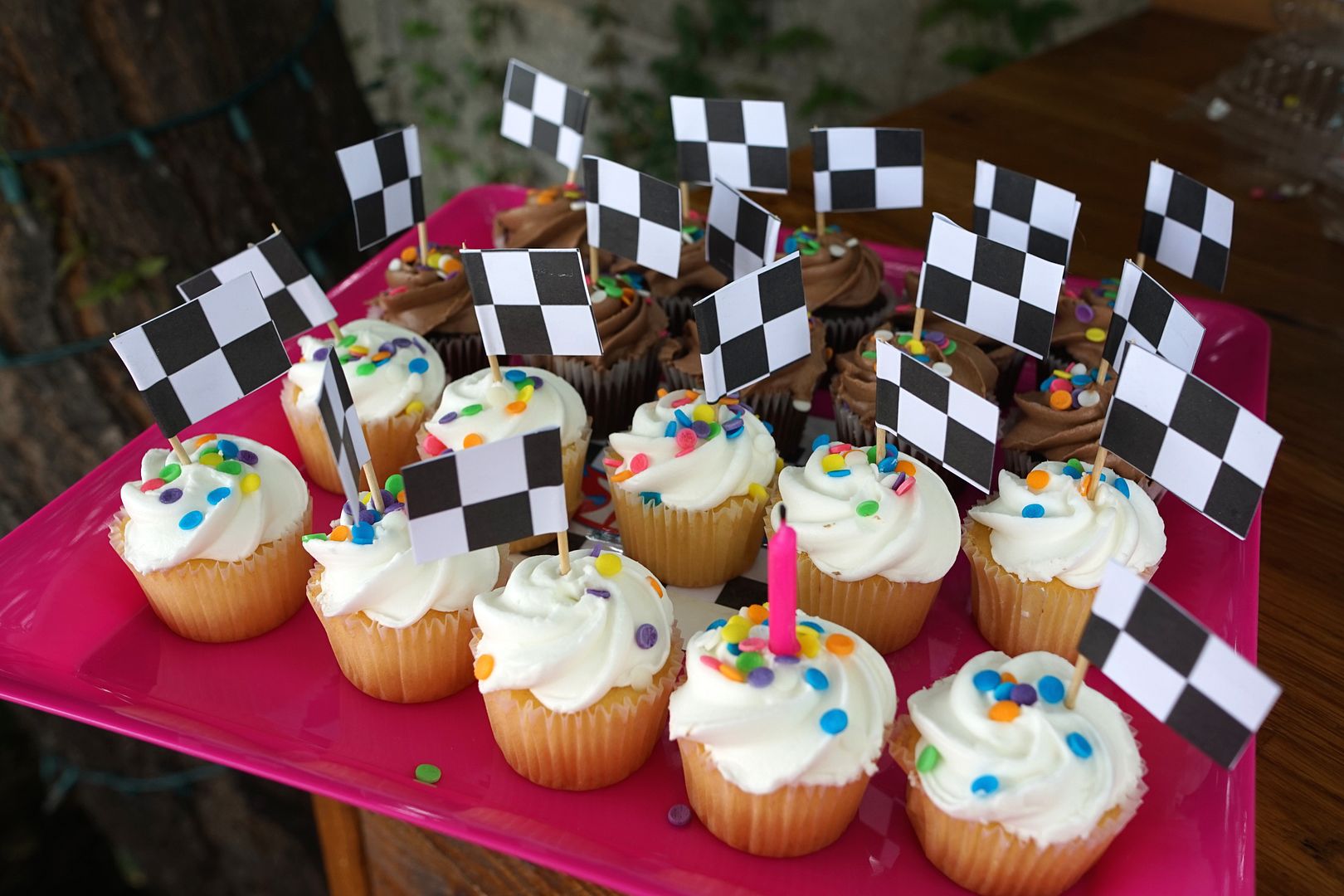 The flags were made by cutting out checkered flag paper and putting glue on it (glue stick) then folding it around a toothpick. Super easy!
I got a pink tray from the Dollar Store (daughter's color choice) and taped on a checkered flag/Hot Wheels sign that I made. The "Hot Wheels" came from a car package.
Decorations - Balloons with a car/racing theme. My daughter chose a BIG trophy balloon over the car options at the store but we added black and white balloons to bring in the car theme. We anchored the balloons by tying them to larger (metal) cars. Super big hit with the little ones!
I also had a few checkered signs, the party favor bucket and of course the tire pool floats were decorative too.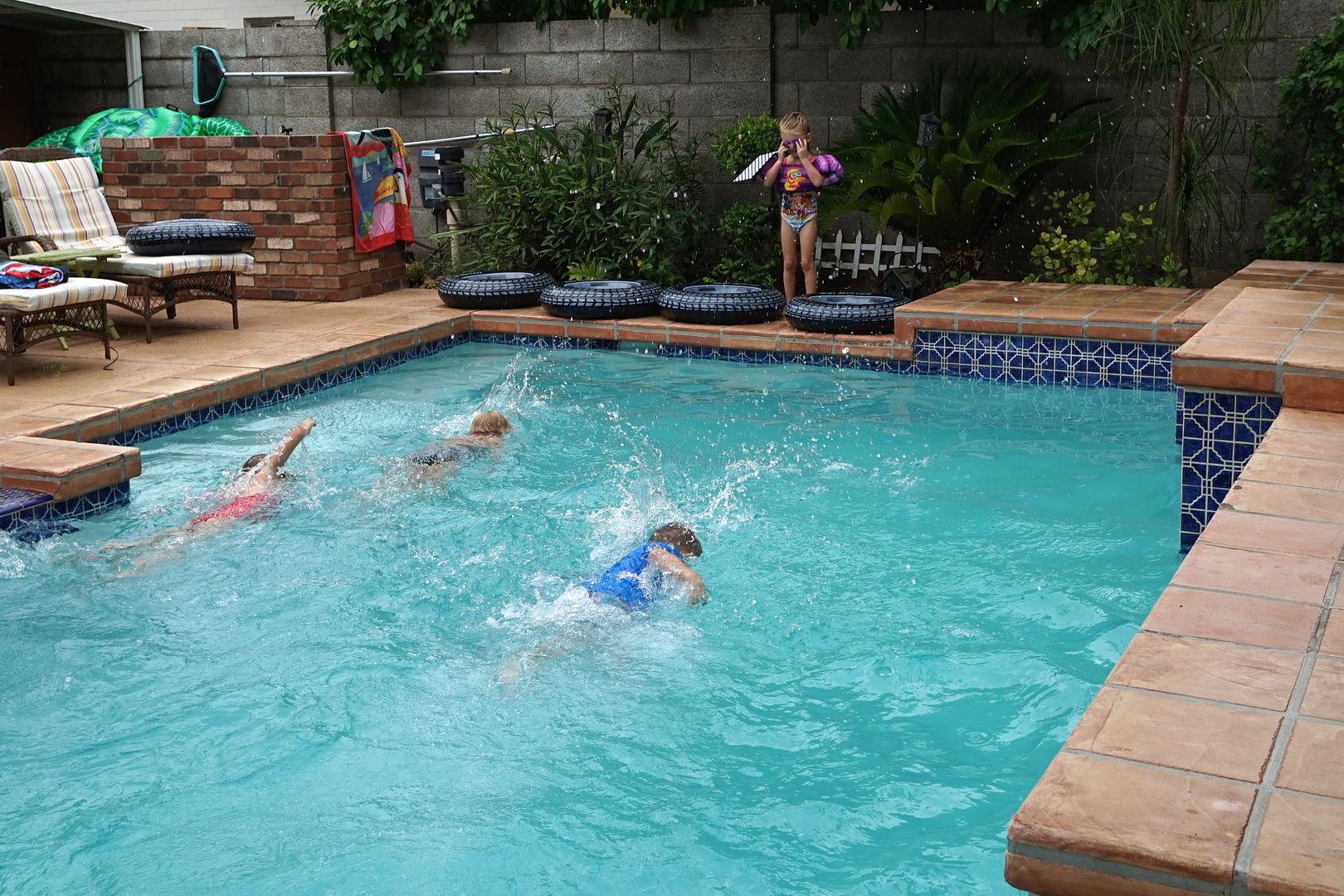 Games - We brought 5 tire themed pool floats (from the dollar store). The kids did pool relays and swim races using the floats, so fun! The prizes for the race winners/participants were to take one of the floats home.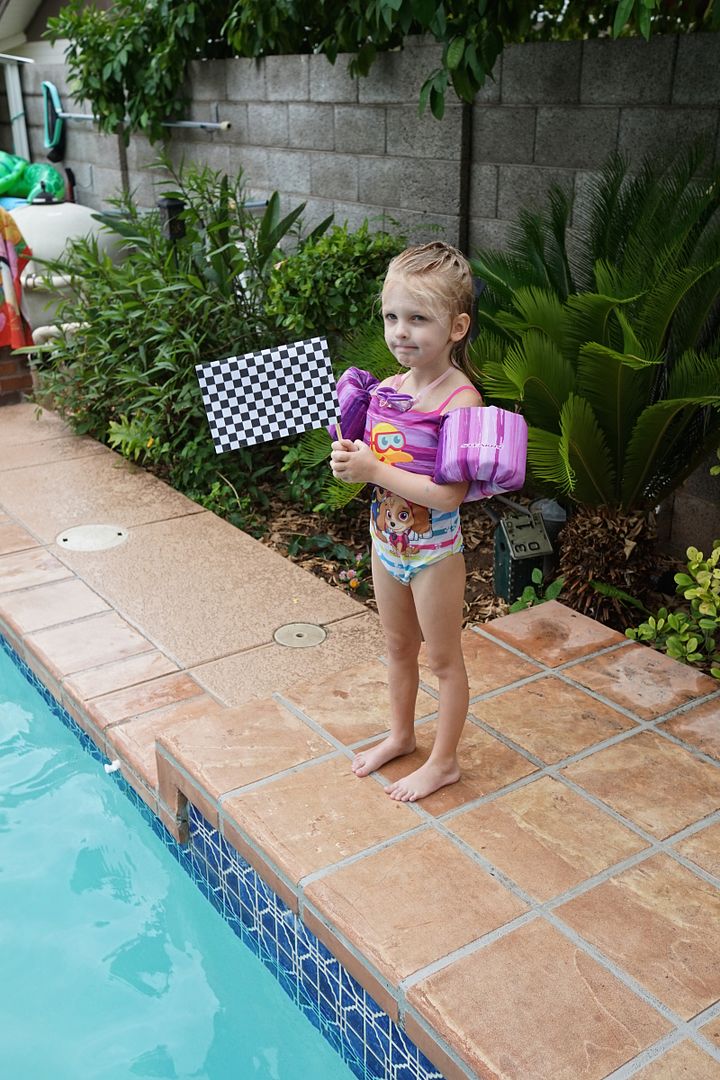 I made my own checkered flag to start each race (my daughter's favorite part) by folding over a checkered flag paper and taping it to a paint brush. Super easy!
We also did "diving" (jumping in) contests looking for the silliest, prettiest and biggest splash. So fun!
Favors - Each child got to chose a Hot Wheels car before going home. I had a bucket filled with cars that had a sign on it saying "I Wheelie Like You, Thanks for coming". I cut out a picture of a Hot Wheels car (from a Hot Wheels package) to add to the sign.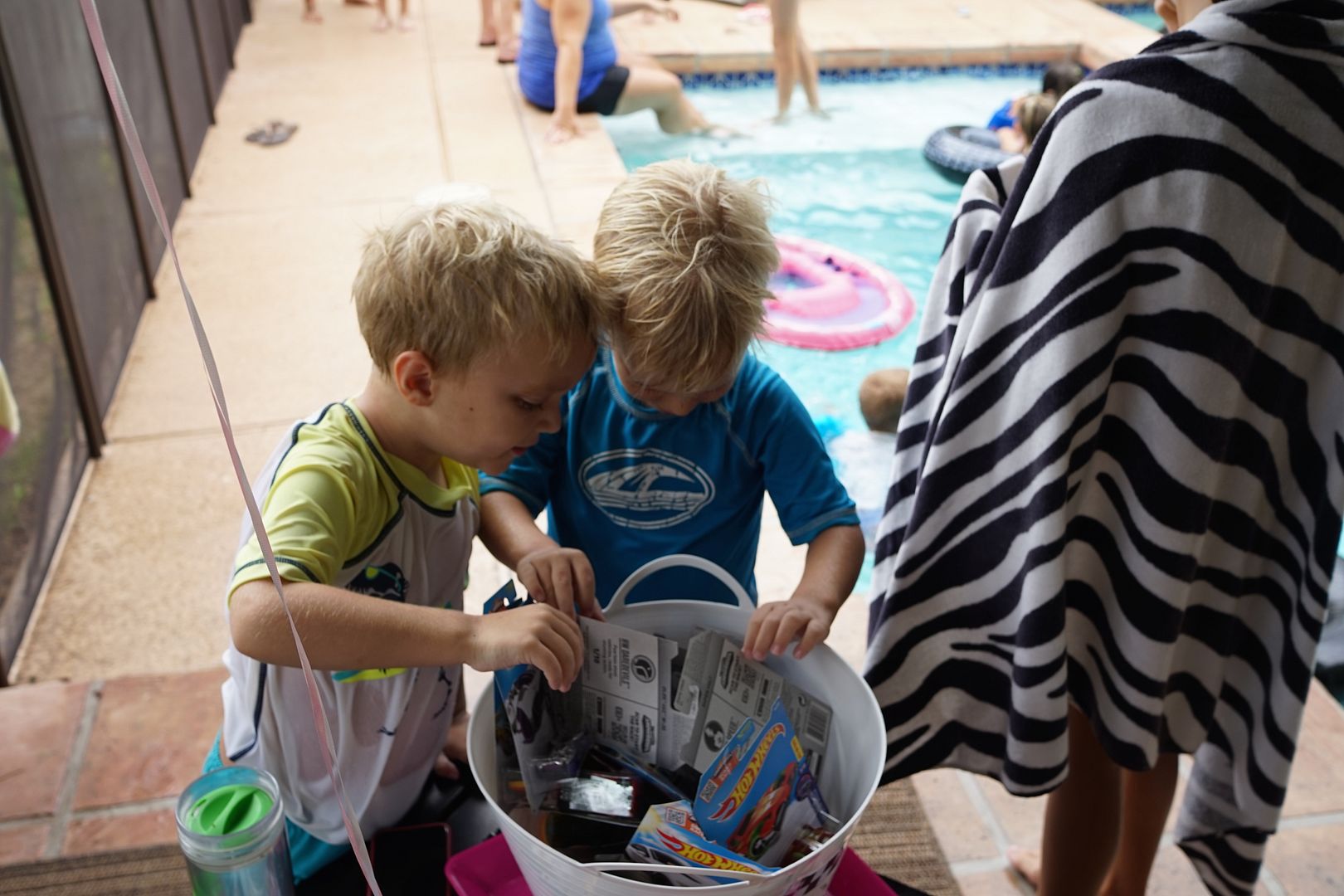 Easy and fun party! I love that the theme was gender neutral and also worked for a variety of ages so friends and their siblings could come and have a good time.
My costs:
4 dozen (small) cupcakes = $14
6 helium balloons = $16
5 tire pool floats = $5
Misc decorations = $12
Hot Wheel Cars = $25 (I bought 25, can return the extras)
Total = $72