It's time for a classic this week on Fisher Price Fridays. The 1980 Play Family House #952, also known as the tudor house. You must know this one, it's probably the most recognized and memorable vintage Fisher Price Little People (FPLP) play set. It originally came in blue and yellow (in 1969) and as the styles changed over the years they started making it in brown.
We have some of the original set pieces but my daughter has added many more. She particularly loves putting all the little people to bed. We've also added nursery furniture, a sewing machine and a bathroom - more on that later.
The house has 4 rooms plus the garage. The living room includes lithographs of a roaring fireplace including a mantle with lit candles, fireplace tools and of course a painting of a FPLP relative. The other side of the room includes a litho of a television set (wooden with legs). The original set came with living room chairs and a coffee table.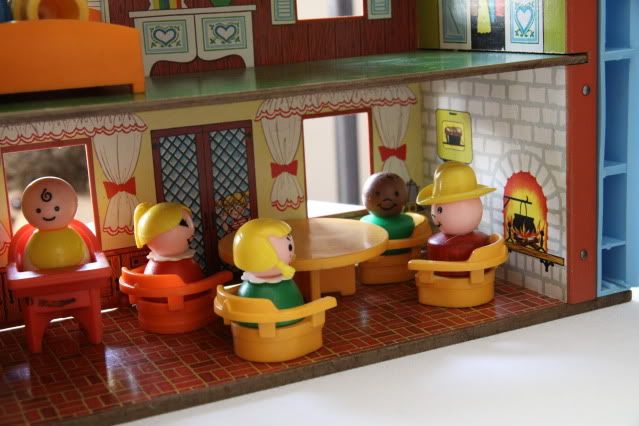 The kitchen has lithographs of a brick floor, another roaring fire, kitchen appliances, a desk area and lots of cupboards. You can see a little of the upstairs master bedroom. It has a lithograph of a closet and dresser. The original set came with a double bed.
The original house came with a dining table and 4 chairs. My daughter has added highchairs and other chairs because she loves people to sit. Putting the little people in things has been a favorite way for her to play with the FPLP.
The blue door opens and has a bell that rings on the outside.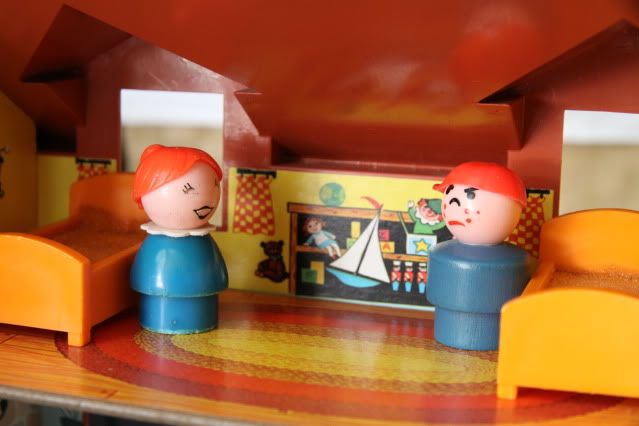 Little brother does not look very happy about having to go to bed.
The original house came with two twin size beds for the kids room. It has lithographs of shelves with toys, a train decoration and a lovely braid rug.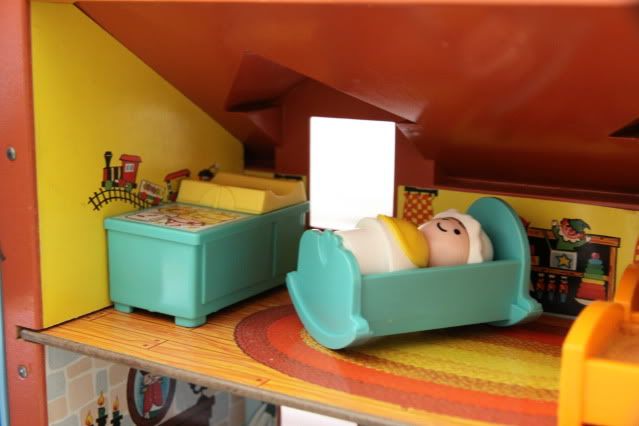 But in our house, the kids room is usually set up with nursery furniture.
This bathroom (the mom is on the toilet) does not belong with the house. However, around the time we were potty training my oldest we picked it up. We usually put it in the upstairs bedroom and it fits pretty well. It is designed to go with the Little People Neighborhood #2551.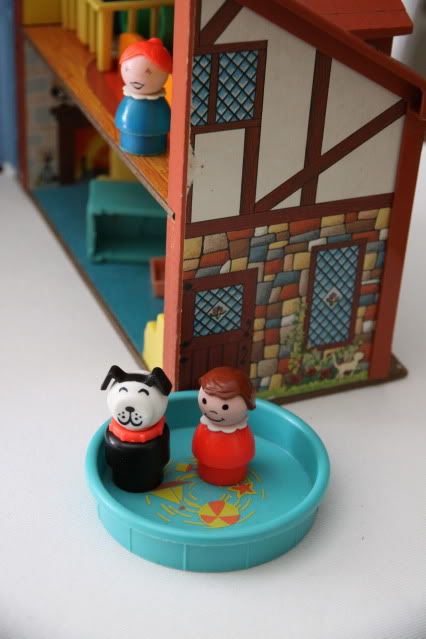 Another piece that we've added is the patio pool. It comes from the #726 patio set. Perfect for a swim if they don't want to go to the bigger pool (that set is still to come).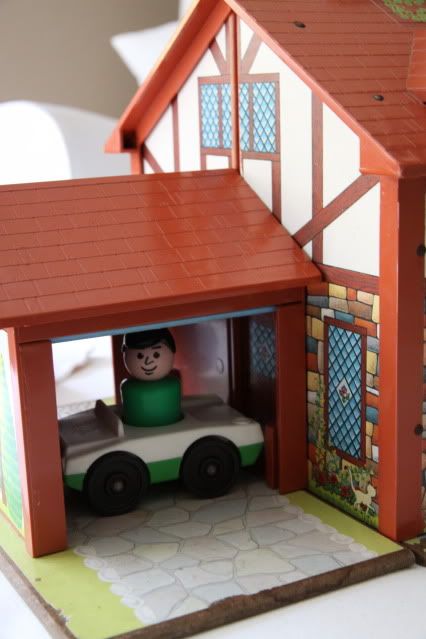 The attached garage has a door that opens and closes and has enough room for at least one car. There is a little door opening in the back in case the driver wants to go to the backyard. :)
The back of the house is cute too and has detailed lithographs of plants, shrubs, flowers and even a little girl waving outside the patio door.
Thanks for coming by, see you next week!