Welcome to the 8th week of Fisher Price Fridays. I've already introduced you to the farm #2555, jetport #933, A-Frame #990, camper #994, various baby toys, play family house #992 and last week the houseboat #985. Whew, that's a lot but I have quite a bit more to go!
Today I'd like to show you another classic, the 1971 Play Family School #923. The school was the fourth Fisher Price Little People (FPLP) playset created after the house, farm and garage. It has many pieces (63) including alphabet letters in a tray (and some extra letters too), numbers in a separate tray, chalk and an eraser, playground equipment, student desks (4), a teacher desk and chair, four students and a teacher. I have most of the original pieces and a couple extras (an extra desk and a student). I do not have the original eraser or chalk.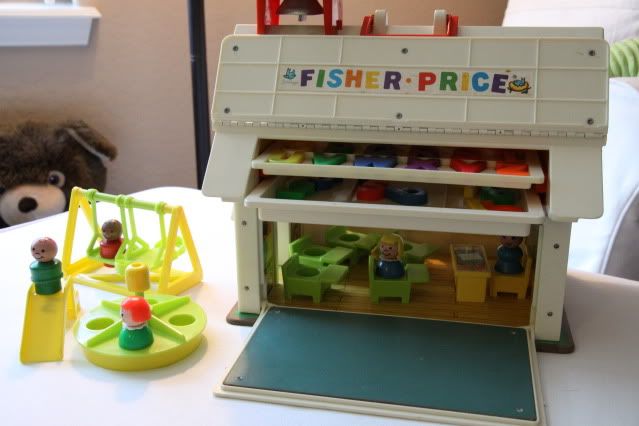 The letter and number trays slide nicely inside the school. The door flips down to provide a chalk board to write on. The white roof is magnetic for the letters and the numbers. The bell on the top of the roof really works. It is a marvelous set! The older versions of the set have the Fisher Price lithograph on the inside roof flap. All the sets had a Fisher Price lithograph on the outside of the roof as well (mine is missing).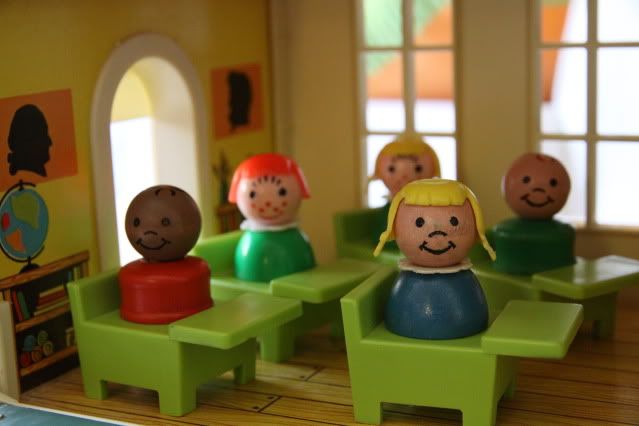 The original students were wood. I added an extra one in the back since I had an extra desk. Inside the school house there are lithographs of a wood floor, shelves with books, a globe, two mice in a cage and a chalk board. Plus a couple silhouette paintings of presidents.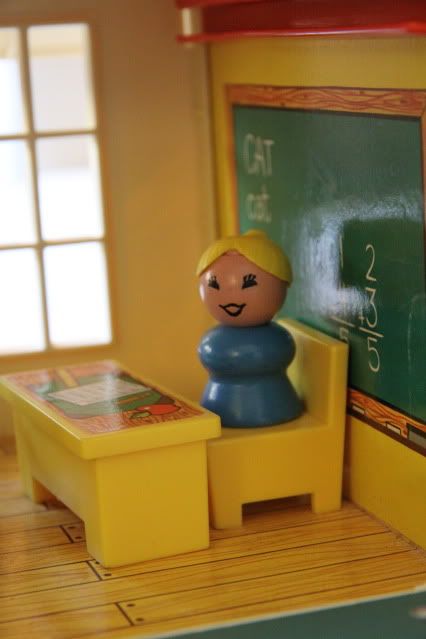 The teacher looks kind and is happy to start the day. Her desk has a lithograph of papers and of course an apple.
When the set is ready to be carried the roof folds down to keep the side closed (magnetically). It is a pretty heavy set to carry around.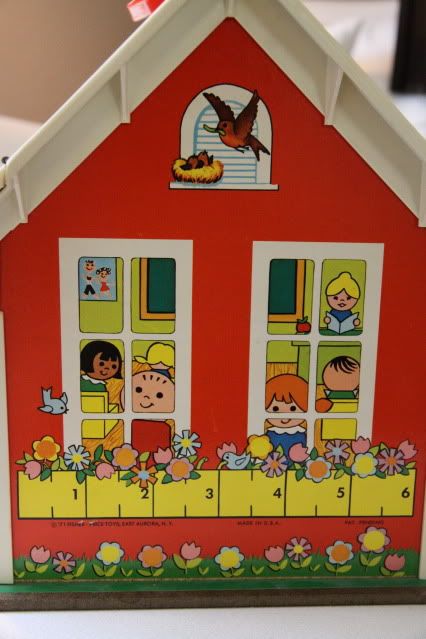 Each side has detailed lithographs. This end has a view inside the classroom and a ruler. Also notice the momma bird with her nest and baby birds. So cute!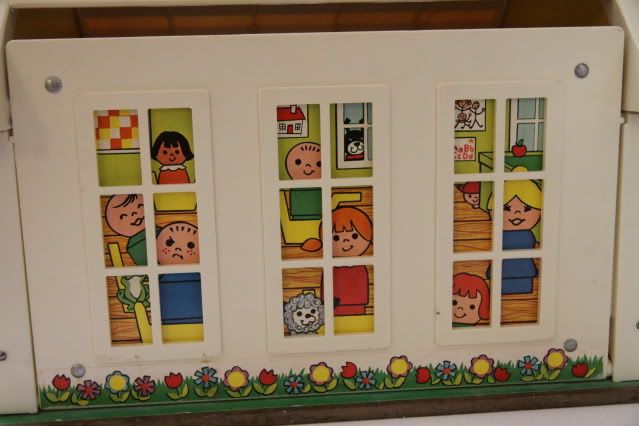 Looking thru the windows are the students. Check out the angry boy in blue and the little guy with a hat peaking behind the teacher's desk.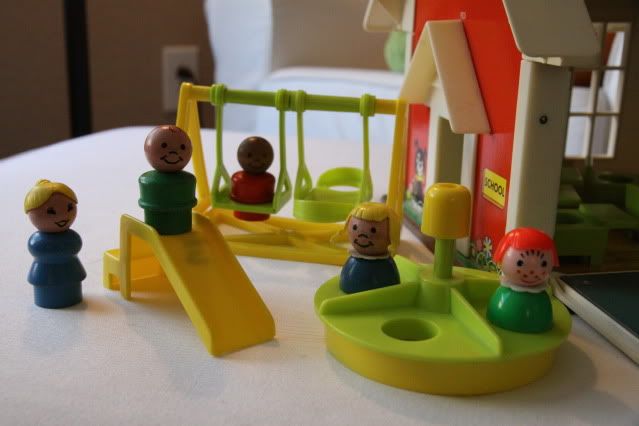 Of course you can't have a school without a playground. This set came with a slide, merry-go-round and a swing-set. My daughter especially enjoys playing with these pieces.
Looks like school is over for the day. Thanks for coming by, see you next week!