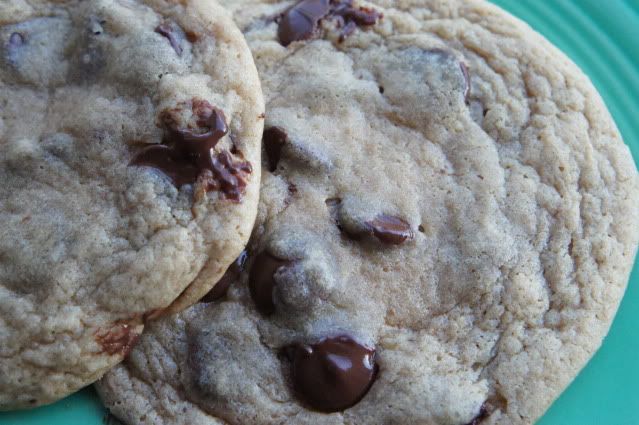 This recipe came highly recommended so I had to give it a try. I was intrigued by the use of coconut oil instead of butter. Coconut oil is oh-so popular right now and I have some on hand since I use it as a cloth diaper safe rash cream. But don't worry, I keep my kitchen and changing table supplies separate. :) My coconut oil does not have a taste or smell of coconut as I use the refined type.
Chocolate Chip Cookies with Coconut Oil
1 package chocolate chips (the original recipe called for 8 oz mini chips and 8 oz large chips)
Preheat oven to 400 degrees and cover 2 cookie sheets with parchment paper. Use your stand mixer (or a bowl and an electric hand mixer) to beat together coconut oil, eggs and brown sugar until very well mixed. Add remaining ingredients mixing together until all are incorporated. Roll into massive balls (mine were semi runny, but able to stay together) and place 6 on a cookie sheet. Bake for 9-11 minutes, or just until the outside of the cookies have browned slightly around the edges. Remove, cool slightly and eat.
The recipe was simple and only used 1 bowl, that I love. However, the cookies were HUGE. Normally this is a good thing, but they were really big. Only 12 cookies total. Also, the recipe came from cheeky kitchen and hers looked more like muffins. Mine were flat which I recently learned is most likely due to my oldish baking powder. Who knew? I'm tempted to try the recipe again with newer baking powder. But...I have to admit that I'm still partial to my favorite oatmeal raisin chocolate chip lactation cookies. It's a tough recipe to beat!
If you make this recipe please let me know how your cookies turn out. Flat or muffins. :)