We've been eating a lot of kale around here. Every week our CSA includes kale so it just keeps coming and coming. ;) My family has discovered that the only way we really enjoy kale is in chip form. So we regularly have Sea Salt Kale Chips and although they're good we're ready for something new.
Fortunately I was catching up on my Sunset Magazines recently (it takes me forever to get to magazines these days) and saw two new kale chip recipes! Love!
This first one was a hit. I'll let you know how the next one turns out.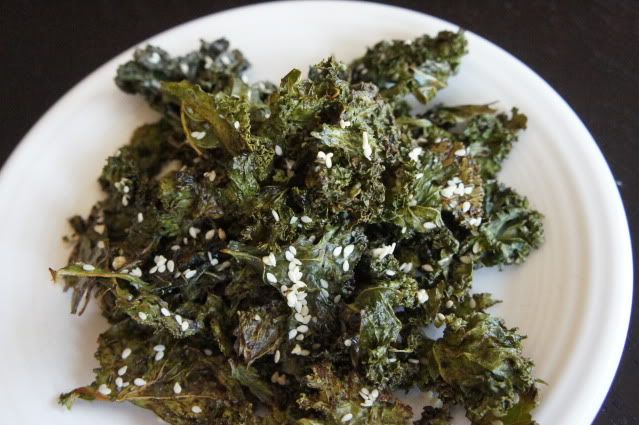 Soy and Sesame Kale Chips
from Sunset Magazine May 2012
1 small bunch of kale (they recommend Lacinato)
1. Preheat the oven to 300 degrees. Rinse kale and thoroughly blot dry with a kitchen towel (or leave out in a colander for awhile like I do). Tear leaves into 4-in pieces. Pour oil and soy sauce into a large bowl, add kale and toss to coat evenly.
2. Arrange in a single layer on 2 rimmed baking sheets (the secret to crisp chips is not crowding the leaves on one baking sheet). Bake, switching pan positions after 13 minutes. Sprinkle with sesame seeds and bake until leaves are crisp but not browned, 5 to 7 minutes more. (35 minutes all together)