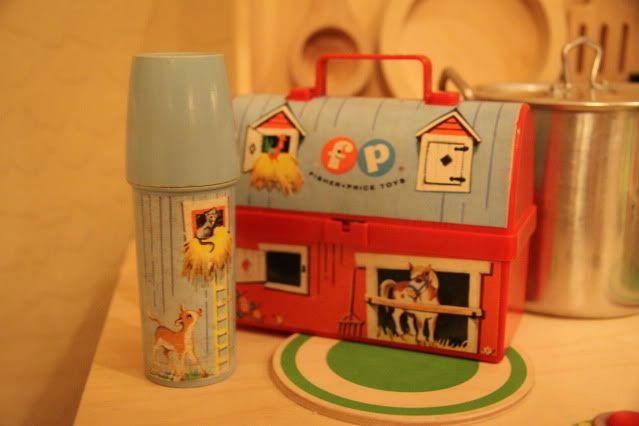 Today on Fisher Price Fridays I'd like to introduce a very small but oh-so-cute vintage children's toy. The Toy Lunch Kit #549 is a two piece set made from 1962-1979. The darling little red lunch box is in the shape of a barn and the grey-blue thermos looks like a silo. The silo has lithographs of a calf and a kitten sitting on top of hay.
The front has a lithograph of a horse looking out a barn door and a window on the "roof" has a rooster sitting on a pile of hay. It also has the fisher Price logo.
The back of the "barn" has another door and the roof has the same lithograph as the front. The lower portion has a duck, bench and a couple birds.
The inside of the box has a metal brace that can hold the thermos inside the lid.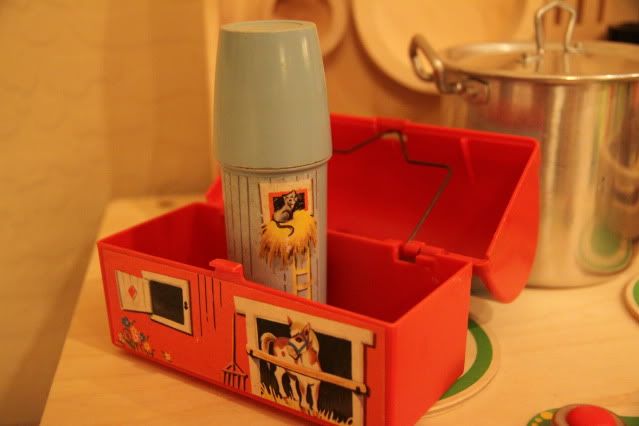 The set is actually quite small measuring only 5 inches long, 4 1/2 inches high and 2 1/2 inches wide. My daughter loves playing pretend with the thermos and the little box is often re purposed as a purse. :)