It's been awhile since we chatted about diapers. We're still going strong over here using cloth on my almost 11 month old baby. Now that it's summer we're also using swim diapers. There are a few options for reusable swim diapers, and even the disposable ones can be reused. Say What? Yes, that's right, you don't have to toss them after each visit to the pool. But more on that in a bit, lets go over the different options first.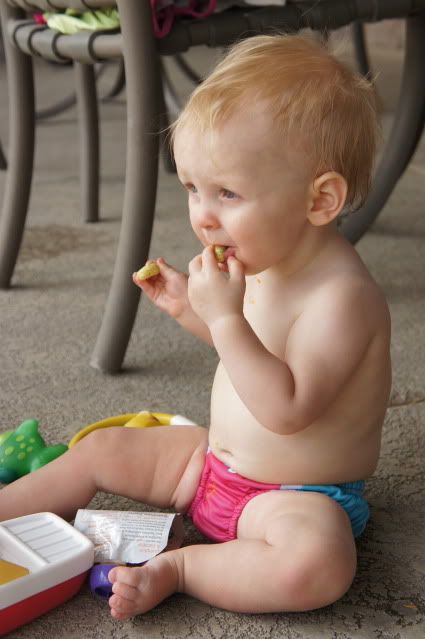 Swim Diaper
You may have seen reusable options in the summer or swim sections at your local Target or Walmart. These diapers are cloth with tight elastic around the legs and waist to keep any "waste" in. ;) Some popular brands include Speedo and iPlay. They range in price from $5-15. I was able to find a Speedo diaper on clearance last year for only $3.
Pros: Trim, inexpensive, can be worn alone or under a swimsuit.
Cons: Difficult (messy) to remove if she poops, need to buy different sizes as baby grows.
Using a Cloth Diaper
If you already cloth diaper then another option is to use one of your diapers. You could use a (empty) pocket or a cover. All-in-ones, fitteds and wool would not be good options. When my oldest daughter was in diapers I used a size small Bummis Super Whisper Wrap cover for her. It had velcro so I could adjust it as she grew. In fact I was able to use the same cover until she was potty trained! I would recommend that you use only 1 diaper and that it be exclusive for the pool. Once you expose it to chlorine and the sun it will not work as well as a regular cloth diaper.
Pros: You don't have to buy anything, adjustable so can be used longer, less messy to remove, easier to and from the pool (can slip a fitted into the cover and remove right before you get in the pool).
Cons: Not as cute (usually) when alone, may not be as trim, can't reuse later as a regular cloth diaper.
Disposable Swim Diaper
If you are using disposable swim diapers like Huggies Little Swimmers or Pampers Splashers you can still reuse them. If they haven't been soiled you can let them dry out and then use them again.
Pros: Cheap, can be tossed if soiled.
Cons: Bulky, disposable (I am a cloth diaper advocate after all), have to keep buying more.
One thing to remember is that all of these options do not work to keep urine in. They only work to keep poop in. Just think of it this way, no diaper is able to differentiate between pool water and urine. :)
So what do you use at the pool? Any favorite cloth swim diaper brands or options?
More about cloth diapering
You can also read about making your own diaper pail deodorizer here.