We had a very healthy dinner this week. The same night I made Eggplant Bruschetta I also made this Quinoa and Kale Salad. My husband and 4 year old almost revolted! :) They survived despite the very vegetarian meal.
This recipe is from our CSA Chow Locally. It was a great way to use the kale, tomatoes and peppers from that week's box.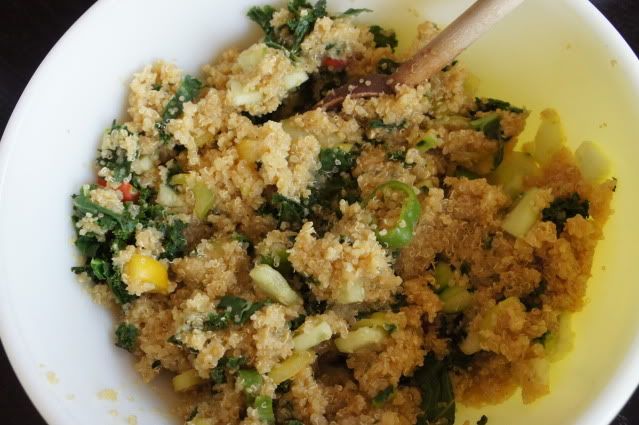 Chow Locally Quinoa and Kale Salad
Ingredients
4 cups vegetable broth
1 1/2 cups quinoa
1 cucumber, sliced
1-2 bell or other peppers, diced
1 cup chopped kale
4-5 small tomatoes, chopped
1/4 cup olive oil
1/3 cup lemon juice
2 cloves garlic, minced
Salt and pepper, to taste
Preparation
1. Place quinoa in vegetable broth in a pot and bring to a boil. Then lower heat and let simmer. Let quinoa cook until it is fluffy and little to no liquid remains, about 20 minutes.
2. While quinoa is cooking, whisk together lemon juice, olive oil, garlic cloves,and salt and pepper.
3. Remove kale leaves from stems and chop coarsely. Place in a saucepan and cook at medium-high heat just until the leaves wilt. Remove from heat.
4. Once quinoa is ready, let cool briefly, then toss with all vegetables and lemon juice dressing. Combine well.
5. Add salt and pepper to taste, and chill before serving.